Hawaii Rising aims to elevate Hawaiian entrepreneurs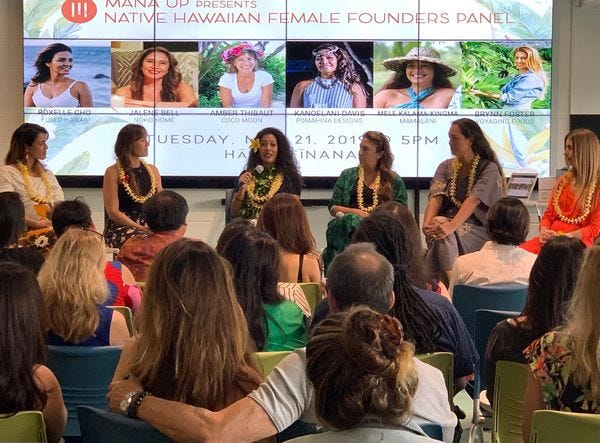 Give the gift of geeky curiosity! Forward Hawaii Bulletin to a friend, and encourage them to subscribe for free! And if you know of an innovative or creative local project, please tell me about it!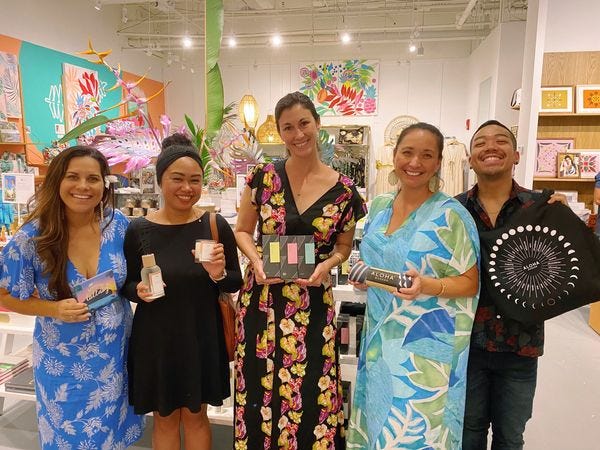 The members of Mana Up cohort five. Photo courtesy Mana Up.
It's never been easier to start a small business — especially an online business. And the timing might never be better, as the economy slowly emerges from under the heavy cloud of COVID.
A new program from local product accelerator Mana Up is offering free monthly workshops to help native Hawaiian entrepreneurs make the leap. Signups are due February 8.
Spotting the silver lining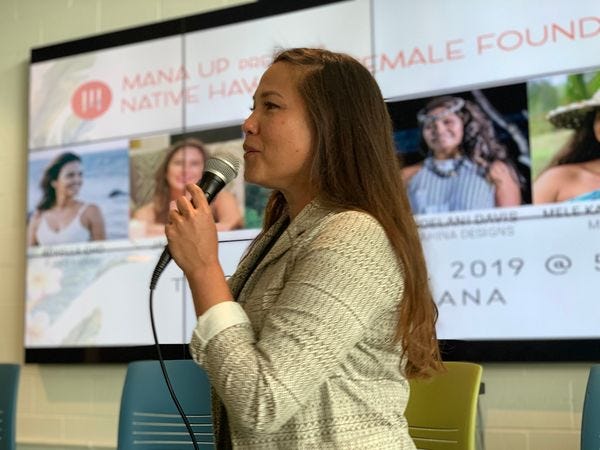 Mana Up cofounder Meli James.
Most of the disruption attributed to the pandemic has been bad news. Nearly a quarter of small businesses closed. Lingering economic hardship. Unprecedented job loss at the front end, and the 'Great Resignation' at the other.
But as the saying goes, in the midst of chaos, there is also opportunity.
Entrepreneurs started businesses in record numbers during the pandemic. The 'startup boom' set a record for the number of new businesses last year, a 53 percent increase over 2019, the last pre-pandemic year.
A Salesforce survey last summer found:
Just over a quarter of entrepreneurs said they became their own boss after they'd been laid-off or furloughed. Most cited other reasons, especially the desire to be their own boss.

New businesses formed in 2020 were overwhelmingly business-to-consumer, 80 percent of them selling directly to consumers.

Seventy percent of those surveyed said their new business was born out of technology or was tech-focused from day one, and over a quarter said they were purely digital businesses.

Most new business owners (80 percent) funded their own launch, a third tapping friends and family. Over half (52 percent) did it for under $10,000, and nearly half of that group did it for under $5,000.
There are dozens of national and local programs designed to help people become small business owners. But if you're native Hawaiian or identify as indigenous, now there's Hawaii Rising.
Filling the pipeline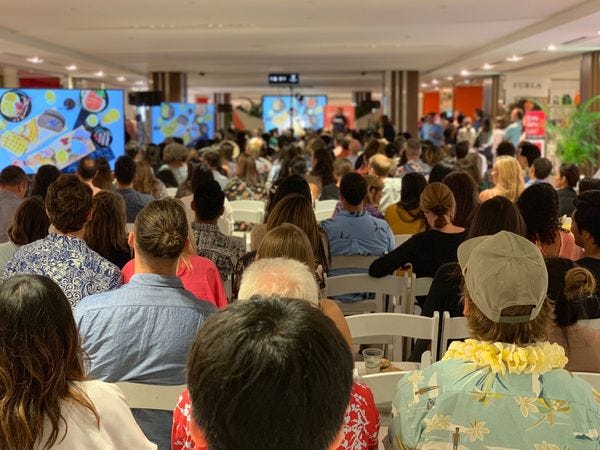 A packed house at a pre-pandemic Mana Up showcase in Waikiki.
Mana Up is working on recruiting its seventh cohort of Hawaii product companies to participate in its six month intensive program, and the demand is only growing.
"Last year we had 130 applications and we couldn't just pick ten, we had to pick twelve," said Meli James, Mana Up cofounder. "That's how much we're seeing this momentum and people growing and building, that's just amazing."
A good portion of their applicants were great small businesses, but they just hadn't quite reached the size and scale that would be best served by the accelerator.
"We thought, 'Okay, what's on the other side, the earlier side,'" James said. "How do we leverage these resources, mentorships and relationships that we've built globally and here in the islands to create that pipeline, to support more companies that are a little bit early for Mana Up?"
While the accelerator program works closely with fewer than a dozen companies, Hawaii Rising is open to every entrepreneur who wants to join.
"The accelerator is definitely the more intensive, curated experience, whereas Hawaii Rising is going to be more monthly workshops and community building meetups, with a lighter touch," says Brittany Heyd, who cofounded Mana Up with James. "It's going to be amazing."
Interestingly, James and Heyd independently offered that they were also seeing an uptick in local entrepreneurship. A third of their latest round of applications were from companies that had been started in the prior 12 to 18 months.
"Through our applications, we're just seeing a lot of new companies forming through the pandemic, whether it was that you got laid off or it's the 'now or never,'" James says. "Life is different now and I'm seeing my perspective change, so let's just go for it."
A powerful partner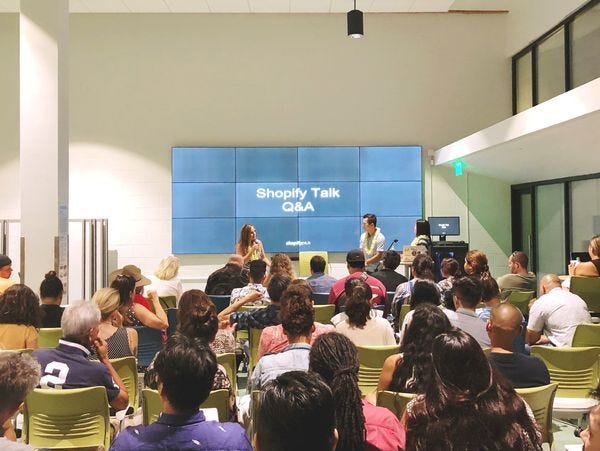 One of the things Mana Up does for its cohort members is help them launch or refine their ecommerce operations, making it possible to sell their Hawaii products worldwide. This component of their curriculum is offered in partnership with Shopify, easily the biggest ecommerce platform in the world.
"Last year, Shopify handled more web traffic than Amazon," Heyd notes.
Most of the Mana Up portfolio companies generate the majority of their revenue from ecommerce, James says, rising from 40 percent in 2019 to 70 percent in 2021.
"We have already seen the massive impact Shopify's resources and mentorship can have on businesses through our accelerator," she said.
Mana Up had been working with the "Shopify for Startups" program for years. But their counterparts at Shopify saw what was happening in Hawaii with native Hawaiian entrepreneurs, and looped in another team: "Build Native with Shopify."
In announcing Hawaii Rising, Shopify President Harley Finkelstein said, "Having been involved in the Hawaii community with Mana Up for almost four years, we knew there was an opportunity to further expand our support to empower entrepreneurs.
"Build Native with Shopify is a global Indigenous-led and built team focused on culturally relevant programming and inclusivity, and we're excited to extend these resources to Hawaii's participants," he said.
The Hawaii Rising program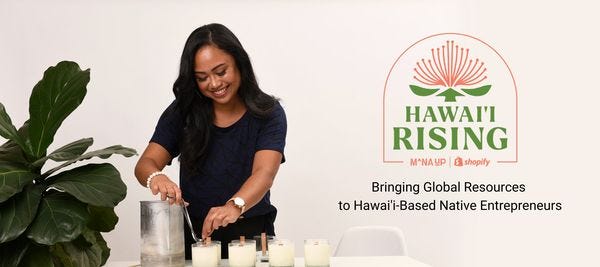 How many participants will be able to enroll in Hawaii Rising?
"We would love for it to be as big as it can be — there is an application process but it isn't really anything [like applying to the accelerator]," James said. "it really is meant to be much more broad and open, we do want it to be very accessible, friendly, and warm."
The list of requirements is pretty simple:
Must be a Hawaii resident and headquartered in Hawaii.

Must identify as a Native Hawaiian, Native, or Indigenous business owner.

Must be an existing product or service-based business with the intention of selling online or currently selling online.

Program participation commitment.
"It's not a hard and fast rule where you shouldn't bother if you can't be at every single session," James notes. "We understand life happens."
And she is quick to point out that there are two things that are not requirements.
"There is not a requirement that you're currently using Shopify, so if you're just curious about going online, this would still be a perfect program for that," she says. "One workshop is on building on Shopify, but the other workshops are on marketing and leadership and strategies and other things that come with online growth and development."
In addition, ecommerce is for more than businesses that buy, sell, and ship products.
"I want to make it really clear that this program is not just for product based businesses, this is also for service based businesses," she says.
For example, Heyd says, you could be offering Hawaii travel experiences like surfing lessons, kayak rentals, or lei making.
See also: Tapping thoughtful travelers to make positive change
In addition to the workshops, Hawaii Rising will be hosting meetups on each island: Kona and Hilo on Hawaii Island, Maui, Kauai and Oahu.
"We're really trying to create more of that synergy as so many of the entrepreneurs learn so much with collaborations, popping ideas off of each other and all that stuff that I think we really kind of lacked in the last few years with a pandemic," James says.
"We were recently on the Big Island and we were out to lunch, and we saw two of our entrepreneurs from separate companies out to lunch together," Heyd adds. "Little anecdotes like that just make us so happy because we see that it's happening, the community takes on a life of its own."
Learn more
The free Hawaii Rising program will run February to October 2022. Eligible companies must register by Feb. 8 and the program starts on Feb. 10.
"We would love for people to come to the info session to check it out and to ask questions," James says. "We've got six of the Shopify team flying in, which is incredible, and there's also going to be great entrepreneurs there as well to network with — I know we've been all kind of dying to get out there more and meet more entrepreneurs."
To register for the Feb. 3 information session, click here:
https://www.eventbrite.com/e/mana-up-x-build-native-with-shopify-hawaii-rising-info-session-tickets-252449432047