Q&A: Trivia Hawaii with Remy Zane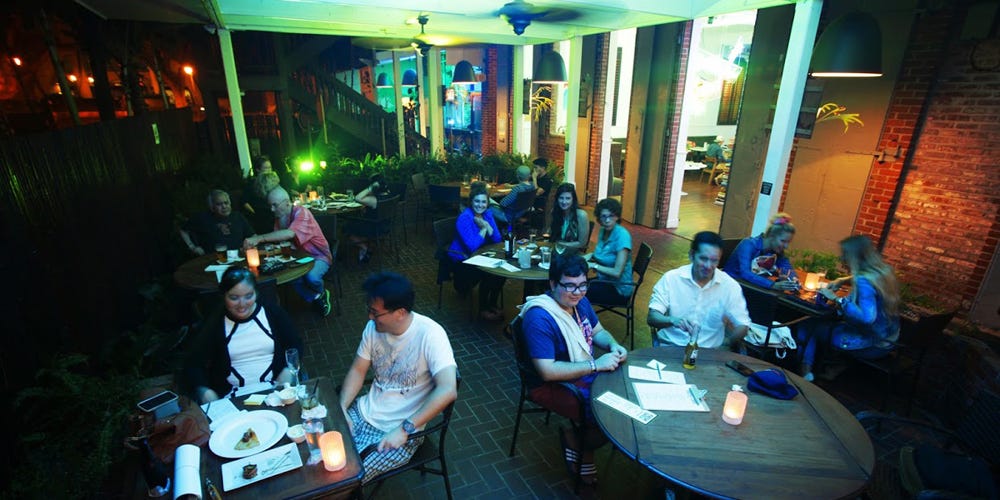 Do you excel at Trivial Pursuit? Have you fancied yourself a contender for "Jepoardy"? If random facts and clever riddles are constantly rattling around in your brain, you need to check out Trivia Hawaii. There are events at least four times a week, they're free to join, and you can win prizes as well as bragging rights.
I was introduced to Trivia Hawaii and its founder, Remy Zane, through my good friend Mitchell Dwyer. (Mitchell recently helped me blog about Lois-Ann Yamanaka, and is shaping up to be this blog's bearded muse. He's also the only person I know who made it into the "Jeopardy" contestant pool.) After a short introductory email, and Remy and I ended up in a long online chat in which he shared his love for trivia, how Trivia Hawaii events work, and how he is working on turning it into a full time job.
Remy grew up in Niu Valley before moving to Kailua. He dormed at and graduated from UH Mānoa with an English degree in 2008, and spent some time in Japan before returning home to Waikiki. Non-trivia nerds are mostly likely to know him as a radio host on KORL 97.1FM, the nation's first 24/7 JPOP radio station. The gig is perhaps fitting, as his journey from trivia fan to trivia entrepreneur passes through Japanese pop culture.
Q: How did trivia become a passion of yours? Were you just incredibly smart and hungry for "trivial" knowledge as a kid?
Remy: I watched a lot of game shows growing up. I also had several great teachers throughout my life who were able to turn my love for pop culture into a form of brain training. By the time Kawaii Kon became a thing in 2005, I was already fairly entrenched in Japanese pop culture, and once they experimented with doing a trivia game in 2008 or '09? I realized I wanted to give it a shot.
To clarify, trivia doesn't really have much to do with anyone being "smart." Knowing things is important, sure, but being able to collaborate with your team and come to a correct answer is usually the better skill to have.
Q: How long have you been running the trivia club? What inspired you to actually start something?
Remy: I started Trivia Hawaii as a company in June of last year after joining the trivia crowd at Manifest in Chinatown in 2012. Manifest was the first place I can think of that has been doing trivia, pretty much as long as they've been open. That venue was the first place I went to for trivia after moving back to Hawaii from Japan. I started first as a player, then became a host. I had so much fun hosting that I decided to make it my job.
Q: I didn't know this was even a business someone could get into. Is this something you find in other cities? Were there models to use as inspiration?
Remy: There are at least a few companies that offer questions or event hosting across the nation, though most that I've heard of focus on specific states or regions. Before my friend and I took over the question-writing duties for Manifest two years ago, they had been paying both the host and a national trivia company (there are several!) for the questions each week. The company that Manifest used, until my friend and I took over, was called Stump! Trivia. They've more or less been my inspiration and goal insofar as scope. There was nothing like that in Hawaii to my knowledge, so I thought I'd give it a shot.
Q: The engine that drives any trivia contest is the question pool. You mentioned writing questions... what portion of the questions at your events are original? Are any looking for answers that are "things only locals would know"?
Remy: All of our questions are original. Either the unsinkable genius Makena Dyer -- currently my only employee! -- or I write the questions for each event. Depending on the location, we do try to include Hawaii-centric trivia once in a while, especially at UH Mānoa's Ba-Le trivia on Fridays. But because many trivia-goers tend to be businessmen or students from outside Hawaii, the questions are for the most part general knowledge.
Q: Looking at the Trivia Hawaii calendar, you have at least four events every week and one on the last Wednesday of the month. That seems like an incredible amount of work. Why such a full schedule? Is it to keep group sizes manageable, or you just love trivia THAT much?
Remy: Definitely the latter. It's not so much about group sizes as it is trying to hit different markets. One long-term goal of Trivia Hawaii is to have at least one trivia night per week per district. As it stands, two are in the Chinatown area, one is at UH, and other trivia nights we aren't directly involved with are in the Ward area, so we're a little far from that goal right now, to be sure.
Q: Do you go to all of these events? It doesn't sound like you have a big team.
Remy: I co-host Thursdays and solo host Fridays and every other Tuesday. Officially, Trivia Hawaii right now is just me and Makena. My initial goal has been for me to have one venue to host per weeknight, but both life and business have graciously thrown a wrench or two into those plans thus far.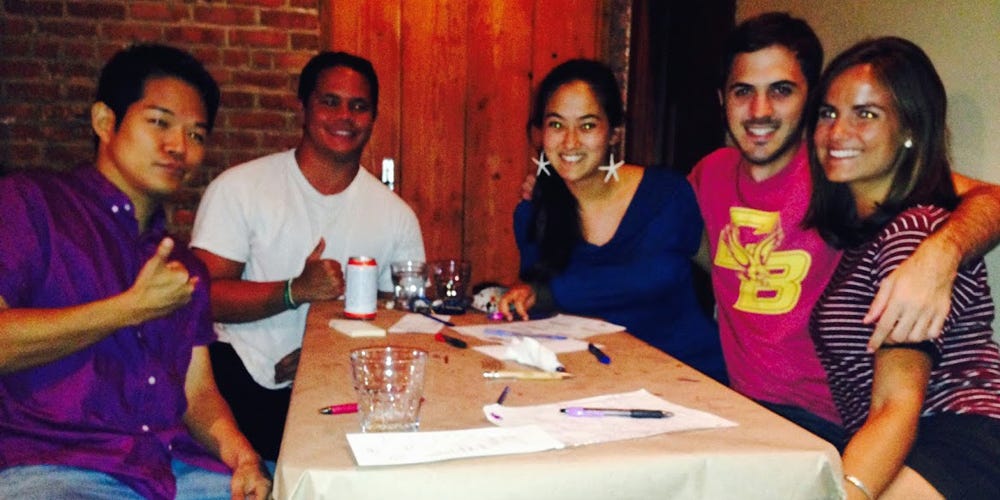 Q: How does someone get into this. Do I just show up? Are there qualifiers or memberships? I would imagine you pick up people who just happen to be in the venue?
Remy: Most of the events are walk-in friendly. Usually teams will be there some time in advance to reserve a table for their group, though it's completely common and welcomed for people to walk in and join on the spot.
Q: What are the events like? How big are the groups, how many rounds or qualifiers or the like?
Remy: Team sizes average about four players and can go up to six players. Trivia nights last anywhere from 90 minutes to three hours, although two hours is the average. Some venues don't limit the number of people per team, but for the most part six per team has been the best choice. And there aren't any qualifiers, per se. You play on any given night, and if you win, you win whatever prizes the venue gives out for that week.
Q: Prizes?
Remy: Anything from a round of drinks to themed prizes, say, green T-shirts for St. Patty's Day, that sort of thing. Manifest has a "tournament" setting where every four months, the teams that have won during that time can compete for an extra-special prize.
Q: Sounds like fun. How noisy do you get?
Remy: I'm timid as a player but loud as a host. It's a weird balance, but it works.
Q: Are trivia nights are always a team thing? Would someone who just walks in get assigned to one?
Remy: You're not obligated to play with people. We have some regulars who could very well win by themselves, but teamwork is encouraged for its own sake, and also because it brings more people into the venues.
Q: Are there championships or cumulative points or a some kind of running leaderboard? Or is it a blank slate every night?
Remy: There are only seasonal "tournaments" at Manifest, but as the attendance of the other venues picks up, I'd like to do something along that line for the other venues as well. Normally it is just a blank slate, although though once we reach a certain number of venues I'd definitely like to work on forming an islandwide league.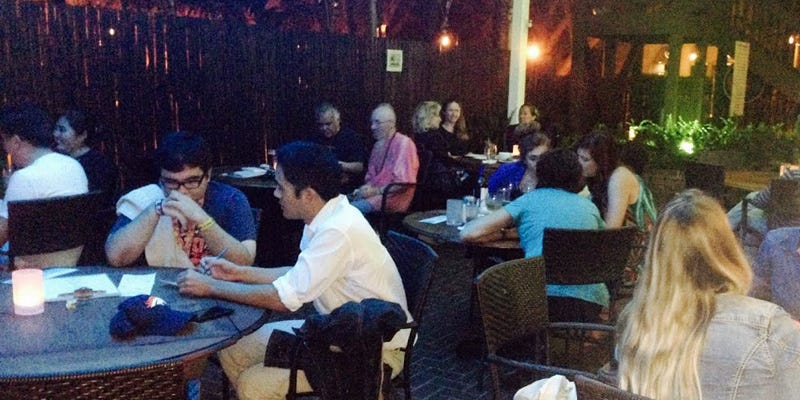 Q: Tell me about the venues. Does hosting Trivia Hawaii work out for them? I would imagine they sometimes see people coming in more for the trivia than for food and drink?
Remy: It's definitely more hit than miss. The venues with trivia right now, even those I'm not directly involved with, have benefited hugely from trivia nights -- if not just because of the trivia, but sometimes because the contestants discover that these bars even exist. Parking is occasionally an issue, so I'm thankful that most of the trivia regulars either live nearby or manage to find street parking.
Q: So, what does it cost to participate?
Remy: It doesn't cost anything to participate in trivia unless the venue charges a cover. We've only tried that once so far, and it didn't work too well, so chances are it won't happen again.
Q: If it's free to play, how does Trivia Hawaii sustain itself?
Remy: Well, the venues pay us a certain amount each week, either a flat fee or a cut of sales. Since I started Trivia Hawaii with the intent to make each regular venue as successful as Manifest, Manifest has become something of a flagship venue for us. It's been enough so far that we made a profit on our first nine months, although personally I've had to fill the non-trivia hours of my schedule with other jobs to stay afloat.
Q: Does Trivia Hawaii host events independently?
Remy: We're also open to parties... anywhere with a need for MCs, game shows, trivia, etc. is where we'd be honored to be. It's still very much mostly me hosting and running things, but for now, so long as I can stay busy, I'll go where I'm needed.
Whether you want to attend a Trivia Hawaii event, or bring Trivia Hawaii to you, learn more by visiting TriviaHawaii.com, connect with Remy and friends on Facebook, or join the group on Meetup.com. And Remy says he's coming to Twitter and Instagram soon.