Ka Maka ʻĪnana is rethinking 'design thinking'

I'd love to connect with you, wherever you are. Let's be friends on Facebook, Twitter, Instagram, LinkedIn, Reddit, YouTube, and anywhere else!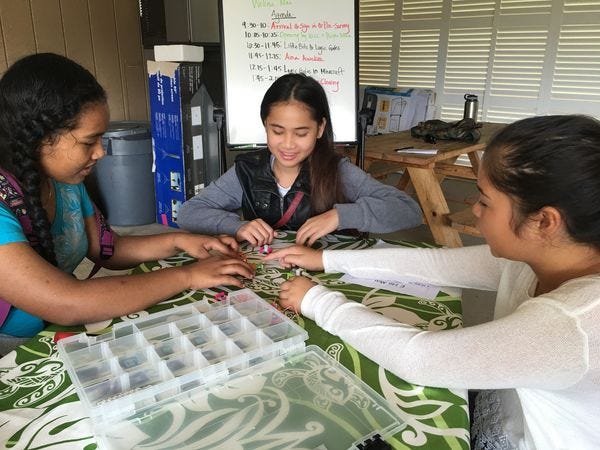 LittleBits & Minecraft with Purple Maia in 2015. Full gallery here.
My first introduction to the Purple Maiʻa Foundation was in 2015, when I enrolled my son in a workshop using LittleBits and Minecraft to teach kids about logic gates — one of the basic building blocks of computer science.
The non-profit foundation, founded by my friends and mentors Donavan Kealoha and Olin Lagon, launched with a mission to providing underserved youth in Hawaii with access to empowering technology education.
Back then, the foundation hosted after-school technology classes (featuring their trademark purple MacBook laptops) at Jarrett Middle School, Stevenson Middle School, and Kamaile Academy, as well as roaming events at Iolani School and the Boys & Girls Club in Nanakuli.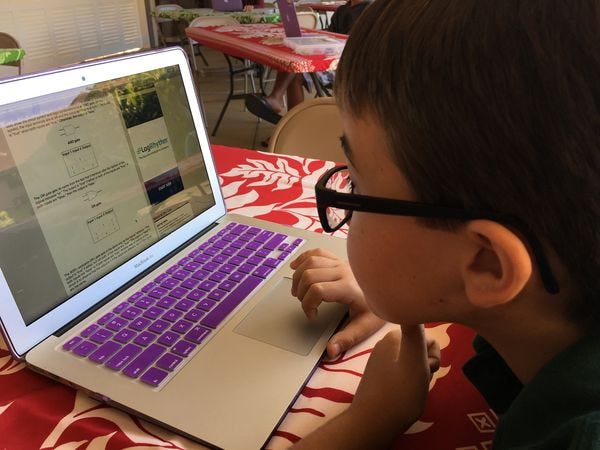 My youngest son Alex, then 11 years old. He's now a high school senior.
The following year, the foundation launched the Purple Prize, an all-ages challenge to develop technology that furthers the values of aloha āina, or "love of the land."
"The tech industry isn't always clued in to what the community needs and what specifically the Hawaiian community needs," organizer Kelsey Amos told Pacific Business News at the time. "The competition is to see what new problems we might try to tackle in Hawaii."
Described as a pilot event, the Purple Maiʻa Foundation didn't even know exactly what sorts of ideas would come out of it. In all, seven teams pitched ideas aimed at the present but rooted in Hawaiian culture and indigenous knowledge.
The second annual event drew 11 teams, and I was fortunate to be able to attend the kickoff event, hearing from inspiring speakers, learning about the Mānoa watershed, and getting muddy in Kānewai loʻi. I put together this video of that amazing day.
"In ecologically balanced societies, culturally-embedded technologies enhance and serve sustainable, living systems that provide health and well-being for ʻāina and people, now and into the future," the website notes.
Over the next few years, the Purple Prize evolved into an "indigenous innovation incubator," and right up until the advent of the pandemic, the annual program worked with over 50 teams and awarded over $200,000 to those believed to have the highest potential to empower communities and regenerate Hawaii ecosystems.
A number of the ideas coming out of the Purple Prize became real projects and businesses, led by indigenous founders. It was a success, but the pandemic came just as its organizers were rethinking their approach.
Digging deeper by design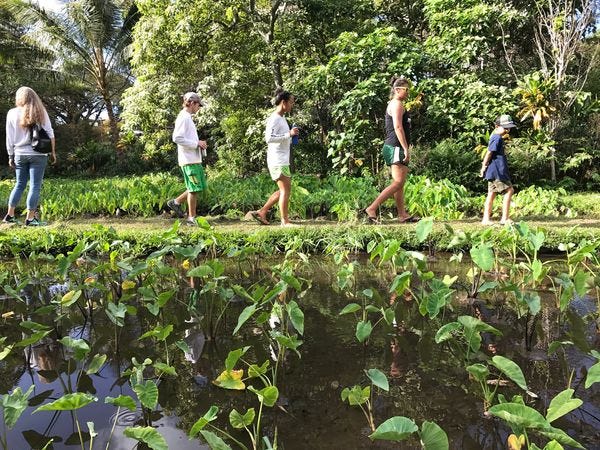 Ka Papa Loʻi O Kānewai along Waʻahila ridge in Mānoa.
Although practical projects and real businesses had come out of the Purple Prize, organizers began to sense friction between the goal of creating something financially viable and something meaningful.
"The capitalist paradigm didn't fit our Hawaiian cultural context and, because of that, available resources and existing models for innovation, entrepreneurship, and design thinking didn't quite work for our entrepreneurs," wrote Purple Prize lead Alec Wagner.
"What we saw was a number of innovative companies that had indigenous elements, and just a few indigenous innovation companies," he said. The latter, led by native Hawaiian practitioners and educators, were the ideal outcome.
"We did some deep thinking and research and came to the conclusion that if we were to create cohesion between what is indigenous and what is innovation, we needed to change how innovations were designed and the way that innovators actually think."
The Purple Maiʻa team went back to the drawing board, starting with the "design thinking" framework, and its well-worn principles like Human Centered Design (HCD). But while design thinking remains all the rage in educational circles, it still didn't quite fit the model Purple Maia was looking for.
"In our research we found a number of flaws," Wagner recalled. "Human Centered Design does not take into account the culture or history of a community, [and] it is rooted in the present and focused on the future."
Further, while "design thinking" has provided many consultants and facilitators with successful careers, the structure suggested that there is a "right way" to do things.
The organizers committed to developing a process that was focused on land and people, fostered design by communities that would implement them, and created solutions that could evolve and adapt over time.
To do this, they convened Ka Maka ʻĪnana, the next iteration of the Purple Prize.
A diverse cohort of more than 40 contributors, including everyone from teachers to city planners, put more than 1,000 hours into creating a 51-page "living design field guide."
The accelerator program meanwhile led to four new companies: ʻŌiwi Online, Exchange Ave., Kanu Offset, and Vegetation Continuum.
"All of them were built upon a foundation of Hawaiian culture, generational practices and knowledge, and indigenous design, and all are poised to succeed from a business standpoint," Wagner said.
Now they are looking for their next batch of innovators.
Learn a new way to design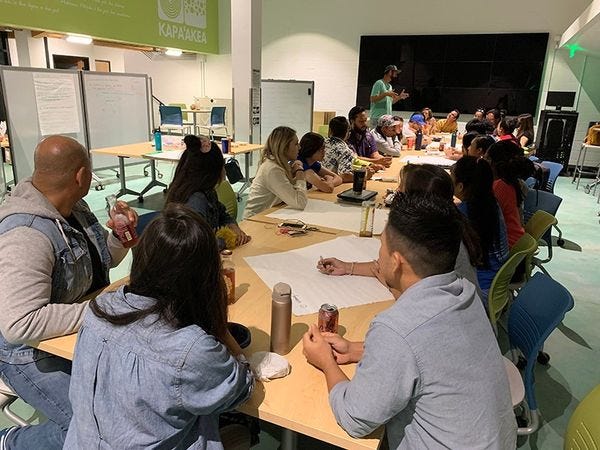 The second cohort of Ka Maka ʻĪnana at Hālau 'Īnana. Photo by Purple Maia Foundation.
Ka Maka ʻĪnana is now seeking 20 community members to apply for its third cohort, "Ethical Design in a Hawaiian Context," to be held between March 25 and June 24, 2022.
"Design is the foundation that everything we see is built upon, from public service programs, to policy, to architecture, to emerging technologies," the website notes. "Ka Maka ʻĪnana seeks to inform the way we think about and practice design to embed more equity and cultural groundedness in all of the things that we create."
As Hawaii Is still emerging from the pandemic, organizers created an 11-week virtual learning experience consisting of videos, readings, exercises, and assignments that shouldn't take more than four hours per week and can be completed on your own schedule.
Key to the program will be a live, weekly, one-hour Zoom session every Friday afternoon where cohort members can interact and discuss the week's curriculum.
The program will be delivered in three parts:
Principles of Community Building

Primer on Design

Principles and Ethics of Designing in Hawaiʻi
Once the program is over, participants will become part of a virtual community of Ka Maka ʻĪnana alumni. There are also plans for in-person talks, workshops, site visits and pau hana events, as well as monthly "Design Think Tank" meetups at Hālau ʻĪnana.
Organizers say the design curriculum, developed over three years, is worth as much as $2,200, and that participants could be eligible for over $10,000 in funding to develop prototypes and launch projects.
Applications are due by March 11, 2022. Admission will be on a rolling basis.