Discover more from Hawaii Bulletin
Island innovation in focus. Hawaii-based science, technology, startups and entrepreneurs, featuring local leaders, creators, educators, and more.
Over 5,000 subscribers
"Hawaiian Ghost Story" Needs Votes
"Hawaiian Ghost Story" is a feature film that doesn't yet exist. But there is a story to be told, and people willing to tell it. As with most creative projects, all they need is some funding to get it started. And with your vote, they could get it.
Above is the official "Hawaiian Ghost Story" teaser trailer, and an annotated storyboard of a key scene, designed to give you a sense of the movie to be made. Kealii Reichel lends his voice to the opening narration. Although barely more than a visual sketch, the preview is already enough to give me chicken skin.
In an interview with KITV's Mahealani Richardson, producer George Russell gave his elevator pitch.
"It's about a young man, a local man, who comes back to Hawaii after being away for so many years to sell his old house that he grew up in, only to find that the house is inhabited by a young ghost," Russell explains. "He enlists the services of an unorthodox kahuna to solve the ghost mystery."
The film has been entered in the first Get It Made contest at OpenFilm.com, which is backed by renown names like Robert Duvall, James and Scott Caan, and Mark Rydell. The contest will award $50,000 in cash and a $200,000 finishing contract to one of six finalists as determined by an online vote. A vote that ends on Saturday, July 31.
So Russell is hoping the Aloha State will rally behind the project.
"We're excited about this contest, because we're the only Hawaii entry," he said. "It's a world-wide competition, but because it's such a new contest there were only 103 submissions, so the odds are pretty good."
"We want to make a film that Hawaii can be proud of," Russell adds.
To help make that happen, head over to the "Hawaiian Ghost Story" page at OpenFilm.com. You'll have to register (it's free, but requires e-mail confirmation), then click the "Vote Here" button in the lower left.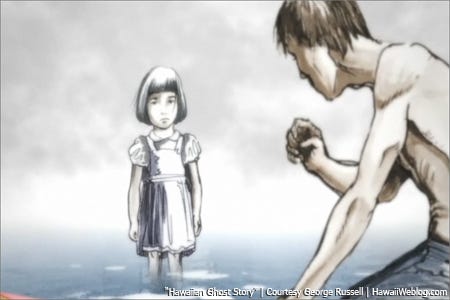 Best friends Ray, Bobby, and Del, living in Hawaii, enlist the services of an unorthodox "Kahuna" (Hawaiian Priest/Spiritual Guide) to rid their home of a bothersome "Lapu" only to learn that this "terrifying ghost" is actually the spirit of "Namiko", a little girl who perished in a WW II era Japanese internment camp. The more Ray learns of Namiko's story the more he is literally drawn into her "spirit world". Together, Kahuna Albert, Bobby, and Del must solve the rest of the ghost girl's mystery and discover their own true connection to her before Ray's stay in the spirit world becomes permanent.