'Hawaiian Home Companion' Brings Skits, Songs to Kakaako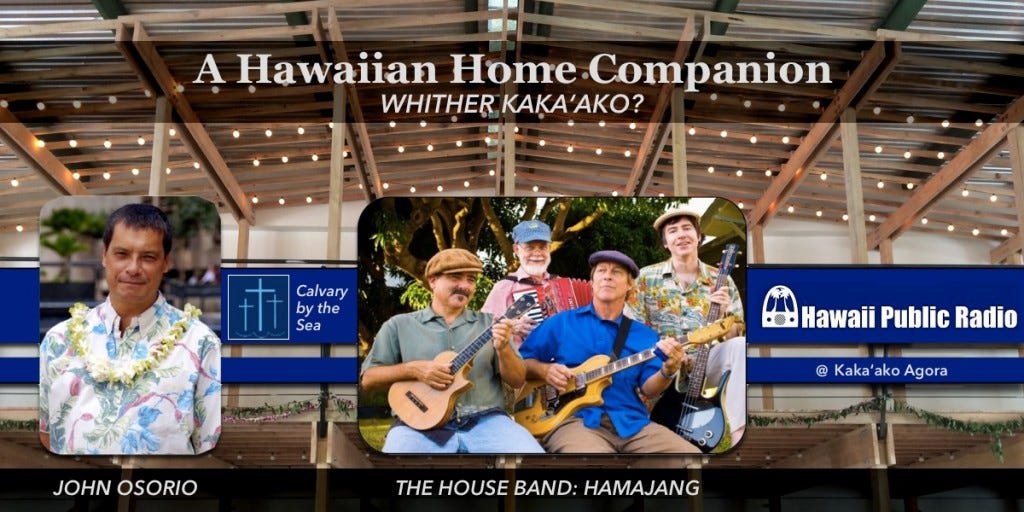 Stories of modern life in Honolulu will be told in the folksy midwestern style of classic radio on Sunday, when Hawaii Public Radio takes over Agora in Kakaako.
The event is a celebration of both Agora's first birthday as well as the 40th anniversary of "A Prarie Home Companion," a popular program of Minnesota Public Radio. But instead of Garrison Keillor hosting a quaint variety show, Hawaiian scholar and musician Jon Osorio will lead "A Hawaiian Home Companion," which "adapts Midwestern folksiness to the reality of modern day Hawaii, facing hard truths with down-home humor and song."
The performance in Kakaako will actually feature excerpts from the third edition of "A Hawaiian Home Companion," a production that debuted in 2005 and was revived in April at the Calvalry by the Sea Lutheran Church in Aina Haina. That program was a fundraiser for Angel Network Charities, which provides food and services to the homeless and at-risk families.
"It's a variety show that's only modeled after A Prairie Home Companion, we take some of the best parts of that show, short skits, some of them poignant, some of them we hope funny,"Osorio told KHON. "They take a humorous but also a very important look at social and political issues in Hawaii, and particularly around the issue of houselessness and the lack of shelter for our people."
The shortened version highlights the material most relevant to Kakaako, which is in the midst of great change and some controversy.
"We're focusing on Kakaako because it is a place where there is so much new development in an area that once was a different kind of community, and we're also very aware that a number of people live on the streets in Kakaako as well," Osorio explained. "The focus here is trying to bring people together to understand that all of the decisions that we make about policy and planning affect people in really important ways."
Despite the serious undercurrent, "A Hawaiian Home Companion" still aims to entertain.
"Some of this is funny, it's intended to be funny, it's intended to poke fun at politicians, at investors, at business people," Osorio said.
The first half of the live, radio-style musical variety show will feature the music of Hamajang, serving as the production's house band, and the second half will bring in the Hot Club of Hulaville, a Hōkū award-winning gypsy jazz band featuring Duane Padilla, Sonny Silva, Ernie Provencher, and Willow Chang-Alléon.
There will also be food available for purchase (including chicken pot pie and apple crumb pie by Sweet Revenge) and door prizes.
One caveat? Space is limited, and HPR is asking people interested in attending to RSVP by calling (808) 955-8821 during business hours (or between 8 a.m. and 5 p.m. tomorrow). For more information, visit HPR's event page on Facebook.
"HPR at the Agora" is only one of many events filling the calendar at Agora, which is reprising its jam-packed "June Kaboom" program from its debut last summer. To see what else is coming up, visit the Agora calendar.