Discover more from Hawaii Bulletin
Island innovation in focus. Hawaii-based science, technology, startups and entrepreneurs, featuring local leaders, creators, educators, and more.
Over 5,000 subscribers
Hawaiian language storytelling finds a friend in technology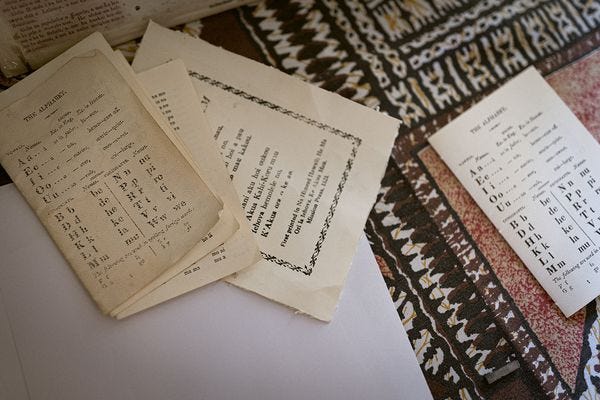 Already a popular magazine filled with rich multimedia explorations of contemporary life in Hawaii, FLUX Hawaii has now launched a section devoted to Hawaiian-language storytelling.
The initiative is one of the first of its kind funded by the Google News Lab, part of the tech giant's effort to collaborate with journalists and entrepreneurs to drive innovation in news.
FLUX Hawaii is one of ten multimedia brands under the Nella Media Group, better known as the NMG Network. (If that name sounds familiar, it's because the company stood out among the members of the latest cohort of Blue Startups.)
The magazine has brought aboard N. Ha'alilio Solomon, a Hawaiian language professor at UH, as possibly the first Hawaiian-language editor currently working in local media to produce 'ōlelo Hawai'i content.
Its new Hawaiian section will focus on original arts and culture pieces that are commissioned and produced in the Hawaiian language. And yes, the announcement was also made in Hawaiian.
A new hope for nūhou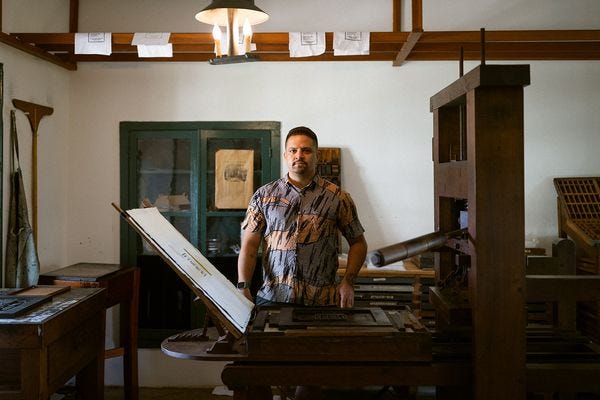 FLUX Hawaii Hawaiian language editor N. Ha'alilio Solomon at the printing press at the Hawaiian Mission Houses Museum.
Imagine an editor who is a native Hawaiian speaker of the Hawaiian language.
This editor identifies a story of importance to the native Hawaiian community, and reaches out to community leaders, in Hawaiian, to find experts and other sources. The editor then assigns the story to a writer who researches and submits the article, also in Hawaiian.
The editor does what editors do, also pulling together other story elements like photos and videos. Finally, the story package is published, in Hawaiian, for readers and students of the Hawaiian language.
In this vision, Hawaiian culture envelops the entirety of the storytelling process, bringing with it unique context and countless nuances. Instead of an English travel magazine article translated into Hawaiian as an afterthought, the Hawaiian language is the root, and what sprouts forth is a fully, naturally Hawaiian story.
Such a vision is not impossible, but it is improbable.
Yes, the Hawaiian language is thriving, more widespread and vibrant than ever before... or at least, since it was nearly driven into extinction. Its strength comes along with what might be a third or even fourth 'Hawaiian Renaissance,' in which native Hawaiian cultural practitioners and community leaders are directly applying their talents and voices across the civic and political spectrum.
Pretty much everyone agrees that this is a good thing.
But at the same time, the media landscape is shifting rapidly. News and journalism were already in decline and under threat, and that was before COVID-19 and before entire communities became outright hostile.
It's tough out there for any media outlet, let alone media created for people who speak and read an extremely endangered language.
Flux capacity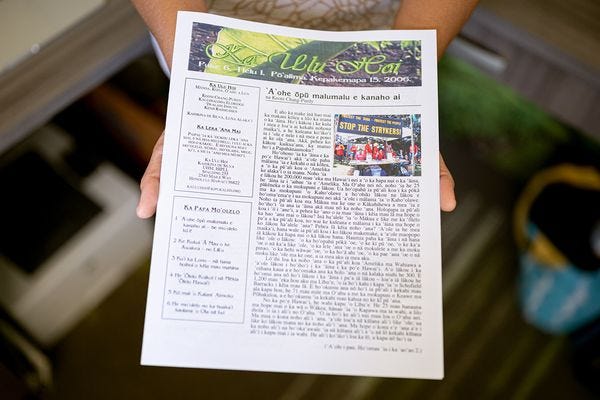 Ka Ulu Hoi, a Hawaiian language periodical for the University of Hawaii, published by Kahikina de Silva, writer of the inaugural article for the project.
You might think a Hawaiian language media operation would make more sense in an educational or academic setting, and certainly native Hawaiian organizations do regularly publish documents and articles in 'ōlelo Hawai'i.
But establishing a Hawaiian language section in a modern multimedia operation fosters much more creative and colorful content, and certainly reaches a broader audience.
FLUX Hawaii had previously published several feature-length stories in the language, says Matthew Dekneef, NMG Network Editor-at-Large.
"Originally we were just going to take our existing stories and translate them into Hawaiian," he tells me. "But then I thought it'd be better to maybe do something that was more inclusive of Hawaiian language writers, and people who already work in that revitalization space."
Dekneef credits NMG global content head Marc Graser for finding the Google News Lab opportunity. Even though it was late in the year, they were able to secure a meeting.
"They have a DEI, a Diversity Equity Inclusion branch, where they fund different projects, and they had said they wanted to do things in Hawaii for for a while," Dekneef recalls. "We told them about the type of storytelling that we like to do, and we put a proposal together."
As the proposal evolved from simple translation to an all-encompassing Hawaiian language operation, "that instantly felt exciting to me from an editor standpoint," he said.
The Google News Lab clearly agreed.
"If you're someone who works in media a lot, the internal dynamics around media and gatekeeping, you know that it's all about power," Dekneef explains. "We write about the Hawaiian revitalization movement in English, but to take that another step further and create a micro newsroom where those same dynamics that happen in English newsrooms can happen in Hawaiian, that's the overall goal."
And while only one article has been published under the model so far, Dekneef says he can already see it working.
"The editor will CC me on emails he sends out to his network of people, all in Hawaiian from the very beginning, and then they discuss the story in Hawaiian, and I think that will color the stories in different ways," he says. "This is exactly what I wanted to happen."
The past inspiring the future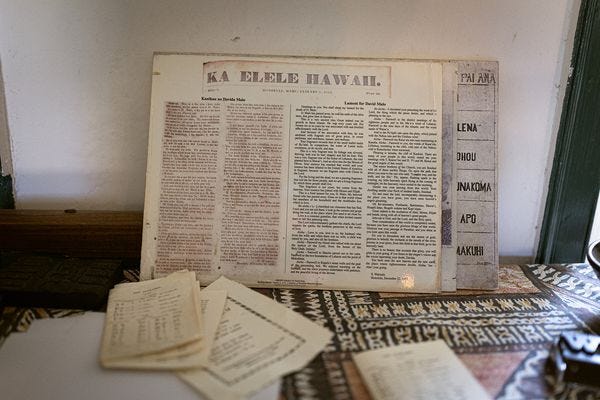 A Hawaiian language newspaper front page at the Mission Houses Museum.
Dekneef is quick to point out that native Hawaiians embraced the written word to preserve and propagate their history and stories.
"Hawaiian language newspapers make up the the largest indigenous archive in the Western Hemisphere," he says. "Just the fact that those newspapers existed, that Hawaii was one of the most literate populations in the entire world, has been a constant source of inspiration."
"How can we replicate that dialogue between our community and media, that attention to literacy and language?" he asks. "Not just learning the language, but also putting it to use in terms of asking provocative questions and telling our own stories in very nuanced and complex ways... even in ways that we may we might not all agree on within the community."
Dekneef notes that FLUX Hawaii is not a hard news outlet.
"We want to present tangled questions like what it means to be Hawaiian or what does it mean to be local in Hawaii today, and people in Hawaii think about these things all the time," he says. "Ha'a [Solomon, the editor] is thinking about it all the time, too, but he's thinking about it in Hawaiian."
Looking ahead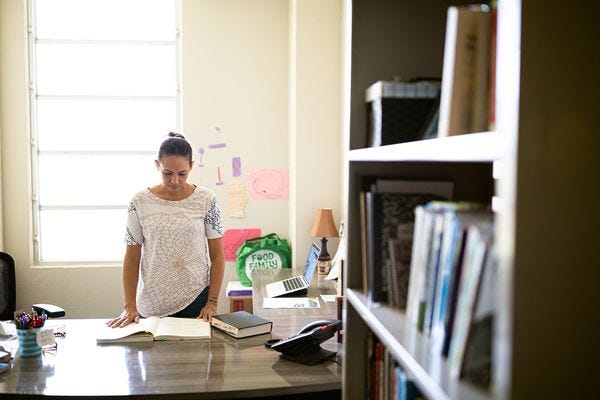 Kahikina de Silva is the writer for the inaugural article for the project. She teaches at the University of Hawaii at Manoa and Mānoa.
The Google News Lab funding will support FLUX Hawaii's Hawaiian language section through March 2022, and there are six or seven stories, conceived in Hawaiian, in development.
"The stories that we're discussing are things that are relevant to the native Hawaiian community: sustainability, exploring alternative subsistence models, climate justice, and the tokenization of Hawaiian identity in modern society -- that's such interesting terrain to untangle for Hawaiians," Dekneef says.
"Anything we would do in FLUX is what we would do for this too, like our arts and culture coverage, preservation, and revitalization projects that are happening in Hawaii," he adds. "We have one about Red Hill coming up and the people that are on the ground there."
Dekneef hopes that additional funding will be available to continue their 'ōlelo Hawai'i publishing initiative, either from Google News Lab or other sources that will be able to look at the current pilot for a solid proof of concept.
No matter what, though, he wants the project to help advance adoption and appreciation of the Hawaiian language.
"It sounds so glib, to say people should learn Hawaiian, because I think there are so many hurdles to doing that for all of us," he says. "I just hope that when they start to see these long form stories, it becomes more normalized, and it inspires people to want to figure it out, to learn Hawaiian so they can engage with these pieces more seriously."
The FLUX Hawaii 'ōlelo Hawai'i section can be found here. Each piece includes an English translation.
All images courtesy Mahina Choy-Ellis for NMG Network.