Hawaii Newspaper Archives Go Online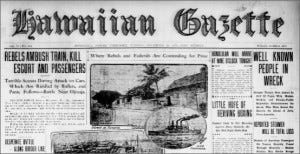 The archives of three newspapers documenting Hawaii's 19th century history have been posted online by the Library of Congress, digitized and converted into searchable text via OCR through the participation of the UH Mānoa Library.
The archives are available via the "Chronicling America" website, and come from:
According to UH, The Daily Herald and The Hawaiian Gazette issues uploaded to date represent a conservative, pro-American editorial viewpoint, and The Independent represents a strongly nationalistic Hawaiian viewpoint. The library is continuing to digitize additional publications, and will be adding to the online archive each quarter.
As of December of 2009, "Chronicling America" offers free searchable online access to 1.7 million pages from 212 newspaper titles published between 1880 and 1922.