Discover more from Hawaii Bulletin
Island innovation in focus. Hawaii-based science, technology, startups and entrepreneurs, featuring local leaders, creators, educators, and more.
Over 5,000 subscribers
HMAUS Springfest Tomorrow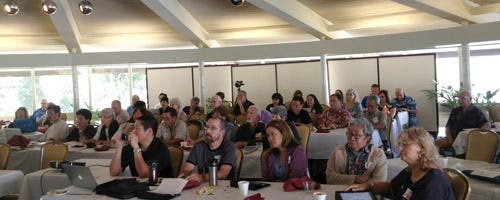 "Explore" is the theme of this year's Springfest event, one of two signature annual gatherings of the Hawaii Macintosh & Apple User Society (HMAUS). Taking place on the campus of Kapiolani Community College, Springfest is a free, casual conference that offers presentations and workshops inspired by Apple technology. Topics include photography and digital art, as well as home networking and computer security.
The main attraction will be a "Made In Hawaii" panel, showcasing apps and technology rooted here in the islands. The great Brian Dote of Tapiki -- creator of Sushi Star, Movie Buddy, and other great apps -- will be featured, as well as Andy Yip and Jane Zeng, who created the DaBus app, and Zubin Menon of Oceanit. Russell Ogi, a 3D printing guru, rounds out the panel.
Springfest runs from 8:30 a.m. to 2:30 p.m., and will close with door prize giveaways (including a Doxie Go portable scanner). For more information, check out the HMAUS website.