Discover more from Hawaii Bulletin
Island innovation in focus. Hawaii-based science, technology, startups and entrepreneurs, featuring local leaders, creators, educators, and more.
Over 5,000 subscribers
New Apps Unveiled at the City's First Hackathon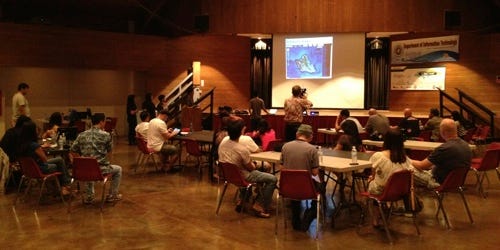 A total of six teams participated in Honolulu's first civic hackathon this past weekend, each developing anapplication that takes advantage of public data made available online by the city. The top three teams won cash prizes provided by the hackathon's sponsors, and two of them focused on TheBus and its web services API (or application programming interface).
I was able to drop in to watch most of the final presentations on Sunday afternoon, which were the culmination of at least 24 hours of rapid design, development, and deployment. Each team had to show off a working prototype of their web or mobile app, a harrowing experience even when you've had weeks to prepare.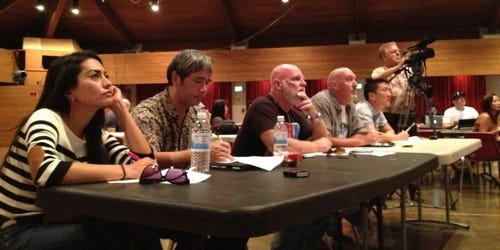 Adding to the pressure, a panel of judges from diverse backgrounds who definitely knew their stuff. They included Gordon Bruce, Chief Information Officer of the City & County of Honolulu, Doug Chin, the city's Managing Director, Royce Jones, the regional manager of ESRI, Kiman Wong, general manager with hackathon sponsor Oceanic Time Warner Cable, and Yasmin Dar, social media reporter for Honolulu's ABC affiliate, KITV.
Here are the six teams, and the top three winners.
Hi Park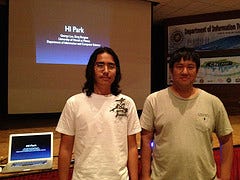 Inspired by the infamous parking crunch in and around the University of Hawaii at Manoa, teammates George Lee and Gregory Burgess (students at the UH Manoa department of Information and Computer Science) developed "Hi Park," which they hope will make it easier to find parking lots and sort out parking hours and rules around the city.
They actually surveyed parking signs on streets surrounding the campus to enhance their data, and said their app would be able to show on-campus visitor parking rates during the week and on weekends. But the potential was clear, given the city's own network of municipal parking lots and metered street parking.
Based on location and time and day, users would be able to see their nearest and best parking options. Brainstorming with the judges, the team noted that app might also be able to tap into the high-tech parking meter systems that the city is starting to deploy, in order to show real-time parking availability.
Outdoors Hawaii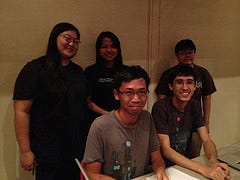 Another UH team presented "Outdoors Hawaii." Team members Marifel Barbasa, Tony Gaskell, Lori Nakamoto, Jordan Takayama and Russell Vea showed off a web app that placed a map front and center, and allowed users to toggle views between islands and see parks, beaches, and major city venues plotted.
The team said it had many more ideas than they were able to deploy, and acknowledged that the had trouble finding a perfect data source, instead manually looking up and entering coordinates for points of interest. The judges were curious about whether users would be able to add or suggest places, and if so, how they would be validated.
Geo Tracker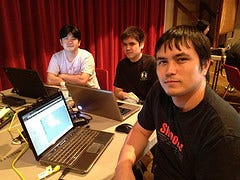 Local software developers Jason Axelson, Edward Kim and Aaron King presented "Geo Tracker," an app that would help island motorists avoid road construction and other road closures and detours. Recalling how vital real-time traffic and road conditions were during the recent APEC meetings, the team envisioned a service that would not only show problem areas on a map, but also work with a user's regular routes and provide warnings in advance.
The biggest challenge was a lack of normalized or easily parseable data. They showed a real-world example in the city's "Road Work Weekly Report," a sporadically published, manually formatted document that's simply too inconsistent to be translated into map coordinates. The team proposed a standard language and strongly suggested an XML format to make the information more useful.
AllB.us - Third Place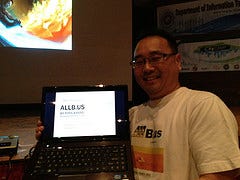 Earning third place from the judging panel was "Allb.us," a fully functional iOS and mobile web app for riders of TheBus. The app was developed by Ryan Kanno, who recently moved to New York, and was presented by Ian Kitajima from Honolulu-based R&D firm Oceanit, who even made his own AllB.us T-shirt. (AllB.us got some great design help from Valentino Valdez.)
AllB.us provides bus stop locations and real-time arrival data for TheBus, keeping riders from feeling like they're "a slave to the bus schedule," Kitajima said. While Kanno was focused on the benefits to daily riders, Kitajima said he was personally intrigued by the potential the app had for visitors.
While a number of new features and enhancements were presented at the hackathon, the app had actually been in the works for some time. Kanno had actually called into Bytemarks Cafe last July when we featured the city's open data initiatives, asking about the API for TheBus and ultimately kicking off some of the first substantive conversations between the city and the developer community.
Kitajima noted that more work was left to be done, including finding a stable server, but the judges were impressed that people could use AllB.us right now. Just point your mobile web browser to:
RoadPuka - Second Place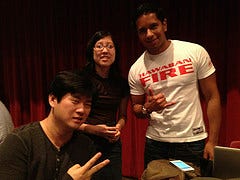 The RoadPuka team -- Marcos Nobre, Julie Sakuda and James Wang -- was also able to get a skeleton of its mobile app online at RoadPuka.com. The concept is simple: spot a pothole, click "report," and submit a photo along with automatically collected coordinates to the city. It would essentially be a smartphone-friendly version of the city's existing Pothole Report form.
Of course, one of the challenges is that some roads are maintained by the city, and some are maintained by the state, which has to be explained (in broad strokes) on the city's website. The state only offers a "pothole hotline" phone number (808-536-7852). An app like this could only really realize its potential if both the city and state were aboard the open data train, and speaking the same language.
Team AJ - First Place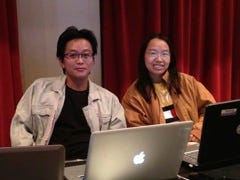 Taking top honors was Andy Yip and Jane Zeng. Their app also showed bus locations, but was built for the iPhone and emphasized design.
Their first attempt at presenting was derailed by sketchy internet access, requiring them to reset and take the stage a second time late in the afternoon. Nonetheless, their app -- which opens with a cute animation of a smiling, blinking city bus -- was the one that the judges found most compelling. Team AJ went home with the top cash prize of $1,000.
Judging criteria included working prototype, user interface, depth of concept, and impact of application. And while none of the apps presented at the hackathon are feature complete, the pieces are there to grow them into useful tools for the public. Perhaps some day, we'll find some of these apps included in the city's app directory.
Kudos to hackathon organizers Forest Frizzell, Burt Lum, and Gordon Bruce for pulling together this groundbreaking event. For more information on the hackathon, see the official announcement on the CityCamp Honolulu blog. You can also see my photos from the event on Flickr.
What's next? The Code For America fellows will touch down in Honolulu soon, and will bring their considerable talents and expertise to help the city government "work better for everyone with the people and the power of the web." Meanwhile, I hope we'll see some solid progress made on the state government side as well. I fully expect to see the local developer community to continue to create great apps and continue to push for more accessible data.
Of course, I'll be pushing and evangelizing and tracking the local open data scene as always. We're off to a great start this year.