Discover more from Hawaii Bulletin
Island innovation in focus. Hawaii-based science, technology, startups and entrepreneurs, featuring local leaders, creators, educators, and more.
Over 5,000 subscribers
City Launches Open Data Portal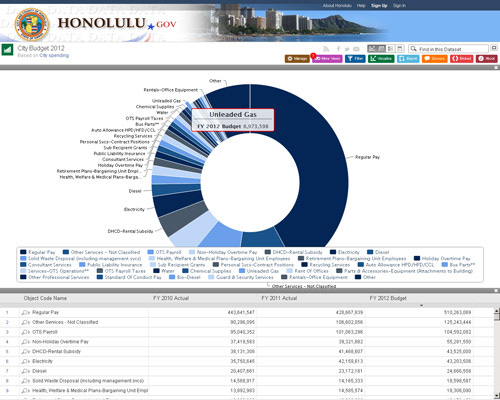 "We've finally got our new data portal up and running," announced Forest Frizzell, Deputy Director of Information Technology for the City and County of Honolulu, in a Facebook post today. "Our data sets now have API's wrapped around them so developers have more capability to work with City data."
He said the new Data.Honolulu.gov site takes the city's transparency efforts "to the next level," expanding upon the "CAN-DO" portal it unveiled last March.
There are over 50 datasets available at launch, including city budget and spending data, and basic information on neighborhood boards and land zoning. some of the data formed the basis of the the three new city apps announced earlier this month, developed by Code for America Honolulu fellow Mick Thompson.
Many of the datasets are static lists, such as the locations of lifeguard towers, tsunami sirens, parking lots, recycling centers and refuse yards. And while "Honolulu 311 Reports" are also on the list, it is currently just a snapshot of the data collected through the "Honolulu 311" app from CitySourced.
Obviously, having access to a live or realtime feed of "Honolulu 311" reports would be much more compelling, and Frizzell says that's coming soon. I've also been encouraging (or, perhaps, nagging) him to work on opening up access to Honolulu Police Department datasets like crime reports (available to CrimeMapping but not to the public) and traffic incidents (now posted to a relentlessly scraped web page). These too, he has said, are in the works.
Data.Honolulu.gov is powered by the Socrata open government platform, which was also selected by the State of Hawaii for its open data portal slated to launch at Data.Hawaii.gov. As part of Hawaii Open Data, my partners Burt Lum, Jared Kuroiwa and I are working with Socrata, the city and the state to move these and other initiatives forward.
Want to learn more? Tomorrow night, the monthly Wetware Wednesday mixer for developers and system engineers will highlight the local open data movement, with presentations by Frizzell and Hawaii State CIO Sonny Bhagowalia. And on Saturday, a 'Write-a-Thon' is being held to help build another Code for America resource: Honolulu Answers.