Discover more from Hawaii Bulletin
Island innovation in focus. Hawaii-based science, technology, startups and entrepreneurs, featuring local leaders, creators, educators, and more.
Over 5,000 subscribers
Honolulu Power Outage Covered Online
At about 7 p.m. on Friday, Dec. 26, a lightning storm over Honolulu apparently knocked out electricity for almost the entire island of O'ahu. As people from Waikiki to Kaneohe were plunged into darkness, those that still had battery operated gadgets gathered and shared information online to determine the extent of the blackout.
Of course, a power outage knocked out most computers and cable modems, as well as most television and radio transmissions, but thanks to web-enabled cell phones, Hawaii users on the microblogging service Twitter were reaching out.
It became quickly clear that the outage was widespread, with reports of power out almost everywhere. Kaneohe, Waikiki, Mililani, Kaaawa, Hawaii Kai, Pearl City... Only a couple of people still had electricity in Kapolei and Makakilo.
Local blogger and Twitter user Capsun Poe soon suggested that people use a "hashtag" to allow everyone to track conversation about the outage, and I proposed "#hipower."
Within an hour, "#hipower" was the number one tracked term on Twitter Search, handily beating "Benjamin Button."
Even the Honolulu Advertiser turned to Twitter and the "#hipower" hashtag to collect reports from across the island.
Though KSSK, as usual, stepped up to provide radio coverage of outage news, it suffered from periodic problems with its broadcasts. Meanwhile, most local mainstream media websites were slow to update. But one of the first to get blackout news on the web was KGMB... and not long after they posted their first breaking news article, they took it a step further.
As the blackout continues, KGMB is now running a special, nonstop video news broadcast on its website, KGMB9.com. Keahi Tucker is reporting news as it comes in (President-elect Barack Obama has lights in Kailua!), conducting interviews with local officials and residents. This while KGMB, on the air, continues to broadcast its usual primetime shows.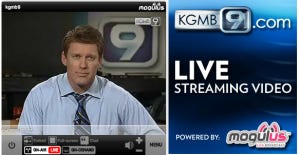 At the moment, Keahi Tucker has wrapped an interview with HECO's Darren Pai and is getting news passed to him from Ray Lovell at Civil Defense. Lovell says it could be as long as twelve hours before power is restored in Honolulu. Now, Guy Hagi is giving an up to the minute weather report. All of this especially for their online audience.
An audience that includes viewers on the Mainland. One in Texas, at least!
I love to see how everyday citizens and especially agile media outlets adapt on the fly to collect and share information in emergencies.
And with less than 30 percent left on my laptop battery, it's time to shut down. Stay safe, everyone.