Discover more from Hawaii Bulletin
Island innovation in focus. Hawaii-based science, technology, startups and entrepreneurs, featuring local leaders, creators, educators, and more.
Over 5,000 subscribers
HonuGuide Available for $10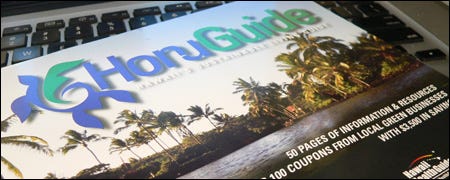 The 2009 Honu Guide, containing over a hundred coupons highlighting local green businesses and dozens of articles on sustainable living, is now available for $10. The 50 percent discount comes as we near the halfway mark for the year, but most of the coupons (offering $3,500 in savings overall) are good through November and December.
HonuGuide founder Tyler Mongan was kind enough to send me a review copy. Though I was mostly expecting a green-themed "Entertainment Book" of coupons, I was pleased to find nearly half of the HonuGuide was devoted to providing a range of information and resources. Articles include pieces submitted by Kanu Hawaii, the Hawaii Bicycle League, and the Board of Water Supply, as well as profiles by and of HonuGuide advertisers and sponsors such as Keoki Surfboards and Hagadone Printing Company.
Of course, the coupons are the key draw. Fortunately, even if you're not a hardcore, vegetarian eco-warrior, there are a lot of great deals. Not surprisingly, I was drawn mostly to the "food" section, which includes coupons for 20 percent off a bill of $50 or more at Kona Brewing Company, $30 off two dinner entrees at Chai's Island Bistro, and $5 off a bill of $25 or more at Whole Foods.
There are also coupons for Green Services (mostly free consultations), Health ($20 a lomilomi session at Aloha Lomilomi), Lifestyle ($20 off at Sheepskin Warehouse), and Travel & Action ($25 gift card from Bikefactory Hawaii with $100 purchase). A full list of discounts can be found here.
You can buy the 2009 HonuGuide online with PayPal, and pick it up at the Ecolounge at Indigo in Chinatown. Or have it shipped to you for $2 more.
The 2010 HonuGuide is due in October, and Mongan is offering a free coupon advertisement to companies and organizations interested in being included.