Discover more from Hawaii Bulletin
Island innovation in focus. Hawaii-based science, technology, startups and entrepreneurs, featuring local leaders, creators, educators, and more.
Over 5,000 subscribers
College Hackathon to Tackle Business Challenges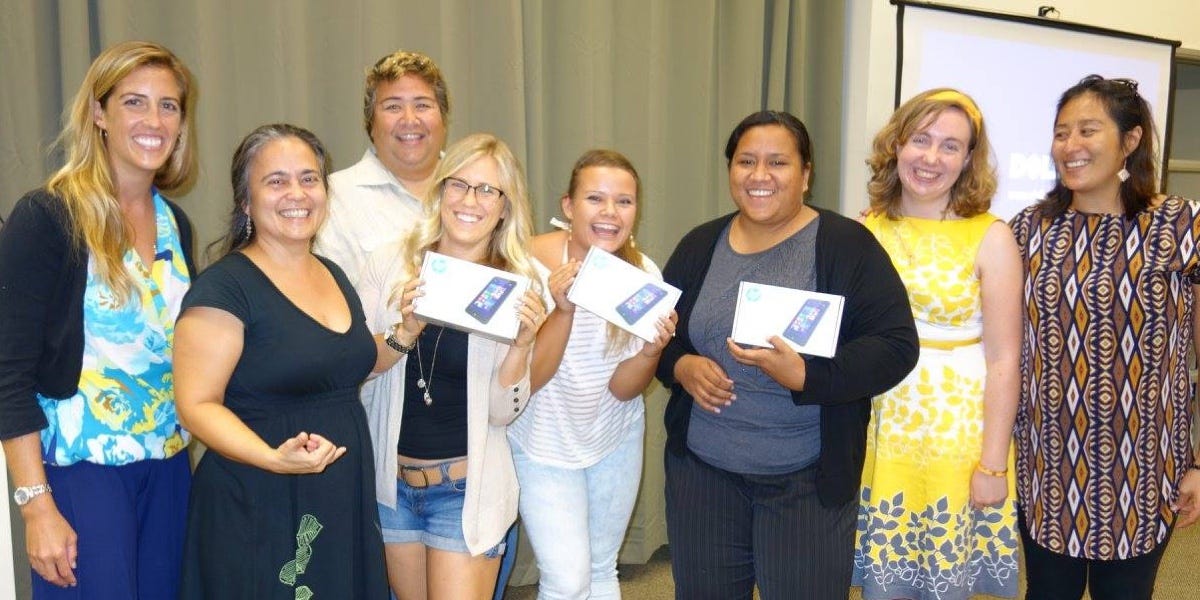 Hawaii Pacific University is putting out the call to Honolulu college students to participate in a business-focused hackathon next weekend.
The "Laulima Tech Challenge" will take place March 14 & 15 at ProtoHub Honolulu. The free event is designed for students from a wide range of disciplines, from software development to digital graphic design to project management.
Next weekend's event is HPU's second hackathon, following the "International Women's Hackathon" in November. That first event was geared toward women and rallied around The Nature Conservancy. Participants were challenged to come up with creative solutions to address climate change and invasive species in Hawaii. The winning team (pictured above) proposed an app called HICARES, which hikers and adventurers would use to photograph and submit reports of invasive species around the islands.
This time around, local small businesses will be the beneficiaries of the students' innovation and creativity.
"We are hosting this event on behalf of HPU and all other colleges on O'ahu to foster go-getter-ness and motivation for people who have the skills but do not have the scenery in which they can apply them," explains Sandra Moerch, who was part of the HICARES team.
"This is a two day event that will provide an opportunity for college students to gain real world experience," adds Haley Morris, a graduate student in HPU's Information Systems program who also participated in the November hackathon.
"On the first day, businesses will present a technological challenge and students will form a development team," Morris explains. "They will have the two days to create a software solution that addresses their chosen business' needs. The teams will have an opportunity to present their products in the afternoon of the second day."
An example challenge might be a local retail store that wants to expand its social media presence. Participating students will form teams on Friday that ideally include members with diverse skill sets, and they will then develop, build, and finally pitch their solutions on Saturday evening.
Solutions will be judged on the complexity of the original business problem, the level of innovation shown in the final product or service, the availability of the technology involved, the originality of the idea, the functionality and design of the prototype, and the quality of the presentation. The hackathon's judges include Jamie Champagne (Hawaii Telcom), L.P. "Neenz" Faleafine (Pono Media), Nicole Velasco (Neighborhood Commission Office, recently featured here), and Jonas Vibell (Energy Excelerator).
In addition to bragging rights, winning teams are competing for over $600 in prizes, including HP tablets.
The hackathon is co-sponsored by HPU's College of Business, as well as the school's Computer Club, MBA Club, and Project Management Club. Outside sponsors include the Honolulu Chapter of the Project Management Institute (whose members will serve as team mentors), the Nature Conservancy (which is remaining involved in the hackathon program), and Sultan Ventures.
For more information and to sign up to participate, visit the Laulima Tech Challenge website or the event page on Facebook.
Photo courtesy Evelyn Wight/The Nature Conservancy. Post updated to list Sultan Ventures as a sponsor.