Coworking comes to Waikīkī via 'The Hub'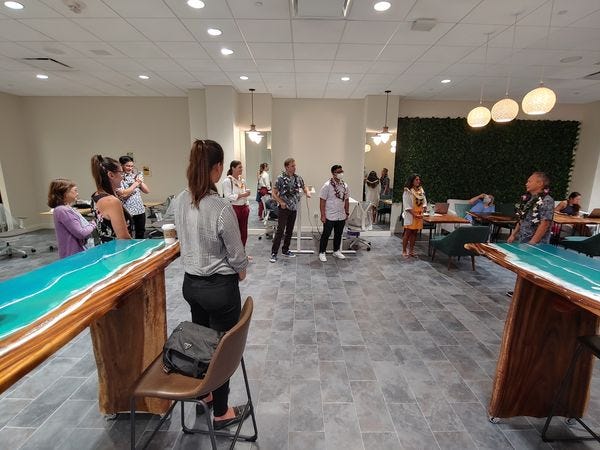 Read past issues of Hawaii Bulletin online, and subscribe to receive new articles via email, free, and no Facebook account required.
When COVID-19 emerged, few burgeoning tech-enabled industries were speared through the heart as ruthlessly as coworking.
With a deadly airborne virus, with everyone told to stay home, with businesses shut down, and with travel essentially banned, spending time in an open floor-plan office with a shifting mix of strangers went from hip and cool (declared 'the new normal' by Hawaii Business magazine in February 2020) to the worst idea ever.
The two-year break also gave the world lots of time to revel in the schadenfreude of the epic collapse of coworking juggernaut WeWork, bringing us not one, but two big-budget post mortems: a Hulu documentary and an Apple miniseries.
But the pandemic also brought about a massive shift toward remote work. With — hopefully — the worst of the pandemic behind us, some are saying coworking's best days are still ahead.
Coworking in Hawaii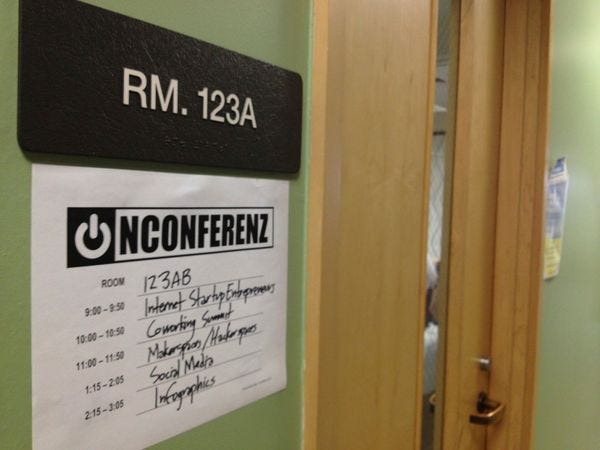 The 'Coworking Summit' at the 2012 Unconferenz. More of my photos here.
I've been following the evolution of coworking in the islands since the beginning, a genesis that improbably has a known place and date: the 2011 Unconferenz at Windward Community College in February 2011.
There was an ad-hoc roundtable session on hackerspaces, anchored by the newly formed hicapacity group, where a wider discussion on shared workshops (a.k.a. makerspaces) and workspaces took place. Some very creative ideas were pitched, and possible locations were even discussed.
By the 2012 event, there were several coworking spaces operating on Oahu, including hicapacity, BoxJelly, R&D and the Greenhouse (a.k.a. HQHNL) in Kakaako. Even more were in the works, which inspired a "coworking summit."
In the years that followed, Hawaii has seen over a dozen coworking spaces come and go. Mainland chain ROC made a go of it in Downtown Honolulu, European chain Regus set up at Restaurant Row, but most were local efforts. The idea of sharing resources and space, and allowing for just the right amount of collaboration and kismet, remains irresistable.
BoxJelly remains the neighborhood stalwart, now headquartered at Ward Village and also helping the state of Hawaii manage the 13,000 square foot Entrepreneurs Sandbox.
Forming 'The Hub'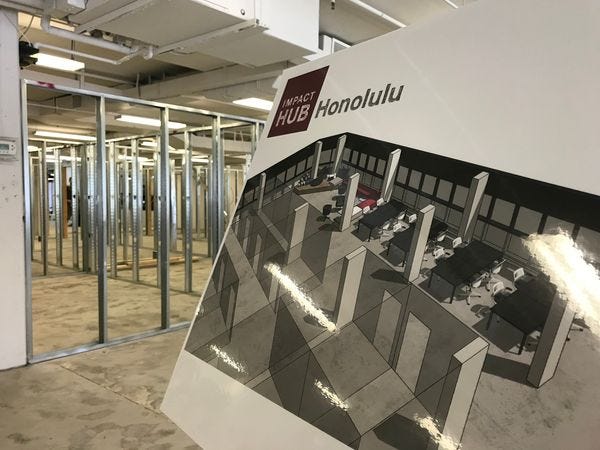 'The Hub' hosted events even as it was being built out. More of my photos here.
In 2014, a like-minded group of entrepreneurs envisioned a coworking space dedicated to social impact. George Yarbrough and Nam Vu, in collaboration with Chenoa Farnsworth and others in the local startup space, worked together to bring an Impact Hub to Hawaii.
It started with ProtoHUB Hawaii, a proof-of-concept pop-up space. In 2017, the full Impact Hub Honolulu opened in Kakaako, a sprawling 14,000-square-foot space that featured a mix of open desks, tables, lounges, cubicles and private offices.
Just as the pandemic hit in 2020, the facility leadership re-evaluated their long term plans. Having already canceled a much-heralded expansion into East Honolulu, they also decided to drop their franchise affiliation and become simply 'The Hub,' or Hub Coworking Hawaii. But they faced even bigger changes as both the local and global economy shuddered and shifted.
I was able to talk to Nam Vu about navigating through COVID, the surprising opportunity to expand to Waikiki, and his hope for the future of coworking and the tech community in Hawaii. What follows are excerpts of the story as he tells it, edited and condensed for clarity.
'We lost a good chunk of money'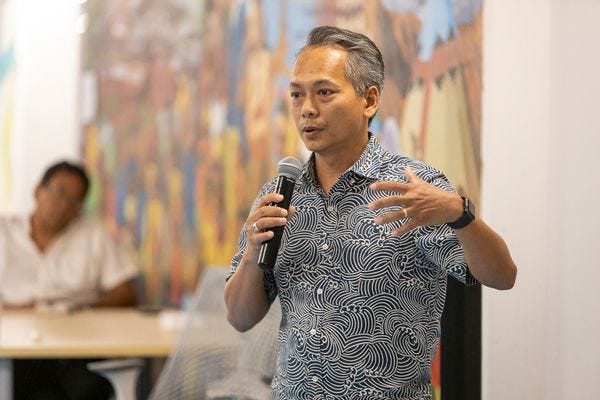 "April, March, May of 2020 was brutal. We had the 'Stay At Home' order. We called the city and the state and asked them, 'Hey, what should we do? You want us to shut down or what?' They said, 'Well, if you can stay open, stay open. Because if you close, all of the businesses within your facilities are going to have to close too.'
"So we had some essential workers that were still coming in, but definitely there was a pretty severe drop off in membership, and we lost a good chunk of money.
"We didn't know if we were gonna stick around you know, but we we dug in, we did whatever we could, scraped whatever we could, to just keep going. But PPP (Paycheck Protection Program) helped, EIDL (Economic Injury Disaster Loan) helped."
"During COVID, we were also looking at other coworking spaces and the coworking industry as a whole. Everyone was suffering, but everyone was very optimistic, wondering what would happen at the end of the tunnel. The industry was projecting a 20 to 25 percent increase.
"We're still recovering from events, but we're back to better than we were pre-COVID, even without events coming back yet. From the lows of pandemic to now we're probably up close to 80 or 90 percent."
The shift in spaces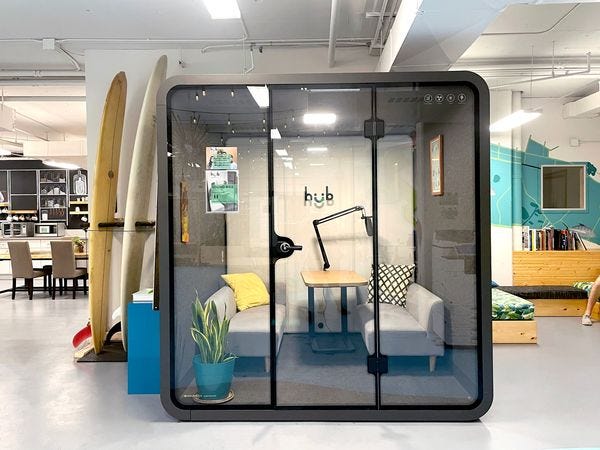 One of several sound booths available either hourly or month-to-month.
"We were following the trends and listening to our clients, our old time members and new people that are coming in. And there definitely is a shift. I think there's going to be a shift away from the open floor plan. We're still trying to figure out what that shift looks like, and what that means for us.
"The people that are coming in now used to be in corporate offices, so they may be used to the corner office or a window office, and so they like that kind of space. People don't really want big offices, they just want something that they can enclose themselves in if they need to, and they can open the doors most of the time. So we're definitely looking at more of that.
"During the pandemic, we also brought in five more of those sound boxes, anticipating that they would increase in demand. They're seven foot by seven foot so there's not a lot of space in there, but it is comfortable for one person to have their own space that they can lock up and close the door if they need more privacy and more quiet. Those have been super popular. We have a waitlist for them. So that's been a great solution for us, and we're going to use that more as we build out other spaces, too."
The Waikiki expansion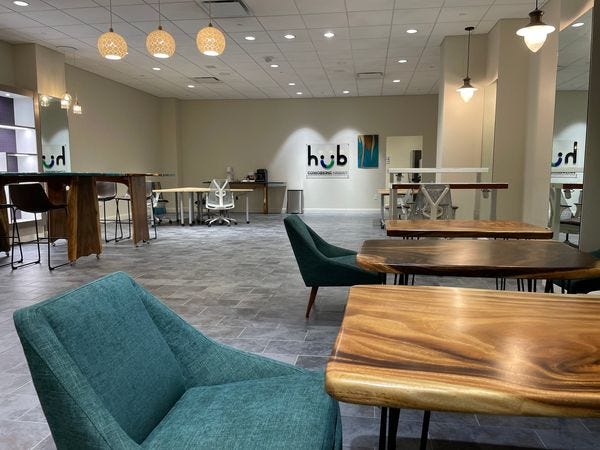 Half of the new Waikiki location is open, with a full grand opening planned for June.
"To be completely honest, Waikiki was not our next target market.
"We got a call from the International Market Place, and they were looking for ways to diversify their customer base. They were heavily invested in and dependent on foreign visitors. And because of the pandemic, because there's no one coming, they realized they needed to change the mix a little bit. And so they called us up.
"Immediately I said no, thank you for calling, but we're not going to be able to afford the kind of rents that you're going to ask for. I had looked into it, and I knew that the pricing in Waikiki is unattainable for for what we do. The numbers just don't work. But they said to just come down and take a look and we'll work something out.
"This is, I think, part of the change in the mix that they're looking for, bringing local folks back in. You also see that in the restaurants that they've brought in, a lot more local type eateries.
"So while Waikiki is definitely an area we kept an eye on, it is not a target that we would have jumped on. But having the opportunity presented to us, we took it.
"It's actually really interesting, because people do walk by, especially local folks. We're right next to Mitsuwa, they'll go and get a bento, and then walk by us and ask, 'What is that?' They'll look it up, and then they'll come in to chat.
"We've had a lot of interest so far in the space from local folks, as well as from from tourists and digital nomads. It is going to be an interesting mix."
Building bridges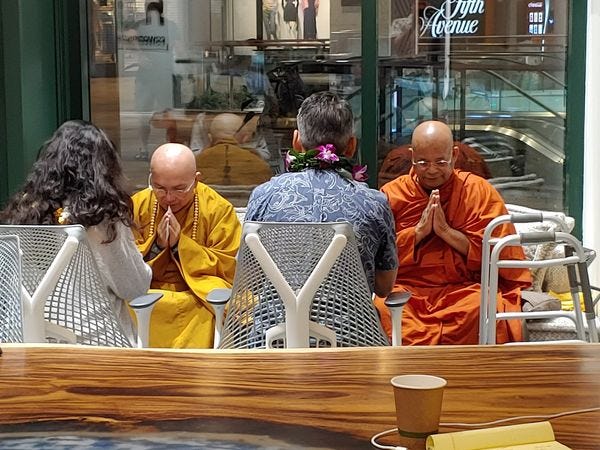 The soft opening of the Waikiki space last week included a Buddhist blessing.
"We have been watching the tech industry for a very long time, and I'm very optimistic. I think that one challenge has always been, how can we bring people here with new ideas and new skill sets and new technology. Well, they're coming now, right?
"Our challenge now, I think, is how do we keep some of these folks here and make them feel like Hawaii is a place where they belong, that they have a community, that they can raise their kids here and have a family.
"We as an industry here in Hawaii recognized early on in the pandemic that people were coming here, and those people needed a little bit of help acclimating to Hawaii, because its a different culture here, very different. So, The Hub, Ka Waiwai and and BoxJelly together created a program to help folks that were in our respective spaces get acclimated. We brought in speakers that could educate and inform folks about things we value and why and things to do and not to do.
Related Reading: Remote worker immersion program concludes second cohort
"I think anything that we can do to to help people assimilate is very valuable and needed, if we're going to want to keep folks here. My fear is that we'll see this big influx and then, after three or four years — the magic number — people tend to leave. They're just not feeling like they belong, they didn't find a big enough friends circle or community or village to belong to. So we need to look at that.
"Look, local folks have their plates full. It's completely understandable how we'll interrogate people and go, 'What's your intention? Are you gonna stick around?' So it's tough. It's a vicious cycle.
"But if we're looking at trying to diversify industries and our economy, we need to look at reasons why people come and reasons why people leave. I think there's been a lot of focus on those who are coming, but not so much focused on the leaving part."
Fostering communities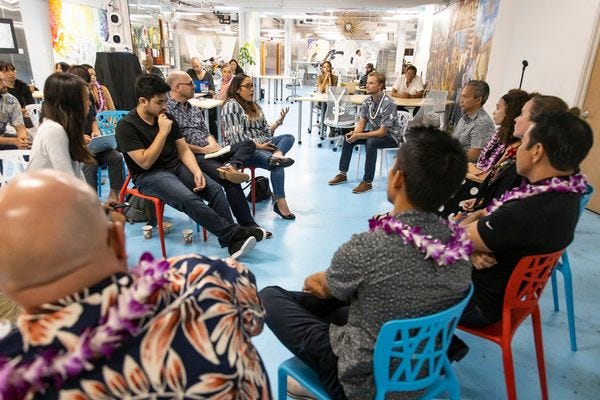 "People will come up to me and ask, 'Where do I go to talk with other UX folks or talk with other Python guys?' And there isn't any. So we need to fix that. We need to have those communities for folks to gather and connect.
"That's actually a good segue into something else that we're working on that we haven't announced yet, so I guess I'll announce it to you: We are committing $200,000 in a fund to provide space for people to gather. We're calling it the 'Hub Get Back Together' fund.
"Post COVID, we're ready for people to gather and to talk story and to collaborate and have hackathons and all of that stuff. We will give space and memberships to people that need help, to get businesses back up and going here in a way that is very exciting."