Discover more from Hawaii Bulletin
Island innovation in focus. Hawaii-based science, technology, startups and entrepreneurs, featuring local leaders, creators, educators, and more.
Over 5,000 subscribers
Humble Hooligans Hit Honolulu Next Week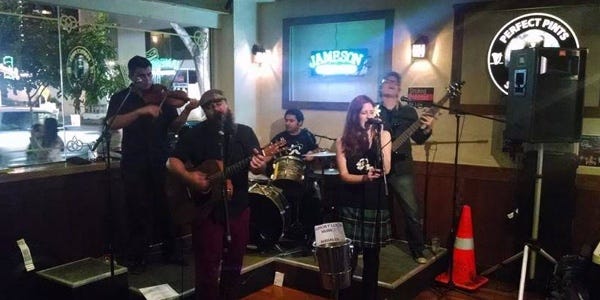 I confess, my very limited awareness of indie Irish music begins and ends with the local Celtic rock band Doolin' Rakes, and that's only because I'm a fan of founder and guitarist Jamie Winpenny, who is both a talented musician and a talented writer.
But I do know what I like, and to me there's something irresistible about the quintessential (if not stereotypical) Irish sound. A raw blend of traditional and cutting edge, an energy that can range from fierce to fluttery in a single song, and foot-stomping rhythms that make it impossible to sit still.
And to hear it live? It's electrifying.
On Tuesday, the Humble Hooligans — an Irish rock, folk and punk band out of Long Beach, Calif. — are kicking off a nearly week long Oahu tour. The band, "comprised of an eclectic group of talented ruffians," according to their website, promises "a wicked good live show."
The Hooligans actually came through town last February (here's a video of a performance at Anna O'Brien's in Waikiki), and apparently tour in Hawaii every year. "It was so much fun being there meeting new people, hiking, snorkeling, you name it," the band wrote of their last visit.
In fact, a couple of members of the band's current line up have island ties. Singer Troy Dunham says he's "Hawaiian Irish," and notes that drummer Eric "Totally" Awesome has a nephew who lives in Hawaii.
The pair are joined by Eloy "Loy" Palacios on bass and Kevin Patrick Taylor on accordion and trombone.
"Its not about Irish or Hawaiian, its about great music and good times," Dunham says. "And the Irish scene is actually really big [in Hawaii] with several national touring acts coming through regularly."
The Humble Hooligan's Oahu tour schedule is as follows:
To learn more, visit the band's website at HumbleHooligans.com, or follow the band on Facebook, on Twitter, on Soundcloud or on YouTube.