Veterans to be Honored at Iolani Palace
A unique event will be held tomorrow at Iolani Palace, including live music, food booths, presentations, and one of the first bon dances of the season.
You can take a tour of the palace, enjoy local favorites like saimin and shave ice, savor special performances by ManoaDNA and 'ukulele virtuoso Jake Shimabukuro, and then dance into the night in a rare and memorable bon dance on palace grounds.
Bon dance aficionados may be glad to hear that Ewa Fukushima will be performing, as will Ryukoku Matsuri Daiko Hawaii. And there'll be a free gift for those who come dressed for the occassion in a happi coat, yukata or kimono.
The family-friendly affair is to commemorate the 125th anniversary of "Kanyaku Imin," the mass immigration of Japanese laborers during the late 1800s, as well as the Japanese-American veterans of World War II. There will be displays of WWII-era vehicles and antique plantation equipment, a "talk story" session with veterans, and an attempt at recreating a famous 1943 photo of the 442nd Regimental Combat Team at Iolani Palace, days before leaving the island for training.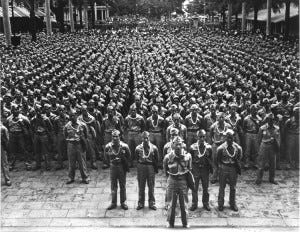 The event is free and open to the public, and proceeds (from donations as well as through the sale of special "VIP" packages) will go toward printing and distributing 5,000 copies of an educational comic book that highlights the experiences of the 100th Battalion and 442nd RCT to Hawaii schools and libraries.
The schedule is as follows:
2:00 pm - Doors open/food booths, Iolani Palace tours start.

2:30 - 3:30 - Veteran talk story session in Kana`ina Building.

3:00 - 4:00 - ManoaDNA performance at Coronation Pavillion.

4:00 - Veterans Ceremony starts (group photo).

5:00 - Jake Shimabukuro concert starts.

7:00 - Bon dance starts.
Full details can be found on the "VIP" ticket page, or by calling the Japanese Cultural Center of Hawaii at 945-7633, ext. 30.