Video: Honolulu in 4K with the iPhone 6S Plus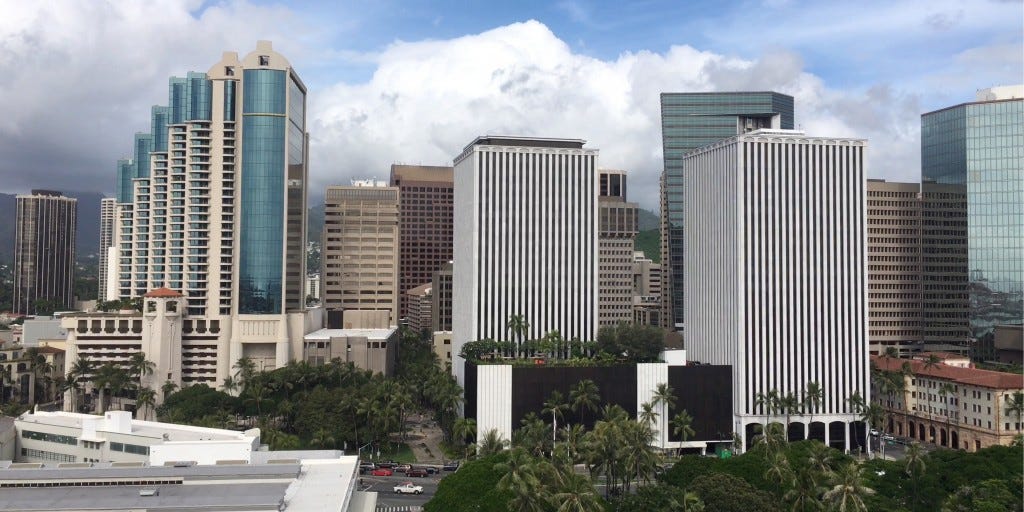 I spent some time today shooting 4K video with the latest Apple iPhone, even though it's not easy to edit, and could be easier to watch.
Yes, I'm one of those people who wakes up before dawn to queue up in front of an Apple Store, even though you really don't need to anymore. It's a tradition, hanging out with my tribe, something I've done for every iPhone since the first one. The first, AT&T only, EDGE network only iPhone with its 480 by 320 pixel screen.
My how times have changed.
With the iPhone 6S and iPhone 6S Plus, Apple again kept the previous form factor but beefed up the internals. Faster processor, twice as much RAM, a "3-D Touch" screen, and -- my key feature each year -- upgraded cameras. While I actually think 3-D Touch is the most interesting thing Apple is doing with the latest iPhone, the benefits of a better camera are always immediately apparent.
Finally acknowledging that selfies are a big deal, the camera on the front of the new iPhone 6S and 6S Plus was upgraded from a positively pedestrian 1.2 megapixels to a solid 5 megapixels. And the main camera got boosted from a good 8 megapixel sensor to a great 12 megapixel sensor. More megapixels aren't always better, and Apple does a better job than anyone in pairing optical hardware with powerful software, but these upgrades are still very welcome.
As for video recording, it bears noting that the first two iPhones couldn't even do that. With the 3GS in 2012, it could muster VGA resolution (640 by 480 pixels). We got to 720p high definition video (1280 by 720) with the iPhone 4, 1080p video (1920 by 1080) with the iPhone 4S... and from there, improvements were focused on higher frame rates (allowing for slow-motion video capture, for example) for the next five models
So while last year's iPhone 6 shot video at up to 240 frames per second, it was still 1080p. If you got the iPhone 6 Plus, you got Optical Image Stabilization (OIS).
The headlining feature for the new iPhones is the ability to shoot 4K video, also known as UHD video. That's 3840 by 2160 pixels, or double the resolution of 1080p. Editing 4K video takes some horsepower. Television sets and monitors that can display 4K images are only just going mainstream. And if you want to see them online, it takes a little work to see every pixel.
https://www.youtube.com/watch?v=ZDKNEaoYWJ4
Above is a test video I recorded while wandering around Honolulu today, featuring Magic Island, Kakaako, downtown and Aloha Tower. I used a monopod, and the OIS helped keep things smooth as well. But while the YouTube video can be embedded and can be conveniently played right in this blog post, it is not going to play in 4K.
To watch 4K video on YouTube, you will have to go to the actual video page, and then click the gear icon to change the playback quality setting. Scroll up to select 4K, or 2160p. You'll also want to toggle video play back to full screen mode... which may still not really show you everything unless your monitor supports 4k resolution.
Finally, you may want to click pause and wait right out of the gate. Depending on your computer's horsepower and your bandwidth, 4K videos often can't load as fast as they play, so to avoid buffering, you may want to wait until most or all of the video is loaded.
But, after all that, you'll be able to watch video in 4K resolution. Is it worth it? You'll have to tell me.
I'm not a professional videographer, but I will describe myself as an enthusiast. I just realized that I uploaded my very first video to YouTube ten years ago. Perhaps the best illustration of how sharp and clear 4K video and the new iPhone cameras are, you should compare today's video to one from 2005.
By the way, today's collection of 15-second 4K video clips were stitched together using iMovie on the iPhone. I used the iOS version of iMovie because it was convenient, sure, but also because not even the desktop computer version of iMovie can export 4K videos yet.
Here are some screencaptures from today's 4K video shoot: