Discover more from Hawaii Bulletin
Island innovation in focus. Hawaii-based science, technology, startups and entrepreneurs, featuring local leaders, creators, educators, and more.
Over 5,000 subscribers
Gallery: Jodo Mission of Hawaii Bon Dance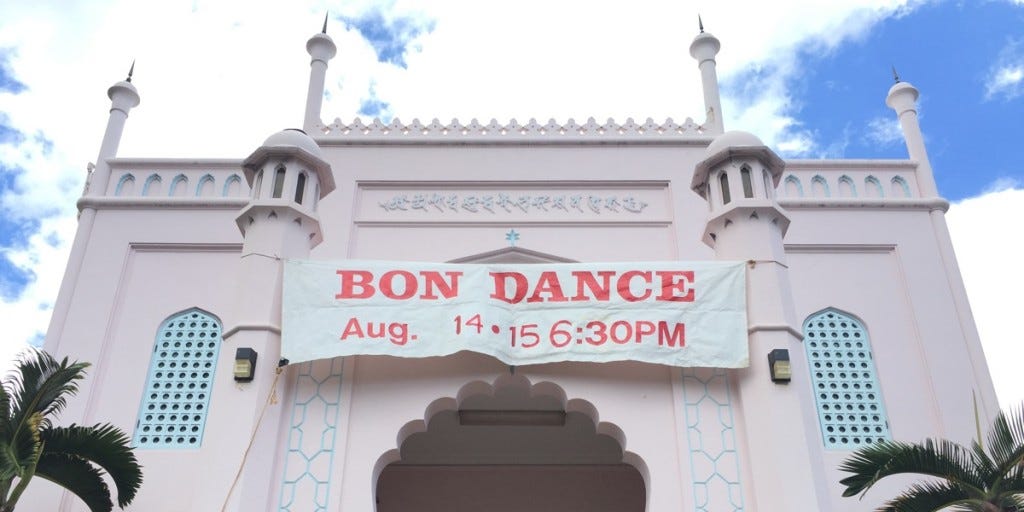 With the otoba come and gone, and the formal obon services complete, this weekend brought the annual bon dance at the Jodo Mission of Hawaii. There was a little rain tonight, but as always there was a lot of music, dancing, tasty food, and fun little games for kids. The Friday night schedule kicked off with a boisterous taiko drum performance, and the rest of the evening intermixed classic and contemporary bon dances with performances by skilled Okinawan and Japanese troupes.
It's not too late to experience this colorful, family-friendly community event. The Jodo Mission bon dance returns tomorrow, Saturday, Aug. 15. The social hall opens early at 4:30 p.m., selling our temple's famously bargain-priced food (including spam musubi, teriyaki meat sticks, noodles, andagi, and shave ice). The dancing begins at 6:30 p.m.
Jodo Mission of Hawaii is located at 1429 Makiki Street, against the makai side of the H-1 freeway. Parking is always a challenge, so come early or carpool. You just might see Burt Lum and me playing Tetris with cars in the small school parking lot next door.
Here are some selected photos from tonight's festivities. You can check out the full gallery on Flickr, and even watch an archived six-minute live stream I captured with Periscope (meaning, sadly, that it's a vertical video).