Discover more from Hawaii Bulletin
Island innovation in focus. Hawaii-based science, technology, startups and entrepreneurs, featuring local leaders, creators, educators, and more.
Over 5,000 subscribers
STEM scholarship for Hawaiian students fosters next generation of local leaders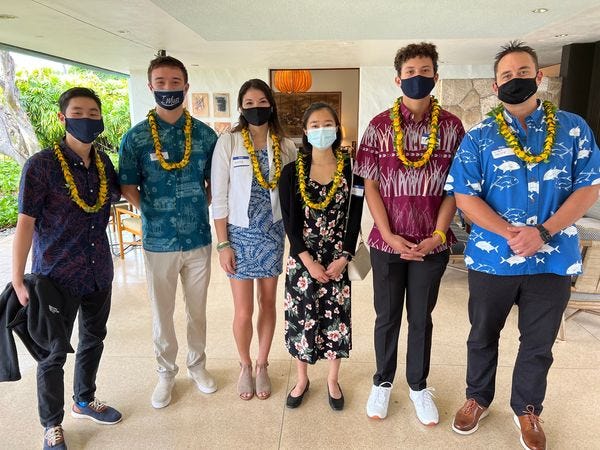 Hawaii Bulletin is a free email newsletter covering innovation in Hawaii. Please help grow its audience heading into 2022 by sharing it with your friends and colleagues! Got a story to share? Tell me about it!
I'm part Hawaiian, but I'm not an especially Hawaiian person.
I was more immersed in my Asian ancestry for most of my life. (I'm a "poi dog" of a dozen ethnicities, including Chinese and Chilean.) I was late to appreciate my Hawaiian-ness, adopting the Hawaiian language as my area of concentration alongside my UH journalism degree.
In one of my classes, renown native Hawaiian activist Mililani Trask once told me that I'm "not a bad Hawaiian, just misinformed."
I admit, I often find myself out of alignment with many of the political positions typically ascribed to native Hawaiians, so I've long been reluctant to engage. It has only been in the last few years that I've been working to find my place in the broader native Hawaiian community, and that's thank to several mentors who I've long admired for their ability to bridge cultural divides.
Hoala Greevy, CEO of Paubox, is one of those people.
Who is Hoala? What is Paubox?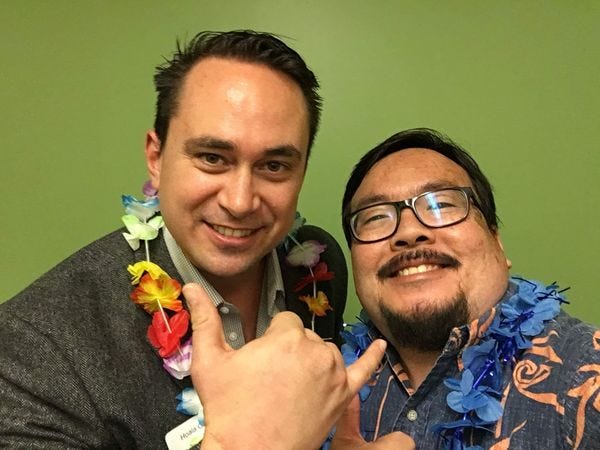 Hoala Greevy and me connecting at 500 Startups in San Francisco.
Hoala Greevy is a native Hawaiian graduate of McKinley High School who found his way to Portland State University by way of baseball and a Kamehameha Schools scholarship. While there, he discovered he had a knack for technology and computers, and an entrepreneurial drive.
After graduation, he landed a job at a San Francisco-based software company called Critical Path, which at the time provided Internet Service Providers with email accounts for their customers. But when family called him back to Hawaii in 2001, he set up shop as a computer consultant.
His plan was to advance the adoption of open source software, and he built a variety of Linux-based tools. It was a hard sell at the time, and Hoala soon realized that all of his customers were struggling with something far more common: email spam.
A few all-night coding sessions later, Pauspam was born. ("Pau" means, among other things, "end" or "finished.")
It was shortly after he launched Pauspam that I met him for the first time in 2004. Already a sharp networker, he was then the president of the Bishop Street Exchange Club and attending local tech conferences and geek meetups. Within a year, his company was filtering spam out of more than 500,000 email messages per day.
The tech industry was rapidly evolving, however, and major email providers were increasingly successful in filtering out spam on their own. It was during a lunch with one of Pauspam's clients -- the Make-A-Wish Foundation's then CEO Siana Austin Hunt -- that Hoala found his company's next pivot.
With email now ubiquitous, it was frequently running afoul of a then-obscure law passed in 1996 called the Health Insurance Portability and Accountability Act (HIPAA). Private, sensitive health information was criss-crossing the open Internet, putting both businesses and their clients at risk. The Make-A-Wish Foundation was struggling to adapt its communications to the still-evolving law, and so were thousands of other organizations.
So in 2014, Paubox was born, an email service for medical providers that ensures compliance with HIPAA. (If you really want to know more about HIPAA and email, you should read the Paubox Blog, for which I've written a few dozen articles.)
Eager to grow the company, Hoala applied to nine different startup accelerator programs before finally getting accepted into 500 Startups. He moved back to San Francisco. The company now has more than 1,000 enterprise customers, and is gunning for $100 million in annual recurring revenue. Earlier this year, Paubox closed $4 million in Series A funding.
To hear the whole story, watch the video below (and not this video of Hoala wearing an inflatable sumo suit on the local news):
The birth of a scholarship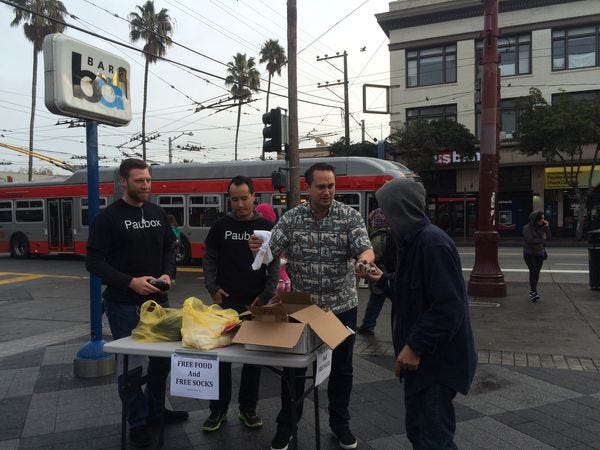 Hoala Greevy and his Paubox team offering free food and socks in The Mission.
Even in San Francisco, Hoala embraced and shared his island values. The Paubox offices are located across the street from a BART stop in the Mission District, and when the company signed its 100th customer, he and his team set up a table and gave away 100 pairs of socks and 100 spam musubi.
They gave away 500 spam musubi the next year. And then 1,000 the year after that.
After building connections with Paubox's neighbors in San Francisco, Hoala began to explore ways to give back to Hawaii.
"I was fortunate enough, for reasons I still don't know to this day, to get a scholarship for when I was in college," Hoala says. "That scholarship no longer exists, so I felt it was incumbent that we needed to do something about this."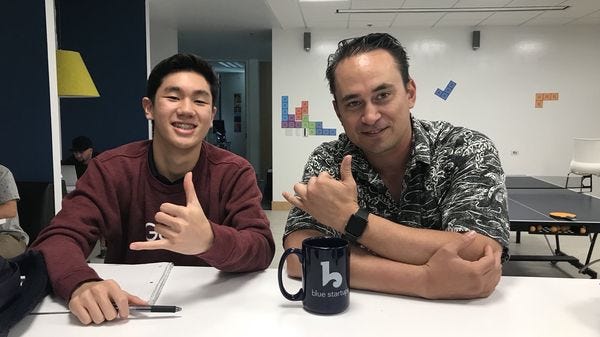 Nick Wong, the recipient of the first Kahikina STEM Scholarship, worked at Paubox for 18 months before returning to his studies at UC Berkeley.
Three years ago, he created the Paubox Kahikina Scholarship, named after his grandmother, Mabel Kahikina Mansfield (Pohina). The scholarship provides recipients $1,000 per year, every year (for up to five years), paid directly rather than to the school so it can be spent however the student sees fit.
"We have a total of thirteen scholarship recipients in total now," Hoala notes. "We've tripled every year for the past three years. So we went from one, three to nine."
The scholarship was initially aimed at supporting native Hawaiian students interested in careers in computer science and software development. Hoala's mantra was, "Software engineering is an honorable profession."
Thanks to a conversation with Kamehameha Schools Trustee Elliot Kawaihoʻolana Mills earlier this year, the scholarship's scope has now expanded to encompass all STEM careers: science, technology, engineering and math.
"It's my understanding that we are the only STEM scholarship for Native Hawaiians on the planet," Hoala says.
Supporting student success
While a recurring cash scholarship is helpful, the greater value of the Kahikina STEM Scholarship is its diverse network of advisors and mentors, representing a broad cross section of native Hawaiian business and community leaders.
They include at least four native Hawaiian CEOs: Greevy, Micah Kane of the Hawaii Community Foundation, John Aeto of communications firm The Kālaimoku Group, and Will Reppun of ed-tech startup UnRulr.
In addition to Mills and Hunt, other notables include Donavan Kealoha of Startup Capital Ventures, Olin Lagon of Shifted Energy, and Eric Nakagawa, now of mobile crypto firm Celo.
There are many other talented, generous, and well-connected individuals in the advisory group. (And then there's me.)
Whether looking for internships during the summer, or laying the groundwork for their future career, these students will be able to connect with successful people who want to help them succeed, make a difference, and ultimately increase native Hawaiian representation in the tech industry.
The chosen thirteen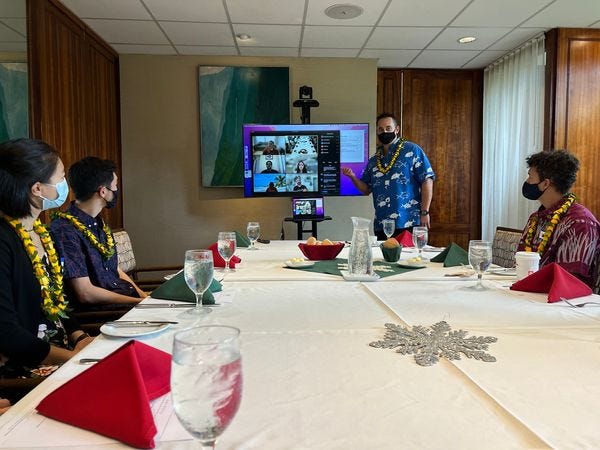 Yesterday at The Pacific Club, Hoala Greevy brought together Kahikina STEM Scholarship recipients and advisors to explore how the program could further support their educational and career goals.
At a recent networking lunch, I got to meet many of the brilliant students who've benefitted from the Kahikina STEM Scholarship:
Nick Wong, Kamehameha Schools graduate studying computer and data science at UC Berkeley (recently featured in PBN)

Alyssa Lyman, Kamehameha Schools graduate studying Computer Science at Purdue

Lauren Noelani Kwee, Punahou graduate studying Physics and Computer Science at Harvard

Joshua Parker, Kamehameha Schools graduate studying Computer Science, Economics, and Statistics at Harvard University

Gabriella Kanoa, Seabury Hall graduate studying Civil Engineering at the University of Hawaii at Manoa

Kobe John Kaimikupono Lilio, Kamehameha Schools Maui graduate interested in Computer Science or Engineering at George Fox University

Kawehi Cabuzel, Hawaii Preparatory Academy graduate studying Digital Media and Video Game Development at USC
"What stood out to me about [this scholarship] is that they offer you many networking opportunities to meet local entrepreneurs, and really people from Hawaii who started their own companies," Lauren says. "It was awesome to hear about how these other native Hawaiians created these job opportunities in Hawaii.
"It's cool to hear about what kind of things I could do if I were to come back home," she added.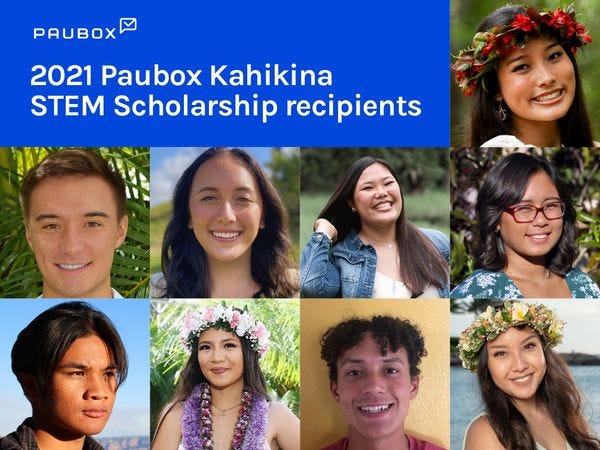 In 2021, the Kahikina STEM Scholarship again tripled its reach and expanded to nine new scholarship recipients.
Although none of them were able to attend, I do want to note that the 2021 cohort included several Hawaii public school graduates: Hailey Grace Michimoto Fevella from Mililani High School (my alma mater), Kyrie Bartolome from Waiakea High School, Ariell Siliado from Waimea High School, Anna Marie Puaala from Farrington High School, and Owali Moeai from Hana High & Elementary School.
Applications for the 2022 Paubox Kahikina STEM Scholarship open in January and can be submitted via Scholar's App, founded by Hawaii's own Traven Watase.