Discover more from Hawaii Bulletin
Island innovation in focus. Hawaii-based science, technology, startups and entrepreneurs, featuring local leaders, creators, educators, and more.
Over 5,000 subscribers
"LOST" in August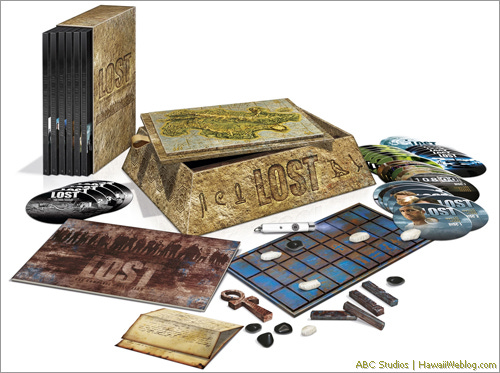 "LOST" fans have a lot to look forward to this month! On Saturday and Sunday, Aug. 21 & 22, there will will be a two-day live auction of over 1,000 "LOST" props. Two days later, on Tuesday, Aug. 24, the official release of both "Lost: The Sixth and Final Season" and "LOST: The Complete Collection." And finally, on Sunday, Aug., 29, the 62nd Primetime Emmy Awards, in which several members of the "LOST" cast and crew have been nominated.
LOST: The Auction
The official show action will be held at the Barker Hanger (3021 Airport Ave.) in Santa Monica, Calif., with bidding accepted online via Live Auctioneers. The range of items is drool-worthy, from "Apollo" candy bars to Volkswagen "DHARMA" vans. You can pick up Locke's wheelchair, Hurley's lottery ticket, Charlie's "DriveShaft" ring, and much, much more. And if you just want to browse, you can buy a 300-page full-color Catalog Preview for $55.
LOST on DVD and Blu-Ray
To be sure, no "LOST" fan library can be complete without "LOST: Season Six" on DVD (or Blu-Ray). I certainly look forward to finally having all six seasons on DVD lined up on my shelf. But really, the main object of desire is "LOST: The Complete Collection" on DVD (or Blu-Ray). In addition to every episode of "LOST," the collection comes with a full disc of never-before-seen content, and several collectibles: a Senet game, an ankh, an island replica, and a black light (to help uncover additional puzzles hidden in the box).
"LOST" at the Emmys
With all your shopping done, be sure to tune in to NBC at 8ET/5PT on Sunday, Aug. 29 to see how "LOST" fares with its impressive twelve nominations:
Outstanding Drama Series: "LOST"

Outstanding Lead Actor In A Drama Series: Matthew Fox as Jack Shephard

Outstanding Supporting Actor In A Drama Series: Terry O'Quinn as John Locke, and Michael Emerson as Ben Linus

Outstanding Guest Actress In A Drama Series: Elizabeth Mitchell as Juliet Burke

Outstanding Art Direction For A Single-Camera Series: "Ab Aeterno"

Outstanding Writing for a Drama Series: "The End"

Outstanding Directing For A Drama Series: "The End"

Outstanding Single-Camera Picture Editing For A Drama Series: "The End"

Outstanding Sound Editing For A Series: "The End"

Outstanding Sound Mixing For A Comedy Or Drama Series (One Hour): "The End"

Outstanding Music Composition For A Series (Original Dramatic Score): "The End"

Outstanding Special Class Programs: "Mysteries Of The Universe - The Dharma Initiative"