"LOST" Encounter
SPOILER ALERT: Sometimes it seems as if "LOST" can only be found at the far end of the Earth (or, at least, the far end of the island). But sometimes, "LOST" comes to you. I rolled into work this morning to find the production crew setting up for a location shoot right up the street from my office. Tucked in the loading dock behind the Gentry Pacific Design Center, a brief scene unfolded amongst some familiar vehicles.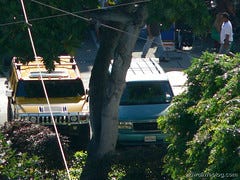 There was a bright yellow Hummer H-2, easily recognizable as the post-lottery purchase of Hugo "Hurley" Reyes (Jorge Garcia). And beside it, the blue Chevy van spotted just yesterday as the wheelchair-ready ride of John Locke (Terry O'Quinn). Parked nearby, a large truck with the word "BOX" emblazoned on the door in red and white letters.
It was the parking lot of the Tustin-based box company that was acquired by Hurley and that employed Locke before the crash.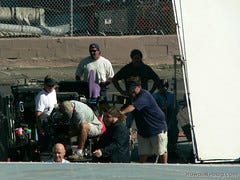 The scene:
Locke, in his wheelchair, comes rolling out of the building with a box of papers and office supplies on his lap. When he reaches his van, he sees the Hummer parked way too close, blocking his door and ramp. He starts to yell and gesture angrily, at one point throwing something. Then, Hurley — wearing jeans and a dress coat — arrives. Locke is still upset, but they talk. Then, Hurley pulls out a checkbook, writes out a check, and hands it to Locke.
Why was Locke taking a box out of the box company, and why did Hurley pay him? Spontaneous severance? In any case, finally in Season 6, it looks as if the amusing coincidence of Locke working for the same company that Hurley owns is taking on greater meaning.
More photos here. Got Twitter? Tweet this! Follow me!
Thanks to Geronimo for the report and additional photos.