"LOST" Filming Update
SPOILER ALERT: Though the final chapter of "LOST" is only just beginning to unfold on television, production in Honolulu is rapidly reaching its last few hours. Filming began this week on the 14th of 18 episodes scheduled for Season 6 (the last three of which comprise the finale). From several corners of the island comes three reports and photos of location shoots this week.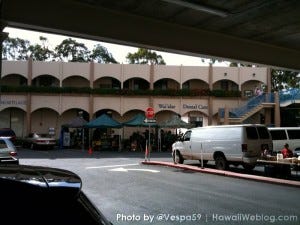 This afternoon, "LOST" set up at the Waialae Dental Care office at Kahala Mall. Visiting fans Scott and Steve (no relation to the characters!) spotted Jack (Matthew Fox), dressed in a suit, and Bernard (Sam Anderson). It looks like Bernard is still a dentist off the island.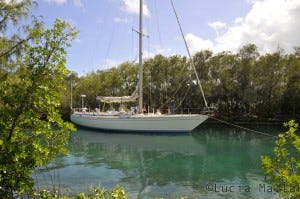 Yesterday, "LOST" was spotted at Coconut Island, in Kaneohe Bay by local blogger Lucia. She reported on the shoot in a post on her blog, but as it was written in Portuguese, she was kind enough to provide an English report and some additional photos, exclusively to Hawaii Blog:
The filming was at Coconut Island, a restricted access island that hosts the Hawaii Institute of Marine Biology. I'm doing a collaboration with a lab over there, and heard on Monday from a guy in the lab that "Lost" would be there.

Well, they were not hard to miss, since they brought a sailboat there: The Elizabeth.

Yesterday's shoot included Jack, Sun, Frank, and Hurley, running in the jungle. In the afternoon, Sawyer, Claire and Kate arrived, and they were all shooting by the sailboat. The area was off-limits to fans, but I have a friend who got really close to them and heard them talking about Locke.

I couldn't stay there the whole time because I was also trying to work. During my lunch break, I went to the shark pond to relax, and Emilie DeRavin and her assistant came by. Her hair was a mess (for the scene) and we chatted about sharks, morey eels and sea cucumbers.

There were some leftovers from their catered lunch, so we got some fruit salad from the production! They were already packing up to leave by yesterday late afternoon.
Finally, on Monday, visiting fan Franci was relaxing on the beach near the Turtle Bay Resort when she caught site of "LOST" filming down the shore at Kawela Bay.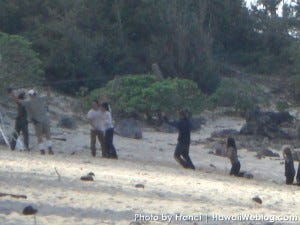 She could only watch from a distance, but says that central to the scene was the long-awaited reunion of Sun and Jin.
At the vegetation line, portable sonic fence tripods were set up. In the scene, it looked like Sun, Sawyer, Kate, Hurley, and possibly Claire and Frank come ashore, wading in the surf. There was also a handful of people there that didn't appear to be Others or survivors. Jin, on the beach, recognizes Sun, and they embrace for a long time. But then, a group of Others emerge from the jungle, pointing their guns, and everyone gets down on their knees.
This week, there were also small shoots at the Bishop Museum, and back at the Bowfin Submarine Museum. We'll have a few more details in our next "LOST" podcast!
[gallery link="file" order="DESC"]
Mahalo to Steve, Lucia, Franci, and Scott for their reports and images, all used with permission.