Discover more from Hawaii Bulletin
Island innovation in focus. Hawaii-based science, technology, startups and entrepreneurs, featuring local leaders, creators, educators, and more.
Over 5,000 subscribers
'LOST' Fueling Up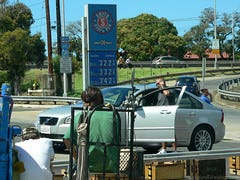 SPOILER ALERT! The "LOST" production crew returned to Kaimuki today, taking over the Chevron gas station at the corner of 11th and Harding avenues. It was renanamed "Smith Stop and Run," and the price of regular unleaded was set to a tantalizing $3.22 a gallon. On the scene were Naveen Andrews and Jorge Garcia, Sayid looking badass in black, and Hurley in non-threatening pastel yellow. The pair flee the scene -- Sayid looking tired or injured in the passenger seat -- just as a silver Mercedes Volvo pulls in. It's Evangeline Lilly, stylish as ever in a maroon, floral print top. And behind Kate, a very young blond boy in a car seat.
Historical note: gas prices made headlines in May 2007 when they hit $3.22 a gallon, matching the record set in 1981 at the onset of the Iran-Iraq war.