"LOST" on the Lawn [Updated]
SPOILER ALERT: While additional shooting takes place this morning at the Ilikai Marina, continuing the big stunt scene from yesterday, local blogger GeeWhy of Pulpconnection broke the news of a concurrent "LOST" location shoot on Twitter and with a blog post. The scene, fortunately, is considerably more low key than yesterday's. In fact, it's downright ceremonial.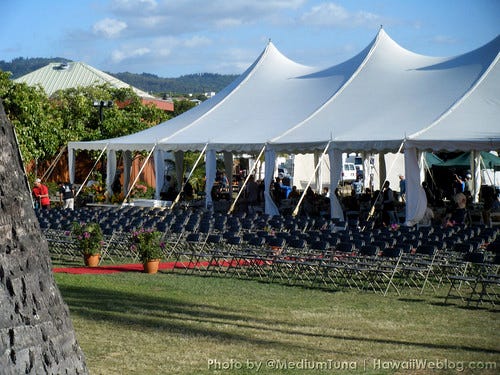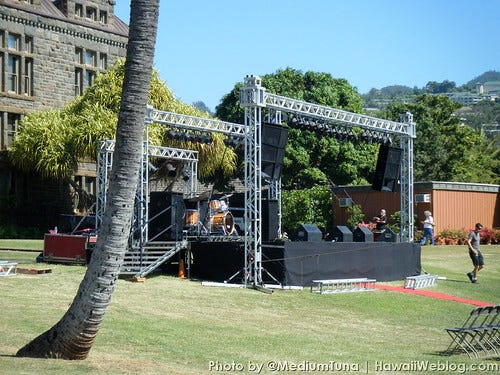 The "LOST" crew took over the "Great Lawn" at Bishop Museum, setting up for a wedding scene.
Fortunately, my family are members and regular visitors to the museum, and my wife and daughter just happened to be there today. A stage was set up to host a band. Jack Bender was running the show, with Jean Higgins by his side. The first actor on the set was Henry Ian Cusick (Desmond), dressed up and doing press interviews, but he was not the groom. When Fionnula Flanagan (Eloise) showed up, flanked by a slight stand-in dressed in a tuxedo, the likely story became clear.
UPDATE: Or maybe not. Piecing together separate reports, it was not a wedding, after all... which might explain why no one saw a bride or groom all day! But there's a reason why someone might get that impression.
The scene was instead a big-ticket fundraiser for the "Golden Gate Natural History Museum" (or something to that effect), featuring a concert, hence the stage. Parked at the entrance, black limousines and Town Cars with California plates, as well as the silver sedan that Desmond was driving in yesterday's dramatic shoot.
The fundraiser was being hosted by Eloise, and Desmond was apparently crashing the party, looking for Penny. He tries to read the guest list, but Eloise takes it away. She rebuffs him, and he barks, "For what?" He then storms off.
Work continued past the museum's closing time, so who knows what followed. But why the early impression that the scene involved a wedding? Apparently, some of the crew were referring to Eloise not as "Mrs. Hawking," but as "Mrs. Widmore." It may very well be simple confusion, but it seemed prominent enough to at least suggest an alternate outcome for her relationship with Charles.
See more photos from today's Bishop Museum shoot here.
Thanks to my wife Jen, MDG from Long Island, VSC, and @MediumTuna for the report and photos.