Discover more from Hawaii Bulletin
Island innovation in focus. Hawaii-based science, technology, startups and entrepreneurs, featuring local leaders, creators, educators, and more.
Over 5,000 subscribers
"LOST" Seen and Heard
SPOILER ALERT: Work on the sixth and final season of "LOST" continues here in Honolulu. Thanks to some eagle-eagle eyed fans (and one friend with a good ear), here are some new photos from recent shoots and a brief note about filming that took place today on the Hawaii Film Studio lot.
First, here are some new photos from Saturday's shoot at Honolulu International Airport (as reported in that day's edition of "The Transmission" podcast). The setup seemed to be a continuation of the airport shoot two weeks ago.
Yes, there were Los Angeles taxi cabs, some in better shape than others: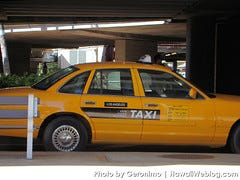 But what fans were really thrilled about was spotting the cast. Here, Matthew Fox (Jack) and Evangeline Lilly (Kate) share a quiet moment between takes, and Emilie DeRavin (Claire) strolls through the set sporting a significant baby bump.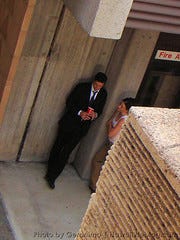 Today, all the action was at the Hawaii Film Studio lot on the slopes of Diamond Head. Carmel, a fan visiting from Israel that I had the pleasure of meeting last week (along with other fans from Germany and St. Louis!), went up the hill to see what she could see. The answer was, honestly, not much... but she was still excited to see the exterior of a large temple set.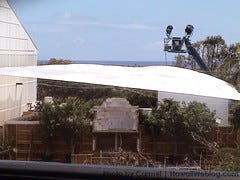 I couldn't resist heading over during my lunch break. In addition to admiring the backside of the temple, I noticed a great deal of construction nearby. Carpenters had built even more "temple walls," stretching along two sides of a nearby building, with white foam "rocks" waiting to be painted.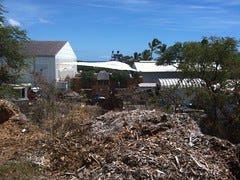 On the lot, out of sight, bells rang and red lights flashed, and the crew started rolling. Set construction fell silent. Then, unmistakably, three gunshots rang out. A cut, a reset, and again, bang, bang, bang! And when the scene wrapped, people poured out of the temple set. Some were holding old-fashioned rifles, and several were dressed in the familiar drab, brown garb of "The Others."
It looks like things with our friends on the island have gone from bad to worse.
Hat tip: Geronimo and Carmel. Mahalo!