Discover more from Hawaii Bulletin
Island innovation in focus. Hawaii-based science, technology, startups and entrepreneurs, featuring local leaders, creators, educators, and more.
Over 5,000 subscribers
Special "LOST" Tour at Kualoa on May 23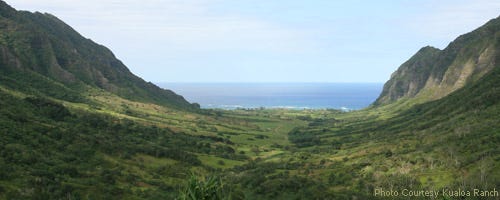 After six incredible seasons, the awesome filmed-in-Hawaii series "LOST" will come to an end on Sunday, May 23. The two-and-a-half-hour series finale will be sandwiched between a two-hour retrospective and a special "LOST" sendoff on "Jimmy Kimmel Live." That adds up to over five hours of "LOST" goodness on ABC that night. It's like the Superbowl and Oscars in one. What else could a "LOST" fan need?
How about a special "LOST" tour at Kualoa Ranch?
As any hardcore fan knows, Kualoa Ranch has essentially co-starred in some of the most iconic and beautiful scenes on "LOST." From the mysterious island jungle to Hurley's golf course, the 4,000-acre ranch has provided countless settings for the best show on television... as well as for several other films and productions, ranging from Hawaii Five-O to Jurassic Park. And to mark the historic end of "LOST," I've collaborated with Kualoa Ranch to arrange a special tour to kick off what will be an unforgettable day.
The "Beginning of the End" series finale "LOST" tour will include a "LOST Jungle Expedition Tour," a bus tour of spectacular Ka'a'awa Valley, a hosted breakfast at the ranch house, and a wind-down visit to Moli'i Gardens. Throughout, we'll be visiting a number of "LOST" locations, most of which you wouldn't be able to see on your own. And, after this early morning pilgrimage to pay homage to our favorite show, you'll have all afternoon to prepare for the epic evening of television to follow.
If you missed the special "LOST" events I helped organize in January, which marked the beginning of this final season, here's a rare chance to join other fans to commemorate its end. And even if you were there for "Sunset on the Beach," you should still consider joining us next Sunday. This series finale "LOST" tour at Kualoa Ranch will be more intimate, and probably more wistful, as we prepare to say goodbye to the show.
The "Beginning of the End" tour begins at Kualoa Ranch (49-560 Kamehameha Highway) at 7:30 a.m. on Sunday, May 23. It will start with the jungle tour, then head into Ka'a'awa Valley after breakfast. After visiting Moli'i Gardens, you'll be on your way by 1 p.m. -- plenty of time to prepare for the series finale. You might even want to visit some other "LOST" locations on your way home! ABC's full night of "LOST" kicks off in Hawaii at 6 p.m.
This special, all-"LOST" tour is being offeredfor the very special cost of $75 per person. (Half-day tours at the ranch usually start at $105.) And please note, space is limited. Kualoa Ranch is squeezing this special all-"LOST" tour in, despite its full, regular schedule of tours and activities. So if you'd like to join us, please don't delay. And please tell your friends!
To sign up, call Kualoa Ranch today at (808) 237-7321, and reference the reservation code "Lost 2010." And if you can join us, be sure to comment below, or share your RSVP on Facebook or on Twitter.
Part of me is already in mourning, and I think by the time the sun sets in Hawaii on May 23, my wife and I will already be holding back tears in front of the TV. But this special series finale tour will be a special way to start the day, visiting the beautiful place where "LOST" lived for the last half decade.