"LOST" Truck for Sale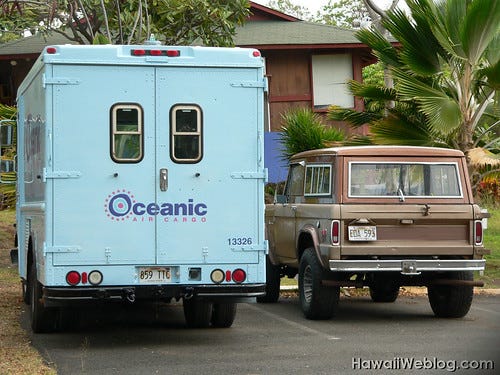 Looking to make deliveries in style? Got some coffins to transport? The Oceanic Air Cargo truck seen in the historic series finale of ABC's "LOST" is up for sale.
The 1996 GMC P30 was rented from a local company, given a paint job and special Oceanic Airlines branding, and was ultimately used to deliver Christian Shepherd (and friends) into the great beyond in "The End." Although "LOST" has since left the airwaves and Hawaii, the truck stayed behind, with its "LOST" look intact. And now, its owners are wondering whether any hardcore fans would be interested in buying it... before it's returned to regular service.
Unsure of what the "LOST" cameo adds to its value, the owners tell me the ballpark price would be around $10,000, a little bit more than what the truck was originally worth. If you're interested, drop me a line and I'll put you in touch.
I'd love to see this truck survive as a moving (!) tribute to one of the greatest television show's ever, and a major chapter in Hawaii's film industry. You could use it as a truck, of course, but I'd bet just parking it in front of your store or restaurant would draw fans from all over.
Here are a few more photos, the first from the set at Sacred Hearts Academy, and the rest from the Hawaii Film Studio lot:

I wish I had the budget or the space... but my wife's dream set of "LOST" wheels remains a DHARMA van.