Discover more from Hawaii Bulletin
Island innovation in focus. Hawaii-based science, technology, startups and entrepreneurs, featuring local leaders, creators, educators, and more.
Over 5,000 subscribers
Lowe's Opens in Iwilei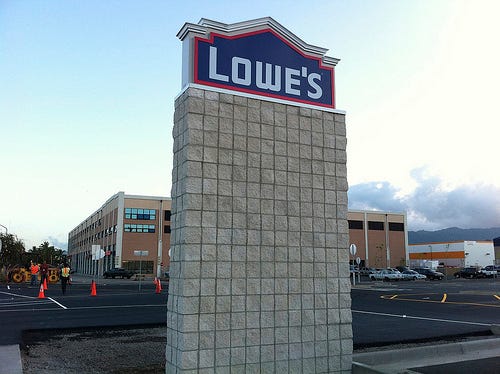 It took nearly three years longer than planned, but Lowe's Home Improvement finally opened its newest store in Iwilei. Lowe's arrival further concentrates competition in the area for home improvement and big box retailers, as it's situated right next door to a Home Depot, and half a block away from City Mill. Nearby, there's also Best Buy, Costco, and K-Mart.
The store includes 117,000 square feet of enclosed retail space, and an additional 31,500-square-foot garden center.
For comparison, the Iwilei Home Depot store has 135,000 square feet, plus a 15,000-square-foot garden center, whereas City Mill's store -- open since 1950 -- is less than half the size, with 60,000 square feet. Costco is 151,000 square feet, KMart's store is 65,000 square feet, and Best Buy is 50,000 square feet.
That's well over 624,000 square feet of shopping within maybe three square miles... not counting the Gentry Pacific Design Center, home to several smaller tenants.
Lowe's says its Iwilei store employs 125 people, and a sign just inside the door advertises several part-time positions still available.
Today was the store's "soft opening," with grand opening celebrations planned for next Thursday, April 28, 2011. I walked over from my office early this morning to check it out, and posted photos to Flickr:
Originally scheduled to open in 2008, construction was delayed in part due to considerable clean up required at the 5.7 acre site, which Lowe's bought in 2005. The area was previously home to a petroleum storage facility among other industrial tenants, some parcels even designated a Brownfield cleanup site by the EPA.
Groundbreaking didn't take place until April of last year. Working at Dole Office Building, I've been tracking the construction project, and even compiled a photo gallery showing its progress since it was just an empty lot: