Bon Dance in Makiki This Weekend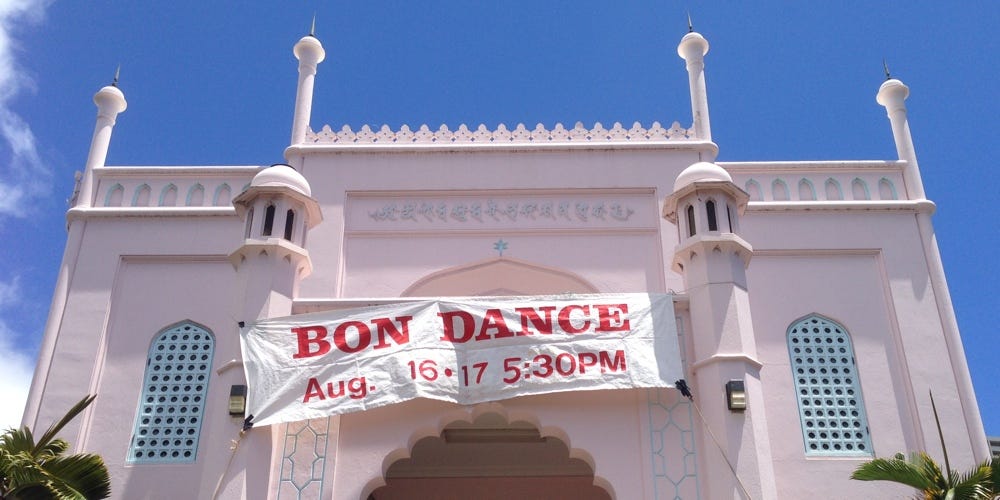 The banner we hung on the temple isn't exactly straight, but the message is clear: come to the Jodo Mission of Hawaii tomorrow or Saturday evening for the annual bon dance.
Admittedly, the Mililani Hongwanji is holding its bon dance this weekend as well, but Burt Lum have been on the Jodo Mission board of directors for years (having been invited by fellow geek Ian Kitajima, whose family has strong ties to the temple). The Makiki temple is a historic Honolulu landmark (described by a friend as Hawaii's mini Taj Mahal), and its community is a close-knit one.
As in years past, there will be homemade food items for sale, activities for the kids, a taiko drum performance on Friday, and a KC Waffle Dog stand on Saturday. The social hall opens at before 5 p.m., with the blessing and dancing set for 6:30 p.m. In deference to the temple's neighbors, the festivities will end before 10 p.m.
Like many bon dances at small local temples, parking is always a challenge. And wouldn't you know it, parking coordination is the job that Burt and I take on each year. We basically play Tetris with cars, and so far, we've not trapped or smashed any of them. There are a few parking stalls around the temple, and a spillover parking lot behind the school next door... but unless you're willing to come down early, you'll likely be prowling the streets of Makiki for a space. Still, I think it's worth the effort!
The Jodo Mission of Hawaii is located at 1429 Makiki St., at the dead end against the freeway coming mauka from South King Street. Hope to see you there!