Menchie's Mililani Opening Aug. 17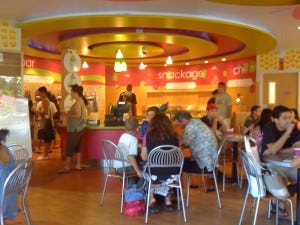 Despite the gloomy economy, the frozen yogurt craze continues to spread across Hawaii. We've now got several Mainland chains (Yogurtland, Menchie's, Orange Tree, Red Mango), plus a handful of independent stores. While I'm certain Honolulu can't sustain dozens of "fro-yo" places, we're more than happy to indulge in their tasty treats while they last.
Jen and I were introduced to the post-TCBY yogurt fad via Yogurtland on University Ave. We later brought the whole family to Menchie's at Ward. And we now frequent the Yogurtland in Pearl City, largely because it's the closest location to Mililani (and because the Orange Tree in Aiea was a disaster the one time we went).
But earlier this year, we were tickled to learn that Menchie's was coming to our neighborhood. We kept our eye on the space at Mililani Town Center — between GNC and Price Busters — with hungry anticipation. And today, suffering from an especially strong craving, I decided I had to know when the location would open.
I called the Ward location, and as luck would have it, the phone was answered by none other than Erica Miyabara, 21, who along with fellow Punahou graduate 23-year-old Kelly Hiraki secured the Hawaii franchise for Menchie's.
She said that the Mililani location would open on Monday, Aug. 17, a little more than a week away.
On one hand, I'm glad to hear we won't have to drive all the way to Pearl City to get our fix. On the other hand, that drive was probably the one thing that kept us from overdosing on frozen yogurt... which is only marginally healthy as it is, given the usual heaping scoops of toppings.