Discover more from Hawaii Bulletin
Island innovation in focus. Hawaii-based science, technology, startups and entrepreneurs, featuring local leaders, creators, educators, and more.
Over 5,000 subscribers
Miner Brigade Released for iPhone, Android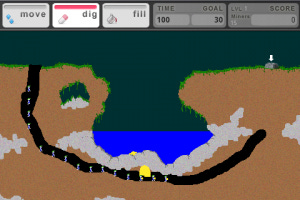 Honolulu-based Noble Master Games this week released the full version of its game, "Miner Brigade," for the Apple iPhone and Android platforms.
"Miner Brigade" is similar to the arcade classic "Lemmings." The simple and fun game involves directing a group of miners to collect gold in a race against time in order to advance through 77 increasingly complex levels. Players clear and block the path of the miner brigade by touching the screen, or by rotating the mobile device to change the direction of gravity.
Version 1.0 of "Miner Brigade" was announced today and is available in the Apple and Android application stores for $2.99. A "Lite" version of the game was first released on April 9 and is still available for free.
Noble Master Games, established in 2006, offers resources for the global gaming community at large. I'm excited to find another mobile app developer in Hawaii, and I'll encourage them to connect with other developers via TechHui and Manoa Geeks.