Discover more from Hawaii Bulletin
Island innovation in focus. Hawaii-based science, technology, startups and entrepreneurs, featuring local leaders, creators, educators, and more.
Over 5,000 subscribers
Mobile Medical Clinic Coming to Big Island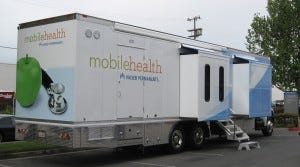 Kaiser Permanente is shipping a 500-square-foot, 10-wheel Mobile Health Vehicle to the Big Island, hoping to improve the accessibility of heath care services in largely rural Hawaii County. The vehicle was placed on a ship today in San Francisco, and will be officially unveiled July 2. When fully operational beginning July 21, it will continuously circle the Big Island, spending a few days in each town and community.
Describing it as "the nation's most wired mobile health vehicle," the company says it will help address medical disparities on the Big Island, particularly related to preventative and women's health care.
The mobile health team will include a nurse practitioner, medical assistant, and a technologist to operate an on-board digital mammography unit. Physician services can also be provided as well. The team can provide pap, pelvic and breast exams, cholesterol and glucose testing, urinalysis and immunization services. With Big Island mammography screening rates well below the national average, the company says it will partner with community organizations to refer women for mammograms.
Patients will be able to have prescriptions issued by the mobile team, and the long-term plan is to provide for mobile drug dispensing as well.
In its first year of operation, the Mobile Health Vehicle is expected to facilitate 5,000 mammograms and nearly as many general health screenings. Servicing the poor and uninsured is also an objective. Kaiser says the Mobile Health Vehicle cost about $1 million.
Photo courtesy Kaiser Permanente.