Sunday is Mom's Day with Moms In Hawaii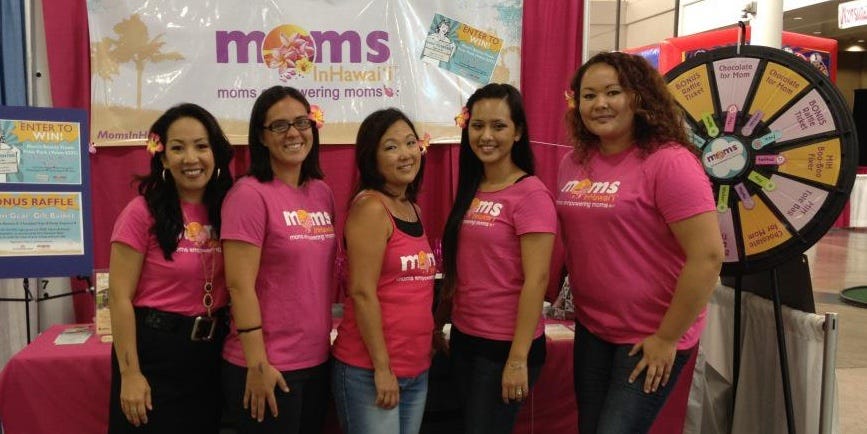 Mother's Day is more than two weeks away, but it's never too early to celebrate moms. Or, in the case of Sunday's "Mom-o-Rama," to give a bunch of mothers a chance to get together and enjoy themselves.
The "Mom-o-Rama" is a partnership between Moms in Hawaii, founded by friend and super-mom Esme M. Infante (@EsmeMInfante), and HMSA.
"The goal is to encourage moms to connect with each other and to take care of themselves," Esme said when the program launched last summer. "We hope this Mom-O-Rama will help more moms feel part of a larger community of other women, while also raising awareness of the importance of their health."

Events were held on Oahu, Maui, Kauai, and Hawaii Island last year; this weekend's event is the first of 2015. Of course, kids are what makes mothers moms, so they are also welcome at the "Mom-o-Rama," as are supportive husbands and partners. But make no mistake, moms are the stars of the day.
There will be presentations, games and prizes, kids activities, and light pupu and refreshments. Featured speakers include:
Partner organizations include Family Hui, the Healthy Mothers Healthy Babies Coalition of Hawaii, the state Department of Transportation (with its Walk Wise Hawaii and Child Passenger Safety team) and Instapressed., and they will be on hand with activities and information.
The "Mom-o-Rama," is free and open to anyone (regardless of Moms In Hawaii or HMSA membership), and is being hosted at HMSA's headquarters near Ala Moana Center (818 Keeaumoku Street) on Sunday, April 26 from 2 p.m. to 5 p.m. For more information and to RSVP, visit the "Mom-o-Rama" event page on Facebook.
To get updates on future Moms In Hawaii events, check out the Moms In Hawaii website, or connect with the group on Facebook, on Twitter, or on Pinterest.

Photo courtesy Moms In Hawaii on Facebook.