Remote worker immersion program concludes second cohort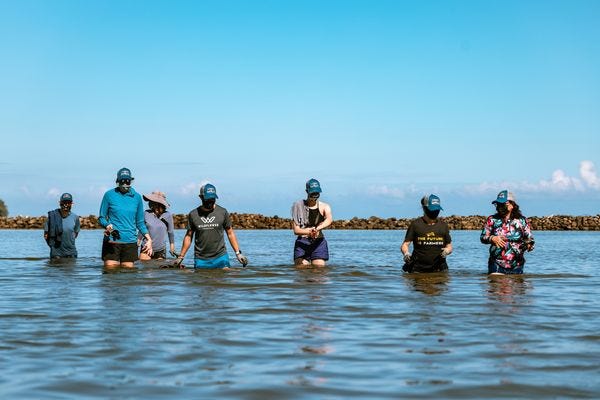 The latest group of "Movers & Shakas" fellows wrapped up the program's second cohort this past weekend, a mix of new visitors, returning kamaʻāina, and even current residents from backgrounds ranging from finance to agriculture to education.
The eight-week, on-island portion of the program culminated with a "demo day" where participants showcased the volunteer projects they worked on, including restoration of a historic fishpond in Kahana, developing a multimedia education center, working in a loʻi in Waianae, and building an online marketplace for local farmers and fishermen.
"Cohort Two was a big success," says "Movers & Shakas" program director Nicole Lim. "These people are so driven, so here for the right reasons — they're all very motivated to give back and to make an impact."
The work continued even as participants returned home, with more reporting expected this week. And the expectation is that the relationships built during the program will pay dividends down the line.
"The top priority was was always building those connections within the cohort, and then with the community partner, nonprofit or startup," Lim explains. "If we can keep a long term relationship, if people continue to contribute, that's super important."
Lim is already looking beyond the next cohort, and developing a parallel program that can provide local connections and culture for newly arrived employees.
It's a different scene from where it all started.
First impressions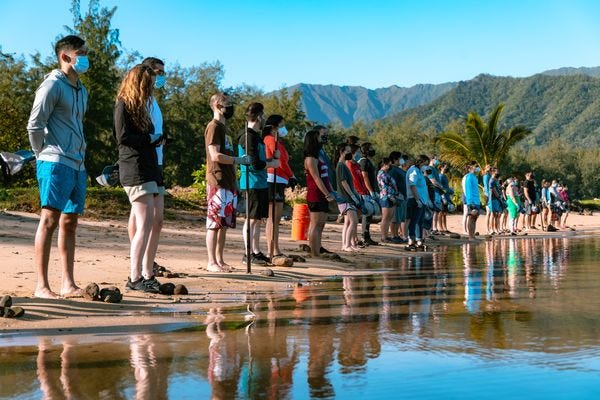 Cohort two fellows listening to the opening 'oli at Huilua Fishpond.
The launch of the "Movers & Shakas" program for Hawaii-bound remote workers made headlines around the world.
Conceived during the early days of the coronavirus pandemic, when short-term visitor numbers to Hawaii plummeted to near zero, "Movers & Shakas" — organized under the non-profit Hawaii Executive Collaborative — saw a unique opportunity to foster a different kind of traveler.
The pitch was simple: free airfare to Hawaii in exchange for a commitment to participate in community service and cultural education while working from Hawaii. It was no secret that digital nomads were seeking refuge in the islands, so why not curate a group that's open to learning about Hawaii, and interested in pitching in rather than hiding out?
Related Reading: The best kind of visitor can give back to Hawaii
With the world in lockdown, and Hawaii seeing some of the nation's lowest COVID-19 infection rates, the idea proved irresistible. Nearly 90,000 people applied for the 50 available spots.
The massive response sparked a fair amount of controversy.
Hawaii residents were loathe to accept any number of people flying in for any reason during the pandemic. And because "Movers and Shakas" participants were expected to be in the islands for more than a holiday weekend, locals feared more long-term renters would make things even harder for residents struggling to afford a place to live.
Even the program's director, Nicole Lim, had a visceral, negative reaction to the idea when she first heard about it. She was an Iolani School graduate, born and raised in Hawaii, and felt protective of her home even as she built a career on the mainland.
After meeting with organizers, however, she joined the team, an example of someone who "took the pandemic as an opportunity to come home, reunite with family, work remotely and contribute to our economy and community."
The "Movers and Shakas" program evolved as it unfolded, and was able to address most community concerns.
The majority of people selected for the first cohort were former Hawaii residents, and three out of four of them had family in the state. Some of them stayed with friends and family, and the rest were offered discounted rates at largely empty hotels. They all brought their jobs with them, working from Hawaii while participating in workshops and donating their talents to local organizations, many dedicated to native Hawaiian causes.
The first cohort wrapped up in April 2021.
"It is exciting and inspiring to see the contributions made in just a couple months by Movers and Shakas participants and our partners organizations," Lim said at the time. "The relationships built while working side-by-side will form the foundation of an increasingly diverse local economy, underpinned by a sense of shared stewardship for Hawaii's natural and cultural richness."
Three innovations for round two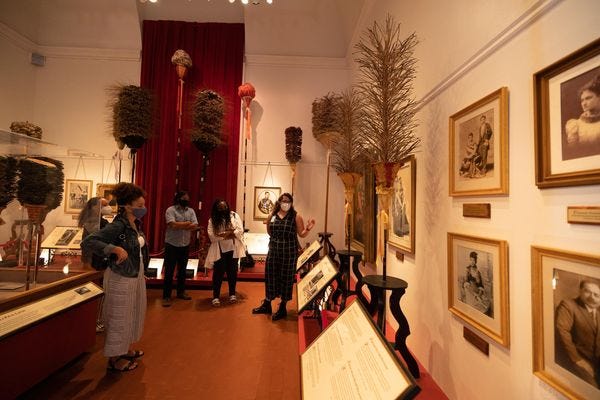 Cohort two visits Bishop Museum.
"My goals in the first cohort were to really prove out the concept," Lim recalls. "How do we bring newcomers to a place? What does an immersion program into Hawaii look like? How do we help Hawaii through supplementing tourism, which had been decimated through COVID?"
While many of those questions were answered, there were dozens of things that could have been done better, and dozens of things originally proposed that still hadn't been tried.
"At the end of cohort one, we realized we had developed this Hawaii immersion program, and we also had a unique position between understanding community needs and having access to talent," she recalls. "We thought about whether we would turn our attention to shorter term visitors, like two to four weeks, or whether we would look at a much longer term person — focusing on talent."
The board of directors unanimously voted to explore the latter.
"Tourism's a big beast, and we are a very small program," she said. "Talent, however, is all about handfuls of needle movers — even one person can come back and build something and make a difference."
Lim said she honed in on three components of a strong immersion program: learning, contributing and connecting. And they made three big changes to "Movers and Shakas."
"The first one was around the volunteer partner organization (VPO) projects," she says. "Those were all individual projects in the first cohort, but I wanted to move to team projects, because we could take on bigger projects, and also because tackling a challenge together is a really great vehicle for for connecting and bonding."
The second change reinforced the bonding aspect, and also addressed one of the main criticisms of "Movers and Shakas."
"We became a lightning rod for housing frustration, and I really wanted to see how we could not contribute to that and maybe even be a positive force," Lim says. "So we built an 'Olympic Village' in partnership with the Waikīkī Malia by Outrigger, because they were willing to try something new."
By providing discounted lodging, program participants didn't have to struggle to find local accommodations scattered across the island. And with Outrigger, "Movers & Shakas" was able to create a sort of coworking headquarters.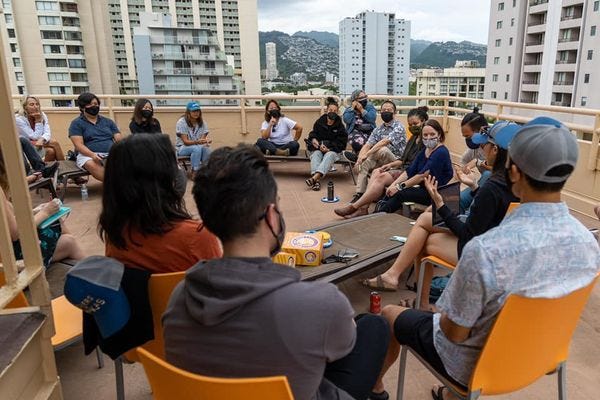 "They gave us really amazing discounts on their their suites with kitchenettes so that people here longer term could do at least some very basic food prep, and they also gave us four hospitality rooms and a private lanai to be able to build a space where everyone could come together."
The arrangement was so successful, the group's shared calendar was jam packed with meetups, activities, and excursions that the members organized on their own.
"It was it was exactly what we wanted to do, bring people together in an informal, organic, shared space way," Lim says.
Finally, for the second cohort, "Movers & Shakas" added current residents to the mix.
"Remote workers typically have a very expat experience here in Hawaii, and with that type of experience, the community and Hawaii doesn't benefit as much," Lim explains. "By programming current residents into the program, it creates personal anchor points for both the cohorts as a whole, and for the partner organizations."
And even though the residents lived here, Lim says they got a lot out of the program as well.
"There's a lot of things that we do that I don't think most residents do on a day to day basis," she says. "Even for me, being a returning kamaʻāina has been so much more fulfilling for me, in my own connection to the community and to the land itself."
Movers & Shakas 2.0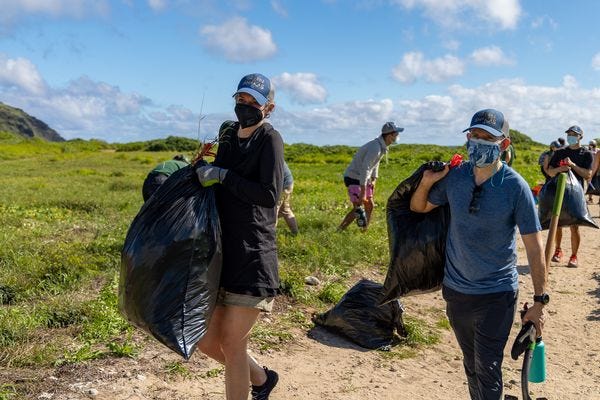 Kaiwi coastline cleanup with UH CTAHR and Hawaii Botanical Society.
"For the second round, we were very clear about what the expectations were, and the program got a lot more intense," Lim says.
This time, without a worldwide media frenzy, "Movers & Shakas" ended up receiving 3,500 applications.
"Unlike tourism, we're not focused on trying to get as many people as possible," Lim notes. "We just want the quality ones, and we got 3,500 very high quality applications."
Ultimately, the composition of the second cohort still featured strong local ties: 25 percent returning kamaʻāina, half with family in Hawaii, and almost all with friends in Hawaii — plus 10 current residents.
As before, all participants were fully employed remote workers, with backgrounds including tech, finance, healthcare, education, nonprofits, and consulting. Most were women, a few brought kids.
Based on skills and interests included in their applications, fellows were assigned in teams of 4 to 5 people to each partner organization, which this round included: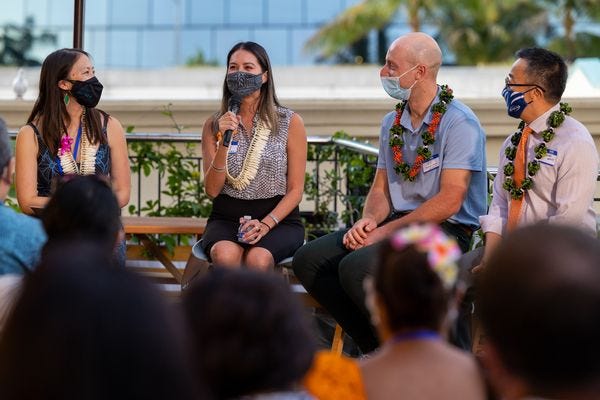 A pau hana panel presented by United Airlines and Elemental Excelerator.
Lim was especially moved by a conversation hosted as part of the orientation.
"We had a panel moderated by Naalehu Anthony, with Mahina Pychon Duarte, Kalani Kaanaana and James Koshiba — these are four leaders who hard to get one on one, but we got them all together, talking about the opportunities and challenges of Hawaii as a cultural melting pot.
"There's so much passion, and when you hear authentic voices, it's inspiring," she continues. "We're taking that all in, all the challenges and all the opportunities, and really trying in the face of all that to to do something good."
Participant Philamer Felicitas, who grew up in Waipahu but now lives in Phoenix, Arizona, said that she was grateful for the chance to re-establish his roots and look foward to returning someday.
"Movers and Shakas provided me an avenue to return to Hawaii and connect with others who want to contribute to and reimagine Hawaii's social, economic and environmental landscape," she said in a statement. "I left Hawaii for college in 2006 but knew that I eventually would try to come back home and engage with my community with mindful intentions."
In the same press release, Suma Farms COO George Pritchard said he was impressed with the fellows who volunteered with them.
"They took the time to learn about our vision... and offered strategic marketing guidance and practical ideas for social media engagement and awareness that we have started to implement right away," he said. "We look forward to continuing our relationship with them even after the program ends."
What comes next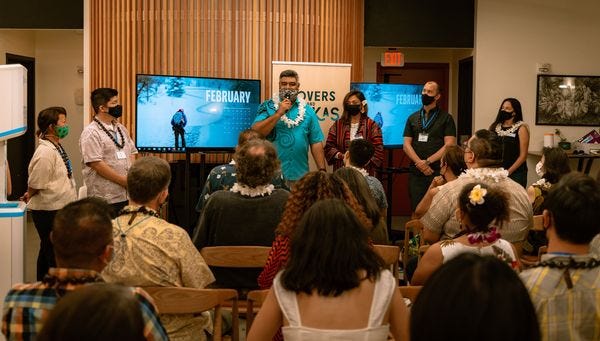 Cohort two closing ceremony and volunteer project presentations.
While Lim and her colleagues regroup to host a likely third cohort of "Movers & Shakas," they are also planning on adapting their Hawaii immersion curriculum to help a different demographic.
"There is an unmet need in the in the labor market to be able to acculturate and integrate and retain talent that we recruit, including returning kamaʻāina," Lim explains.
"Even I hadn't lived here in 20 years, and built my career on the mainland, so the ways of finding success or doing business were from the mainland," she continues. "Coming home has been a learning process, and we'd love to offer that same immersion program to recently relocated professionals."
She notes that the new initiative, called the Hawaii Talent Onboarding Program (HITOP), has three stakeholders: the participant, the local employer, and the state of Hawaii.
"The participants learn about Hawaii and get a better understanding of how to communicate and be more effective at their jobs, make friends, build a social network and find a sense of home here," Lim says. "For the employers, it reduces the cost of relocation and lost time training someone — it can be demoralizing when your key staff keeps on churning."
For the state, HITOP can help strengthen the workforce by facilitating professional, social, and cultural transitions.
"Even if people move between companies, or quit and start their own businesses, this grows the local talent pool, which is so important for us to grow and diversify our economies," Lim says.
HITOP will launch this spring as an eight-week community orientation program with weekly programming through May and June. Participation will be sponsored by employers.
For more information on HITOP and "Movers & Shakas," please visit www.moversandshakas.org.
Related Reading: Tapping thoughtful travelers to make positive change