Discover more from Hawaii Bulletin
Island innovation in focus. Hawaii-based science, technology, startups and entrepreneurs, featuring local leaders, creators, educators, and more.
Over 5,000 subscribers
Nerd Night Tomorrow Tackles Corals, Quakes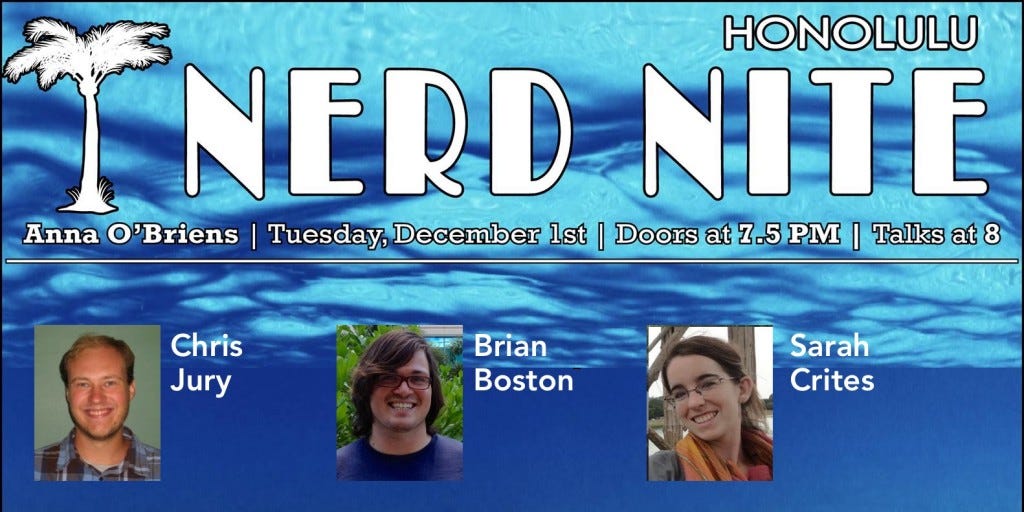 The last Nerd Nite of the year will take attendees under water, into volcanoes, and up to the moon.
The usually monthly local gathering, featuring presentations from all disciplines and gently facilitated by alcohol, is part of a global network of events held in more than 90 cities. Tomorrow, the three featured speakers are:
Chris Jury on "The 2014-16 Global Coral Bleaching Event: WTF Just Happened?" Jury grew up in Michigan, and became interested in coral reefs in high school (setting up his first, 10-gallon reef tank in 2001). He is now a Ph.D. candidate in biological oceanography at UH Manoa where he investigate coral calcification and coral responses to global change.

Brian Boston on "Shake and Bake: An Earthquake Ballad" Boston is a Ph.D. candidate in the Geology & Geophysics Department at UH Manoa. He specializes in marine seismic research, including the source of the 2011 Tohoku earthquake, and has participated on Schmidt Ocean Institute research cruises to map the Northwestern Islands.

Sarah Crites on "Dumpster Diving on the Moon" Crites is a post-doctoral researcher at the Hawaii Institute of Geophysics & Planetology at UH Manoa. Her research interests include infrared hyperspectral imaging and in-situ production of organic molecules at the poles of the moon.
Crites volunteered to join the program after a previously scheduled presenter became unexpectedly unavailable last week.
Nerd Nite Honolulu begins at 7:30 p.m. tomorrow, Tuesday, Dec. 1 at Anna O'Briens (2440 S. Beretania St.). Talks begin at 8 p.m. Admission is free, but attendees are encouraged to "support your local nerds with drink purchases and donations."
"The weather outside is frightful, but our Nerdy talks will be oh so delightful," reads the invitation. "Be there and be square."
For more information, visit the Facebook event page for tomorrow's meetup, or join the Nerd Nite Honolulu Facebook group.