Discover more from Hawaii Bulletin
Island innovation in focus. Hawaii-based science, technology, startups and entrepreneurs, featuring local leaders, creators, educators, and more.
Over 5,000 subscribers
'Toy Story' Epilogue Goes Hawaiian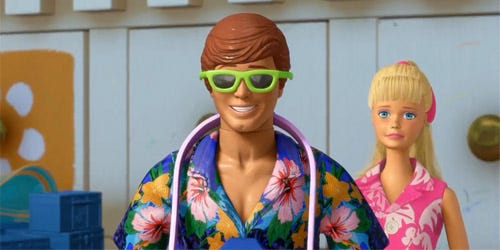 Last year's Oscar-nominated animation blockbuster "Toy Story 3" was emphatically described as the final chapter of the adventures of Buzz, Woody, and friends. But from Entertainment Weekly comes word of a new short film in which fans get one more glimpse of what became of these beloved characters after their curtain call.
"Toy Story: Hawaiian Vacation" will premiere in June, attached to the release of "Cars 2." The short stars Barbie and Ken, in which the loving duo make the most of missing a chance to vacation in Hawaii. Though the ensemble may not make it to our island shores, we'll see them "trying to recreate the tropics in their new owner's bedroom."
The Entertainment Weekly report features a 30-second clip from "Hawaiian Vacation," and an interview with director Gary Rydstrom, who previously directed the short film "Lifted" (which accompanied the release of 2006's "Ratatouille").
"It was fun to think of the things they could do to make the magic of Hawaii come alive in Bonnie's room," Rydstrom says.
Chances are that magic won't go much deeper than the cheesy, tiki-themed trappings of a grade-school luau, but it's still neat to see a huge movie franchise choose Hawaii as the theme of its first epilogue. (Rydstrom suggests there will be more "Toy Story" shorts to come.) And as I've blogged before, there's clear affection for Hawaii within Pixar's corporate family. Company co-founder and Apple CEO Steve Jobs has mentioned Hawaii in announcing the first iPhone, included Hawaii in a major iPhone television ad, and often takes vacations in Hawaii.
Update: Turns out word of a Hawaii-themed 'Toy Story' short leaked out in December... thanks to Twitter! There's also going to be a children's book to go along with it.