Discover more from Hawaii Bulletin
Island innovation in focus. Hawaii-based science, technology, startups and entrepreneurs, featuring local leaders, creators, educators, and more.
Over 5,000 subscribers
Hawaii Hosting Pokemon World Championships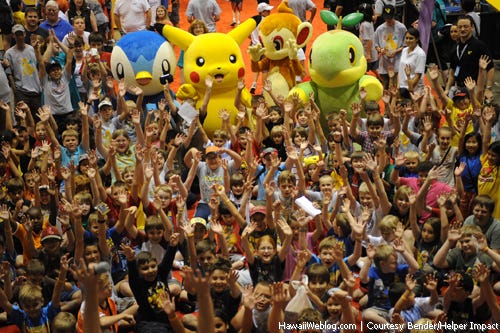 I'm still recovering from Comic-Con (and I've already preregistered for 2011), but one of the millions of geeky sights burned in my brain from the massive expo floor is the persistent popularity of Pokémon. The video game, the cartoon, the trading cards... the whole Japanese brand turned global phenomenon. There were more than a few Pokémon costumes, and in nearly every corner, kids and not-kids were playing with Pokémon cards.
For some people, though, playing the Pokémon Trading Card Game is more than a hobby. Indeed, competitive card playing is big business. My brother, who runs the Da Planet store in Hilo, actually traveled to London to compete in an international tournament for Magic: The Gathering. And the same obsession can be found on the video game side.
Next month, the best players on both fronts will be coming to Hawaii for the Pokemon World Championships:
Some of the best Pokémon™ Trading Card Game (TCG) and video game players from over 25 countries will converge on the Big Island August 14-15, 2010, to compete for the ultimate title – Pokémon World Champion. The Pokémon World Championships, sanctioned by The Pokémon Company International, is an intense, action-packed annual event; following a season of qualifying tournaments held across the globe. Five talented Pokémon players, TCG champs from three divisions and video game champs from two divisions, will rise from over three hundred competitors to be crowned Pokémon World Champions and claim an invitation to defend their 2010 Pokémon World Championships titles. Tournament winners will also receive a variety of prizes, trips and merchandise including scholarship awards totaling over $100,000.
The World Championships will take place at the Hilton Waikoloa Village on the Big Island. And even if you missed your chance to compete in one of the regional championships, there will be a "Last Chance Qualifier" the day before, on Aug. 13, giving local players and other would-be contenders one final opportunity to get in on the action.
It's not the first time Pokémon card players converged on the islands. In August 2000, the Tropical Mega Battle was held at the Hilton Hawaiian Village in Honolulu.