Puna Lava Meets Power Poles
The slow-moving Puna lava flow crossed its first road in Puna, a long-anticipated milestone in a creeping natural disaster that has been unfolding since June 27. With the havoc wreaked by Hurricane Iselle in August fresh in their minds, the folks at Hawaiian Electric Light Co. hatched a plan to try and protect their electric power lines in Puna from a force of nature that is largely unstoppable.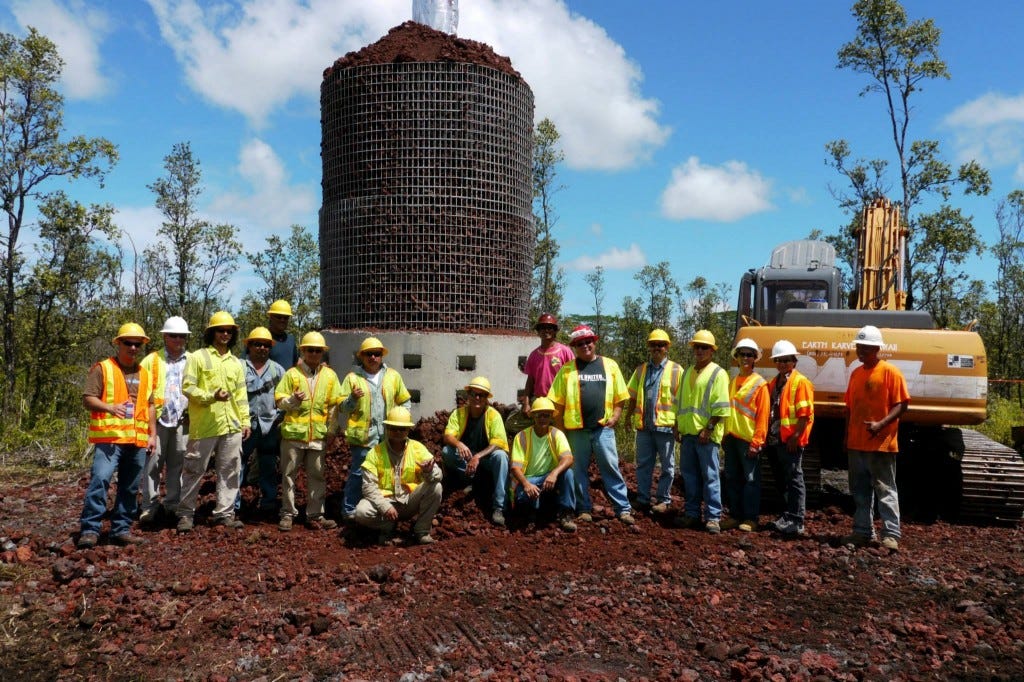 HELCO came up with a number of contingency plans, including building "pole protection prototypes" to protect power poles from the heat generated by the lava by partially encasing select wooden poles with heat resistant and dispersive material. The Hawaii Tribune-Herald explains:
[It] begins by wrapping the wooden pole with a blanket-like strip of thermal insulation. Then, a large concrete dry well pipe about 9 feet in diameter and 6 feet tall is placed at the base of the pole, and wire horse fencing is used to create an approximately 15-foot retaining wall around the pole. An excavator is then used to fill up the wall with porous cinder. The bottom of the whole structure is then covered over with a mound of loose cinder to protect the dry well pipe.
"The design has gone through many different iterations. It's something that was developed internally in consultation with experts," HELCO spokeswoman Rhea Lee told the newspaper. "This is experimental, we don't know if it will work. But we hope it will."
Among the "experts"? Big Island school kids, students at the Hawaii Academy of Arts and Science, a charter school in Pahoa.
It makes sense. Molten lava may reach temperatures in excess of 2,000 degrees, but it also behaves largely like a viscious liquid. There's not much lateral force, so if an object can survive direct contact long enough, the lava might just flow around it, cool, and leave it standing. And while poles are made of wood, and wood burns, Lava Tree State Monument is proof that lava versus wood isn't always a one-sided battle.
When I posted about it on Facebook a few weeks back, someone noted that the structure looked a little like a "Doctor Who" villain. It kinda did, and my long-time online friend Sharon Westfall helped illustrate it today: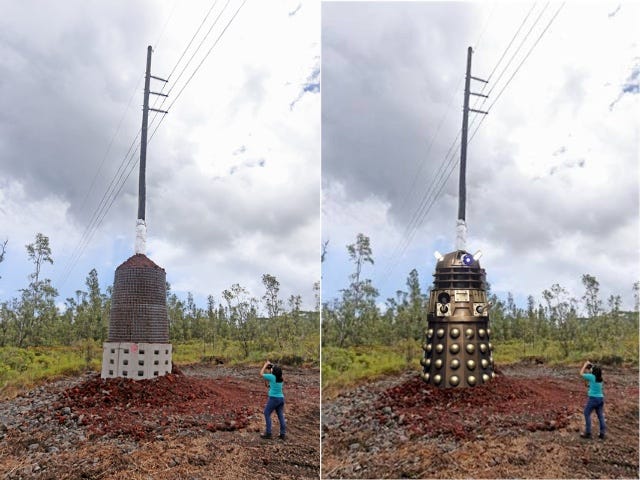 Well, the first test of this "Emergency Dalek" came today. And according to KHON, it's working. HELCO says:
"We are encouraged by the initial result of the pole protection design, but the long term results are still not determined. We will continue to closely monitor the flow and its effect on our infrastructure. As the lava flow progresses, we expect the lava will rise and inflate. This is the second test of our experimental design."
And tonight, Denise Laitinen, a friend, emergency preparedness organizer and Puna resident, posted another photo from HELCO that showed the prototype in action... a scene that would be right at home in a science fiction show.