Videos: Freeway, Rail Construction Continues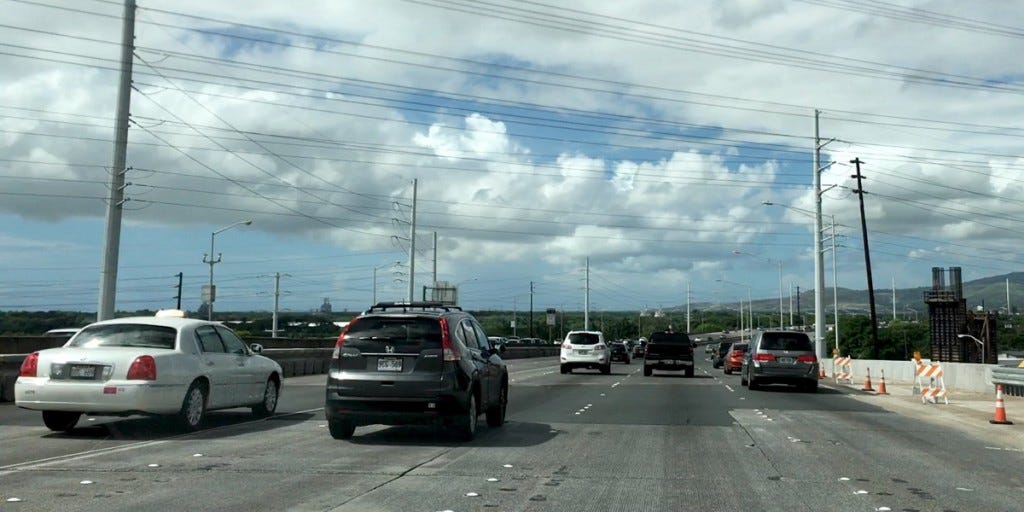 Some Sunday errands gave me an opportunity to capture more video snapshots of some of the major construction projects unfolding in Leeward Oahu. First, after months of sometimes paralyzing traffic jams, we are days away from having a full six lanes of freeway between Pearl City and the H-1/H-2 interchange. Meanwhile, rail construction in Waipahu is barreling along at both ends.
I know that it's a little strange to be so obsessed with counting lanes, or in tracking balanced cantilever bridge construction or the continuous-weld sliding truss that's quickly extending the elevated guideway for our city's now $6.5 billion rail transit system. But I'm one of thousands of daily westbound commuters who often spends more than an hour in traffic on the H-1 freeway, and I've been obsessed with plans for rail transit since I was in high school.
This new video of the drive from Pearl City through the Waipahu and H-2 exits shows that the massive deck widening project is finally done, with only lane re-striping and some resurfacing needed to clear the way to smoother traffic flow heading west and north.
The state says that on average, 2,000 cars currently travel on each lane per hour, and I'm optimistic that the extra lane will shave some drive time off from this infamous stretch of freeway. Firstly, the Pearl City exit used to be a bottleneck, taking away one of six lanes and then forcing the fifth to merge with drivers joining the flow at the Moanalua Road onramp. Secondly, at the H-2 interchange, the four lanes heading out past Waikele had to merge down to three.
The new configuration is six lanes all the way to the H-2 interchange, and the full four lanes splitting off to the west. The only remaining wrinkle is that people like me who head north will still have to navigate between backed up traffic exiting at Waipahu and backed up traffic heading heading Ewa to reach the usually wide open (for now) H-2.
If you're so inclined, you can compare yesterday's video to video of the way the same drive looked in January, April, May, July, and August.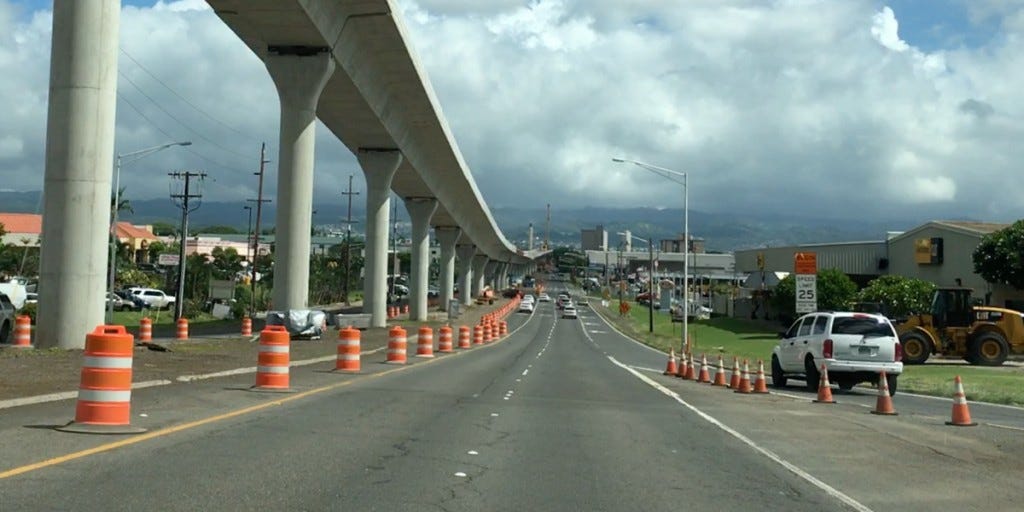 Meanwhile, in Waipahu, the rail guideway has extended further into the former sugar plantation town. Back in August it had just reached Leoku Street, the first intersection inside the western border of Fort Weaver Road. Yesterday it had just crossed Pupukahi Street.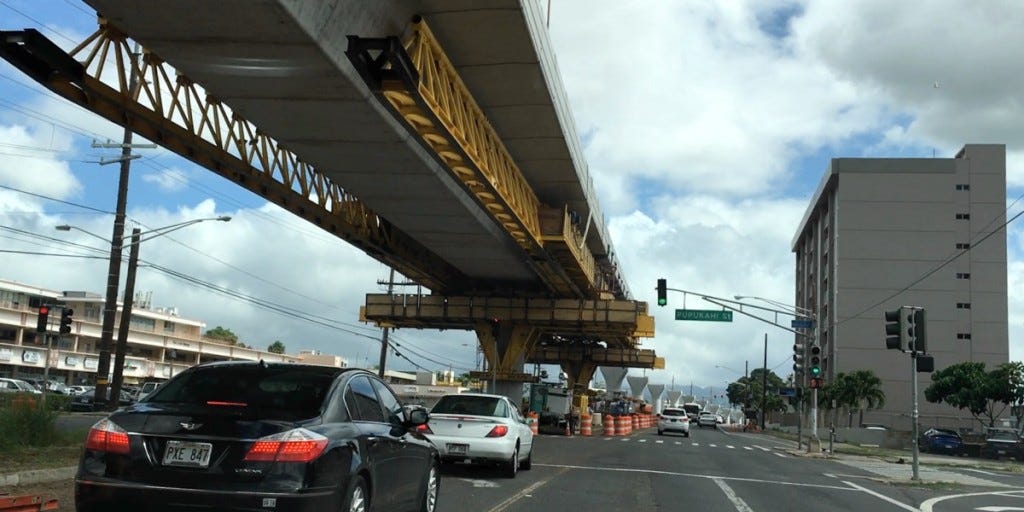 But things had also changed quite a bit on the eastern end of Waipahu near Waipahu High School. It is here where the elevated rail guideway comes down to ground level heading into the Waiawa rail maintenance facility. There's now a wide span over Farrington Highway at Kahualii Street where trains will leave the highway median for a wide ramp near the high school athletic field.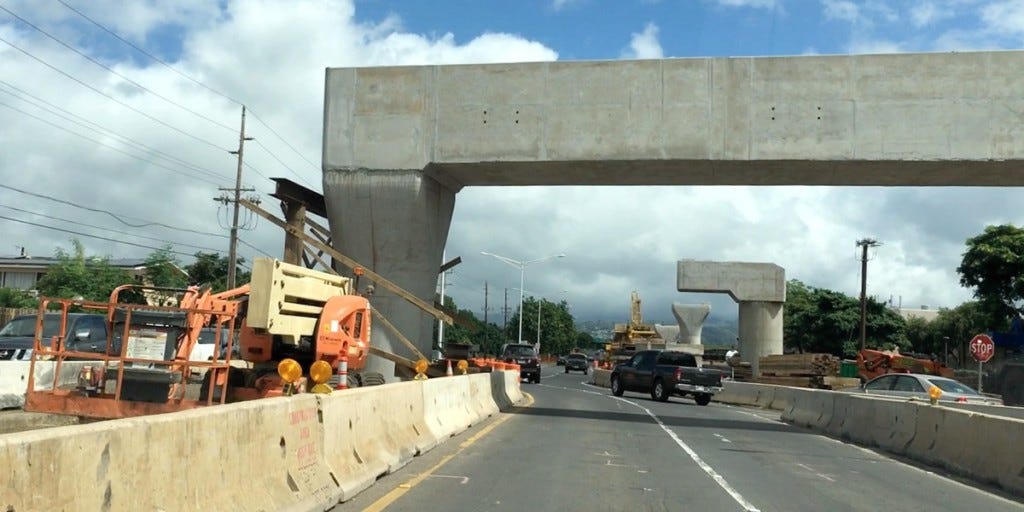 Meanwhile, the western span of the long-span guideway, linking the maintenance yard near Leeward Community College to the planned station at Pearl Highlands Center, is days away from connecting over Farrington Highway.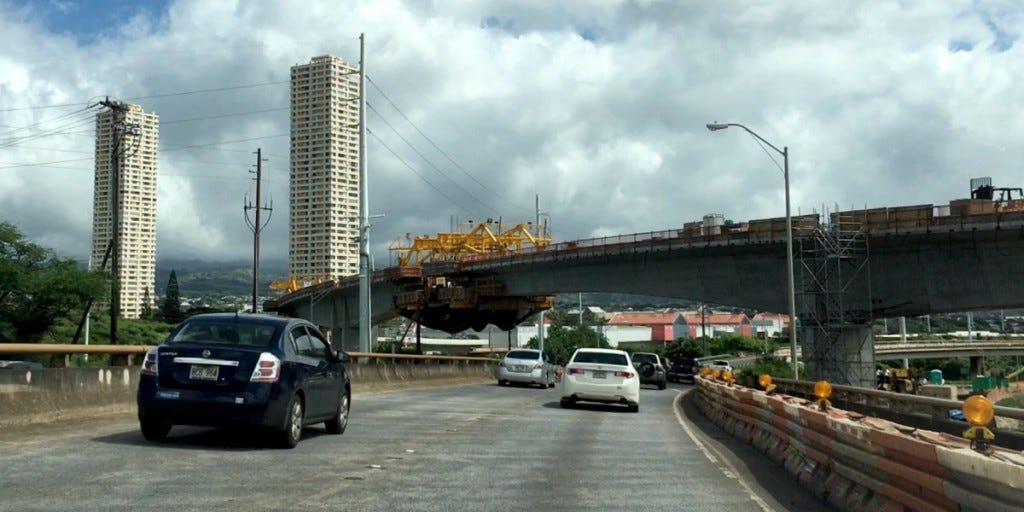 In fact, pillars are already lining Kamehameha Highway at Acacia Road, meaning rail will soon wind its way into Pearl City proper.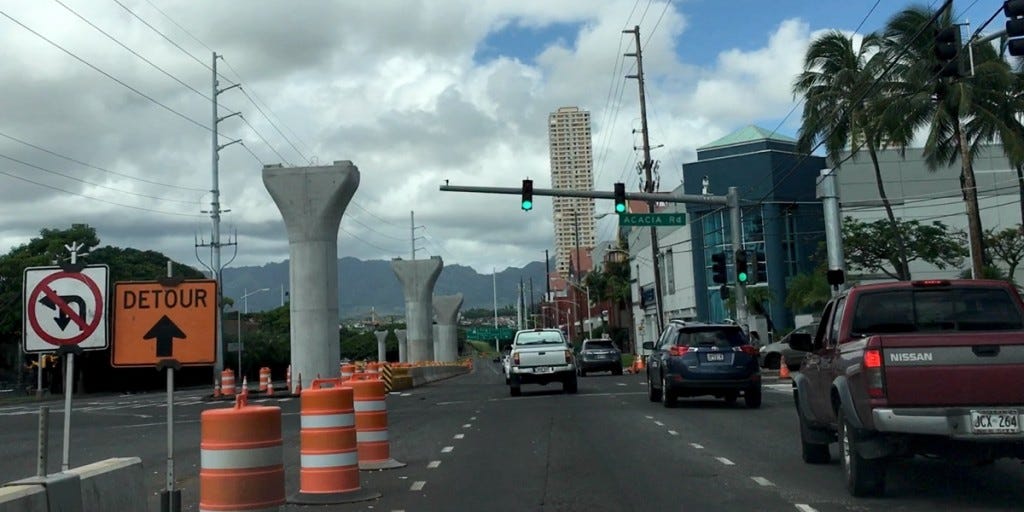 The time-lapse video I made of my drive through Waipahu back in August was shared over 100 times and viewed more than 8,000 times on Facebook, so of course I made a new one yesterday. I wasn't sure a sequel would find much of an audience, but it turns out people love Waipahu, and both love and hate the rail project. One day in and it's been shared 132 times, garnering over 12,000 views.
Never one to miss an opportunity to overdo things, I even made a video traveling the other way, from Acacia Road past Waipahu High School and beyond Fort Weaver Road.