Discover more from Hawaii Bulletin
Island innovation in focus. Hawaii-based science, technology, startups and entrepreneurs, featuring local leaders, creators, educators, and more.
Over 5,000 subscribers
Hawaii farmers tap tech to combat coffee counterfeiters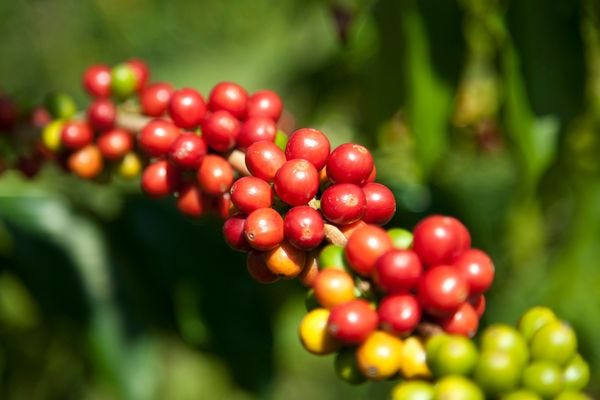 I do more than write! Mix a little Hawaii into your social feeds by following me on Twitter, on Instagram, or on Facebook, LinkedIn, YouTube or TikTok!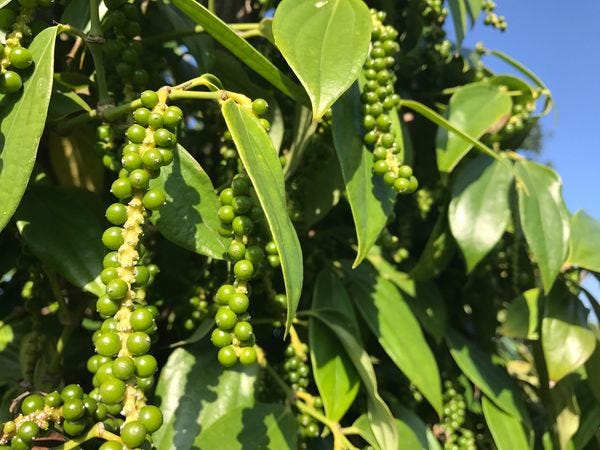 Hawaii is a brand that's recognized around the world, with almost universally positive associations with perfect weather, natural beauty, good food, and colorful cultures.
This brand is so valuable that it's often imitated or outright copied. Consumers regularly question whether Kona Brewing Company or King's Hawaiian rolls or Sweet Maui Onion Potato Chips are misleading customers about where their products are made. Jason Momoa's very Hawaiian-branded Mananalu bottled water comes from California, Montana and Nebraska.
Locals fiercely defend Hawaii's identity, such as in the 2018 controversy surrounding Aloha Poke Co. in Chicago, or the Hula app flap of 2014. Anyone remember the Hawaii Chair?
Sometimes, however, there are very real consequences to fake Hawaii products.
Premium coffee at a cut-rate price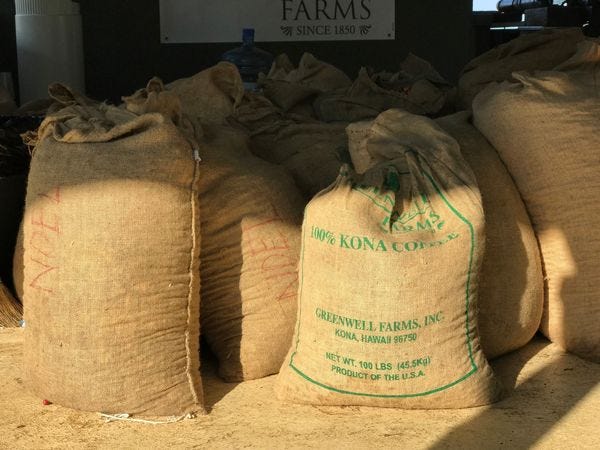 "There are 2.7 million pounds of coffee produced in Kona annually," says Chris Manfredi, executive director of the Hawaii Coffee Association (HCA). "Yet there are 20 million pounds [of Kona coffee] sold worldwide."
The mathematical impossibility reveals just how popular Hawaii coffee is, and also how unlikely it is that coffee drinkers are getting what they're paying for.
"The high price that Hawaii-grown coffee commands attracts fraudsters," Manfredi explains, as counterfeit Hawaii coffee creates untenable price pressures for local farmers who are already struggling with razor-thin margins.
"This crazy downward price pressure is especially egregious during this time of rapidly rising inflation, where our fuel costs are going up, our fertilizer costs are going up, our labor costs are going up, and transportation costs are going up, yet we're forced to compete on the store shelves with fake products."
Manfredi notes that the problem is especially acute for coffee farms in Kona, as the narrow growing region on Hawaii Island has the highest level of name recognition in the global coffee market. But fake Hawaii coffee also affects growers on the other islands.
More troublingly, fraudsters rarely bother to obfuscate the external source of their coffee.
"It's not just an in-Hawaii problem — a lot of the counterfeiting occurs outside Hawaii," he says.
Over 700 Hawaii coffee growers filed a class-action lawsuit in 2019 against 22 retailers, including Costco and Safeway, over counterfeit Kona coffee. A $13.1 million settlement was reached last year.
Greenwell Farms is one of the largest and oldest coffee producers in Kona, now run by Thomas Greenwell, great grandson of its founder. He says fake Kona coffee is a massive, long-time problem.
"We're talking about counterfeit of 100 percent Kona and it's a huge number, there's no doubt in my mind how big it is," says Greenwell, who is also the president of the HCA. "And this hasn't just started, it's been going on for 20 years — it was going on in the '90s."
Greenwell recalled the 1996 case of Kona Kai Farms, where a California businessman repackaged 3.45 million pounds of Panamanian and Costa Rican coffee and labeled them as "Pure Kona Coffee," more than tripling the price in sales to Starbucks, Peet's, and other coffee chains.
For his $15 million in ill-gotten gains, the man pled guilty and was sentenced to 30 months in prison.
"I think that kind of cleaned it up a little bit, for a little while, but then nothing more was ever done about it," Greenwell says. "Even though the industry knew it was going on, you always had to have the hard proof, and we had no way of really proving it."
"Now we have a way to prove it," he adds.
Spotting the real thing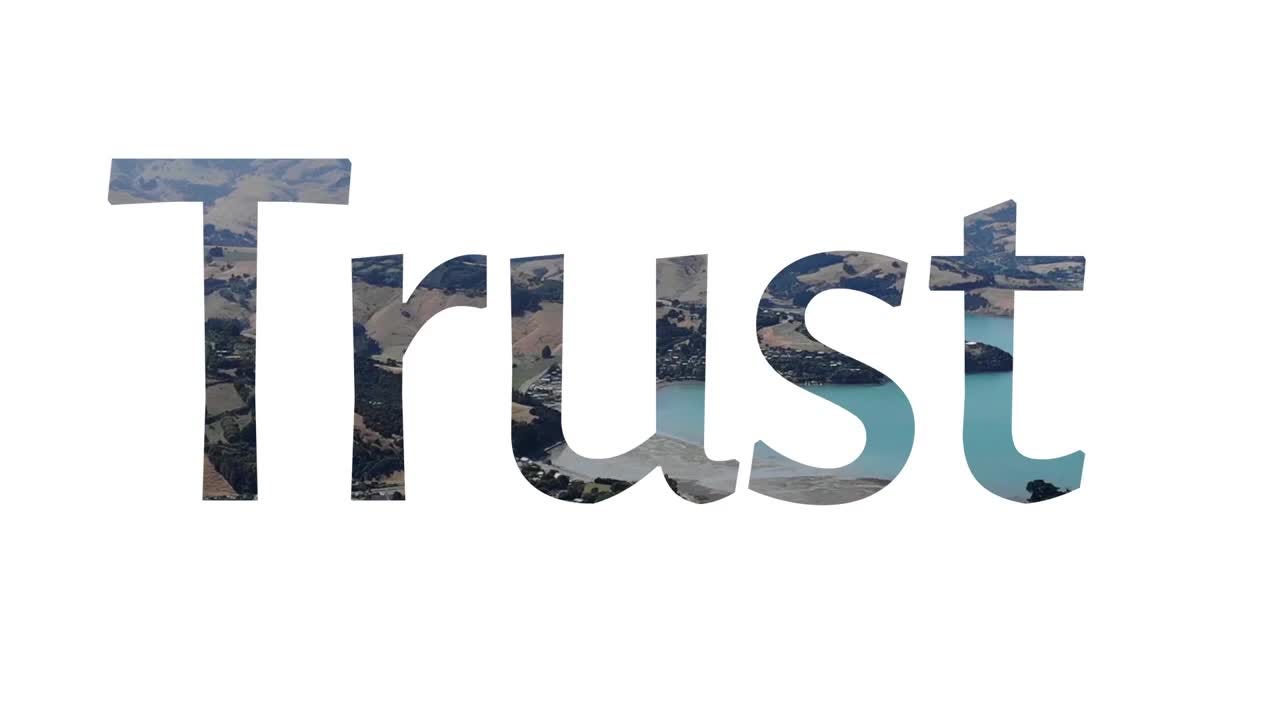 Last week, the HCA announced that it had partnered with a product traceability company called Oritain to verify the origins of Hawaii-grown coffee "to thwart counterfeiting and build marketability."
In announcing the deal, Manfredi said in a statement:
"It's important to the industry and consumers to know where coffee is grown and in the case of counterfeiting, where it is not grown. Coffee counterfeiting is the bane of Hawaii-grown coffee — it represents unfair competition to Hawaii's growers. It undermines our pricing and the generations of growers who have contributed to the exceptional quality associated with Hawaii's brands."
Product traceability is a big deal. In addition to ensuring that buyers receive an authentic product, it supports important facets of distribution including safety, sourcing, and sustainability.
The most common form of tracking is labeling, from simple stickers and bar codes to special materials and elaborate attachments.
In fact, the state of Hawaii Department of Agriculture has a label-based inspection and "100% Hawaii Coffee" certification program. In theory, buyers can require an official inspection certificate from sellers, look for a sampling stamp on the sack, and even compare lot numbers on shipping logs.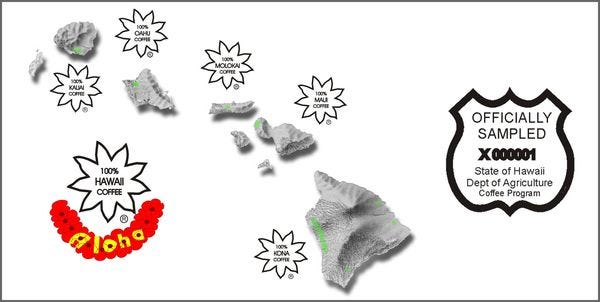 As you might imagine, however, labels are pretty easy to fake.
Another common strategy to track products is the addition of foreign tracers via sprays or other application methods. There's even a Hawaii company that specializes in this approach: TruTag Technologies, which makes "secure edible barcodes" that can then authenticate pharmaceuticals, cosmetics, even food or clothing.
But even if the tracer is completely safe to eat, an artificial additive would be a tough sell for coffee drinkers, and would require modifications to how the coffee is grown or harvested.
Finally, many have suggested DNA testing as a way to spot real Kona coffee.
Putting aside the skittishness people already have when it comes to genetics and food — even if its genetic profiling, not genetic modification — this method is slow and costly. Even more problematic is the fact that a Kona-grown variety of coffee could be planted and grown elsewhere. It would have the DNA of Kona coffee, but without any meaningful link to the islands.
The Oritain solution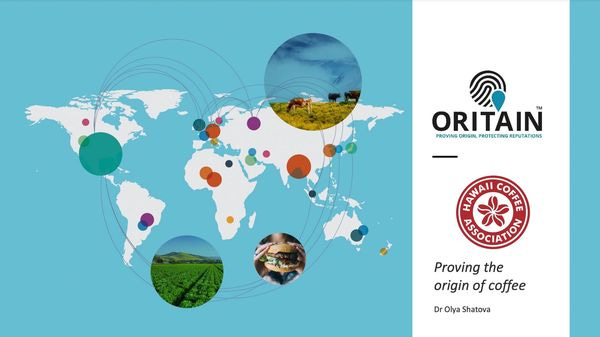 Slides from yesterday's Oritain presentation. Download here.
The Hawaii Coffee Association just convened its 27th annual conference and tradeshow at the Outrigger Kona Resort & Spa in Kailua-Kona this past weekend. The three-day event featured keynotes, panels, workshops, tours, and networking opportunities.
Oritain, was a diamond sponsor of this year's gathering, and yesterday it used the occasion to further explain how its technology works.
Key to its pitch is the "origin fingerprint." The company goes beyond generating a chemical profile of the product, and looks to capture additional information about its surroundings.
"A product's origin can be identified by measuring the chemical compositions of plants and animals that vary naturally in the environment," the company explains. "As something is grown, reared or made, it absorbs a unique ratio of elements and isotopes depending on the local temperature, altitude, precipitation, soil conditions, fertilizer and farm practices."
Oritain says the "origin fingerprint" cannot be replicated, and that a product can be tested at any point along the supply chain to verify where it came from.
If it sounds like something you may have seen on a procedural crime drama, you're right. Oritain says that its methodology originated in the criminal forensic field, and through peer-reviewed scientific study is eligible to be cited in a court of law.
The company has already worked with cotton, dairy, and livestock farmers, but is focused on expanding its coffee database, having already analyzed samples from over 20 countries, including Honduras, Indonesia (Sumatra), and Rwanda.
Oritain says it can already distinguish coffee fingerprints at different levels — country, region, or cooperative — and verify roasted coffee back to its origin, independent of who roasted it.
That's important, Manfredi says.
"Virtually all the counterfeiting takes place in roasted coffee," he tells me. "The false labeling laws currently only cover green and cherry coffee [beans], but the problem is in the roasted market, and the current laws don't apply to roasted coffee in terms of false labeling."
The Oritain partnership will require local farmers from across the state to provide hundreds of coffee samples to the company's lab in New Zealand. And even after an "origin fingerprint" is developed for Hawaii-grown coffee, it will take more regulation and resources to fight off fakes.
"What this does do is give more tools to the industry and to the enforcement authorities," Manfredi says. "We can sample any product, either green or roasted, and say where it came from in Hawaii or, equally as important, that it didn't come from Hawaii."
Greenwell is optimistic.
"Once it's 100 percent, I can verify a shipment of coffee to a customer anywhere in the world through this technology," he says. "there's a lot of work to get it to that point, but I don't know of one coffee farmer that doesn't approve of this."
"Now there's a good reason why somebody may not want to even try counterfeiting anymore — we can take them to court," he adds.
Wayne Akiyama contributed to this report. Header photo by John Lander/Getty Images.