Review: Plantronics Bluetooth Headsets
A month from today, using a cell phone (or other handheld device) while driving will be illegal on the Big Island, as a ban passed in June takes effect Jan. 1, 2010. This in the wake of a similar ban in Honolulu. The Oahu ban cleared store shelves of hands-free bluetooth headsets this summer, and my coworkers and I had to turn to Amazon.com when we missed our chance at Costco. With the Christmas shopping season upon us, a similar crunch likely faces Hawaii County retailers.
Twitter Giveaway
The folks at leading headset manufacturer Plantronics are now hoping to catch the attention of Hawaii shoppers. They're launching a "Use Your Head, Not Your Hands" Twitter promotion today in which they're giving away three headsets a week in December, plus a grand prize of two headsets and a $1,000 gas card. Entering is simple:
Follow @plantronics on Twitter.

Send a tweet including @plantronics, #behandsfree and a link to www.plantronics.com/handsfree during the Sweepstakes Period (December 1-29, 2009).
Plantronics explains: "We're giving away three premium headsets, the Discovery 975 or the Voyager PRO, every Tuesday from 12/1/09 to 12/22/09. A Grand Prize including both headsets and a $1,000 gas card will be given on December 29."
Plantronics Headsets in Review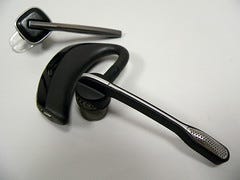 I was already a happy Plantronics customer. The company's headsets were part of a special gadget show that we recorded for our KIPO radio show, Bytemarks Cafe, in July. (The original audio file is gone, but Todd posted a copy of our conversation on his site.) My cohost Burt Lum and I had local geeks Todd Ogasawara and Paul Lawler in the studio to discuss our favorite gadgets. Paul had nothing but praise for the Plantronics Voyager Pro (included in the giveaway), and I talked about my Plantronics Voyager 855.
Last week, the company provided me one each of the two headsets included in this Twitter promotion for review. I've even posted a full gallery of photos of the Discovery 975 and Voyager Pro headsets on Flickr. Since I've already got a desk drawer full of bluetooth gadgets, though, I'll be giving them away now that I've put them through their paces. More on that below, but first, my take on these Plantronics headsets.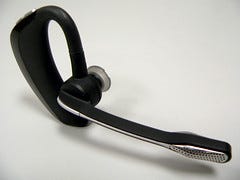 The Plantronics Voyager Pro is the headset that Paul raved about on our radio show. I'll admit, as far as first impressions go, it's not much to look at. It's almost too much to look at. With a design that seems positively late-90s-call-center, its over-the-ear design and long microphone boom give the Voyager Pro a mass that makes most modern bluetooth headsets feel Lilliputian.
Fortunately, the Voyager Pro comes with a set of both rubber and foam ear inserts, so despite its large size, you've got a good chance of getting a tight fit in your ear. And the boom rotates and pivots so that the orientation can be reversed for either ear.
But there's a reason the Voyager Pro is still a top seller: impeccable sound quality. The boom actually has two microphones, one detecting your voice, and the other monitoring ambient noise. As a result, its noise cancellation abilities are impressive. I've long coveted the Jawbone headset from Aliph, which has almost legendary noise cancellation (and a similarly legendary price point), and the Plantronics Voyager Pro may very well do a better job. For one test call, I spoke with my wife while driving on the freeway with the window down. She didn't even know I was on the road. On my end, the sound was both clear and refreshingly loud.
Unfortunately, the Voyager Pro's form factor is still its Achilles' heel. The over-ear hook is rubberized but unyielding, and didn't seem to flex enough to sit firmly on either of my ears. And that was when, for the sake of testing, I'd removed my glasses. With my glasses on, no matter how I shoved and pinched, the headset essentially teetered on the side of my head. And even with the smallest rubber or foam cover, the earpiece wouldn't sit firmly in my ear. In a way, this could be a plus: having an in-ear headset can sometimes cause pain after extended use, so some might prefer the way the Voyager Pro holds the speaker just near the ear canal. But it also may make some phone calls less private.
If you don't wear glasses or otherwise have an ear for which the Voyager Pro is designed, the sound quality is well worth the modest looks. But if style is a high priority, read on.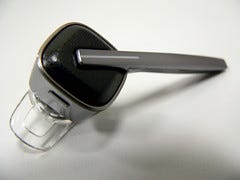 If the Voyager Pro is the sturdy workhorse of the Plantronics family, the Discovery 975 is the seductive siren. A lot of emphasis was clearly put on design, and I love the peculiar mix of traditional (the square, faintly textured black bezel) and ultra modern (the narrow silver microphone and Star Trek-esque LED). It's not as small nor as light as some bluetooth headsets on the market now, but it wears what little bulk it's got well.
Its diminutive size has one downside, though, and that's having only two multi-purpose buttons. The "call control button" pretty much does everything, depending on how long you hold it down. And the "volume button" is just one button: you tap it repeatedly to cycle the volume up to maximum, then back down to minimum. I definitely prefered the large, top mounted volume rocker on the Voyager Pro.
Rather than providing a variety of earpiece sizes like the Voyager Pro, the Discovery 975 has a unique gel ear tip. The earpiece itself is unapologetically larger than most, but with a soft, clear gel cover, and a unique looped tab. Plantronics says this patented design offers "a secure and comfortable fit." I'm not sure about that, but I was surprised at how the headset managed to stay in place -- even in my oddly shaped, small Japanese ears. The earpiece came nowhere near fitting into my ear canal, but the tab folded neatly into my outer ear, gently propping or hooking it into place. I'm not even sure if I was wearing it correctly, but the way I was wearing it, it felt very light. I could easily imagine wearing the Discovery 975 for long periods of time.
Sound quality was also good with the Discovery 975, though the person at the other end remarked that I sounded a little hollow, versus the fuller sound of the Voyager Pro. And the smaller earpiece couldn't pump out quite as much volume (which wouldn't be a problem, I admit, if I had bigger ears). But the killer feature of the headset may be the carrying case.
If there's any shortcoming I seem to run into most frequently with bluetooth headsets, it's limited battery life. Most proclaim standby time of several days, and talk time of several hours, but I must be especially forgetful when it comes to charging them, because I'm all too familiar with plaintive "low battery" warning beeps. The Plantronics solution? The small squared carrying case for the Discovery 975 has its own battery, and can recharge the headset.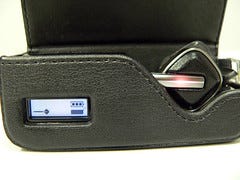 You can plug the mini-USB charger directly into the headset, of course, but you can also plug it into the carrying case with the Discovery 975 inside, and charge both at the same time. The carrying case has a small display that shows the charge level for both its internal battery and the headset battery. Once both are fully charged, you can then use the headset until the battery runs low, and then pop it back into the case to top it off again. The case carries enough juice to top off the Discovery 975 twice. That's triple the talk time, remarkable for a small headset.
I'm a sucker for extended batteries (I love my FastMac IV battery pack for my iPhone), so I loved the Discovery 975 setup. And the fact that the carrying case has a loop and hook to add to a keychain (or purse) was a nice touch.
The Verdict
The audio geek and retro fan in me really wants to like the Voyager Pro, but it's simply a bad match for my glasses-supporting ears. If you have a chance to try it on and find a great fit, I'd definitely recommend it. But the Discovery 975 feels like the perfect match of style and performance. The earpiece is unusual, but it has a light touch, and I personally prefer it to any design that goes over the ear. And there's the practical plus of its charging carrying case.
Want a second opinion? Check on this comparison chart from CNET Reviews, and click through to their full takes on each.
Get Yours
Remember, Plantronics is giving away three headsets a week in its Twitter giveaway. To enter, just follow @Plantronics, and tweet a link to www.plantronics.com/handsfree with the hashtag #behandsfree. And if you can't wait, you can always buy the Voyager Pro and Discovery 975 on Amazon.com.
Finally, I'm giving away the review units from Plantronics pictured above (provided you don't mind that they're used). Just comment below, and I'll pick someone at random Wednesday night.