Safari Tech refreshes older Apple gear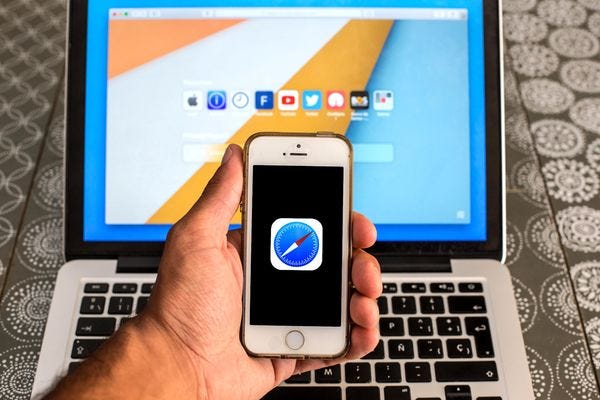 I'm always looking for interesting projects and people in Hawaii's sci-tech and startup scene. I welcome your story suggestions, even if it's you! Drop me a line, anytime.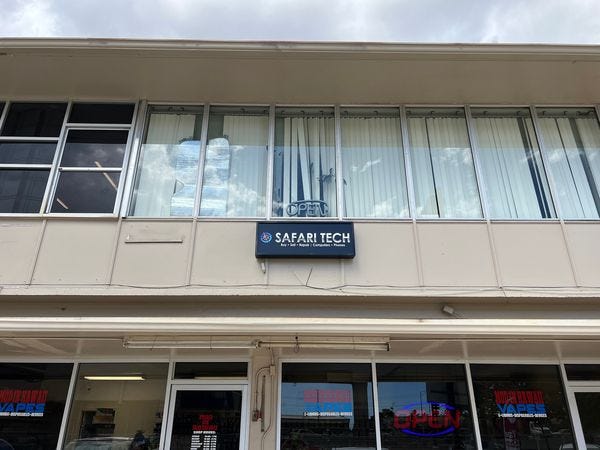 Safari Tech (and Hi Tide Cleaning Services) is located above a vape shop in Pearl City.
Across from the Best Buy store in Pearl City, on the eastern end of Waimalu Shopping Center, sits Safari Tech. With Zippy's on one side and a sushi joint on the other, you might miss it, stacked on top of a vape shop.
It's a pretty unlikely place to find a computer store, let alone one that specializes in Apple products. But owner Gabriel Phillips had always loved Apple gear, so he said it seemed like a creative way to get into the business after earning his MBA and striking out on his own.
As an Apple fan myself, I was immensely curious about Phillips' journey, which led him from California to Kansas to Hawaii. Why open a computer shop across from a big box store, on a small island with three official Apple Stores?
Escape from California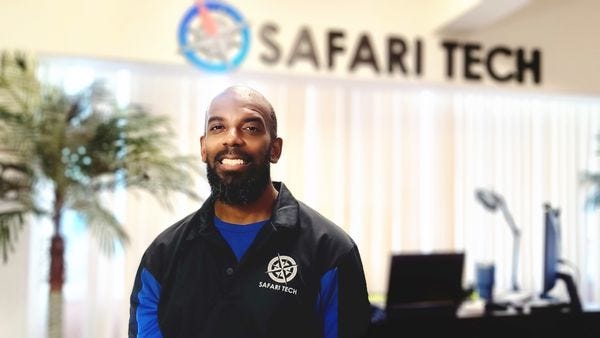 Gabriel Phillips turned his love of Apple gear into a business.
Phillips is originally from San Francisco, went to Iowa State University to earn a bachelor's degree in graphic design, and went on to earn an MBA. He spent the next 15 years on the West Coast, holding a variety of jobs, ranging from marketing manager to police officer.
"I felt I was spinning my wheels in California," he recalls. "It was like a rat race and I just wasn't getting ahead in my in my career — I felt like I was at a standstill."
He began plotting to leave, and having saved up some money, he began looking for an chance to invest or start a business.
"I found an opportunity to purchase a franchise," Phillips says. "It was located in Kansas City, and it was a computer store called Experimax, one of about maybe 150 stores, 100 of them in the U.S."
The prior owner was struggling, and Phillips thought he and his marketing background would be a perfect fit. Especially because the company specialized in Apple devices.
"Since I was a teenager, I've always used Apple devices, just creating designs in school, posters, pamphlets, cards, all that type of stuff," he recalls. "I knew Apple was the future, you see in the news, you know exactly the trajectory that Apple is going, so I knew I wanted to be a part of that, but I just didn't exactly know how.
"I love Apple products, and while I wouldn't consider myself an Apple fanatic, this looked like a creative way to actually get involved," he adds.
Of course, being a user and being a salesperson or repair person are different things, and Phillips had to learn how to learn how to refresh Apple devices from his employees.
While he enjoyed being a business owner, he sometimes had issues with how the franchise was run. And the franchise itself had problems.
"Apple did threaten to sue the franchise, because the name used to be Experimac, with Mac in the name, and Apple saw that and they had to change the name to Experimax," he laughs.
How did he end up in Hawaii?
"I kind of did something that I would not suggest anybody do, but I'm a rebel," he laughs.
"When you purchase a franchise, they make you sign an agreement to not start your own competing business, but I had some money left over and I didn't really want to do a franchise anymore, I wanted to do my own thing."
Looking for a place he could disappear, he moved out to Hawaii to start a computer shop here.
"I really thought that if if I had a lump sum of money and I wanted to start completely over and be off of the radar, without anyone knowing exactly where I was, I just decided, 'Hey, let's just try Hawaii.'"
He did also survey the market, and saw an Apple rich market with limited competition. But his former partners were paying attention.
"They eventually did find out that I had another location," he says. "I don't know how, but they did, they found me in like three or four months and sent me a cease and desist letter to shut down in 15 days or get sued."
Frustrated, Phillips pivoted and started a residential and commercial cleaning business instead.
"But by that time, COVID had happened, and everybody was kind of focused on that, and they stopped pursuing me in terms of a lawsuit," he explains. "The cleaning business grew and that gave me enough funds in order to open up another store, so that's what I did."
Getting back to business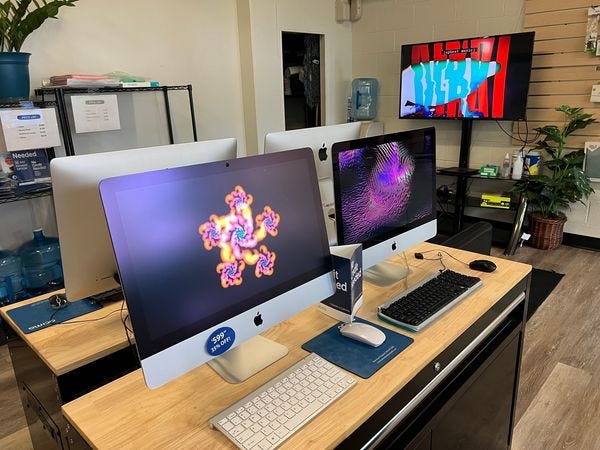 The Safari Tech space allows you to see computers, laptops, and mobile devices in person.
Safari Tech — a name possibly inspired by the default web browser on Apple devices — is back in business, repairing phones and computers, selling refreshed hardware, and offering training.
"Half of our businesses is the sales aspect, and half of it is the repair aspect, and lately, we've been kind of stepping things up. In terms of repairs."
"I don't have any Apple certifications or anything," Phillips acknowledges. "It's just learning things over time and keeping up with all of the updates and technology changes."
He notes that he has good relationships with other retailers, as they often refer customers to him when dealing with devices that are too old our out of warranty.
As for his customers?
"You might figure that an ideal customer would be millennials or people in school or work from home," he says. "but a lot of times we get a lot of seniors walking in, looking for help setting up their email or to fix something, and a lot of times once they're here they often just buy a new device."
And Safari Tech sells older devices that a lot of other retailers have stopped carrying, even though they can meet the basic needs of a lot of people.
"You can get a unit here that's two three years old, and that's going to be perfectly fine, it's gonna last for another few years," he says. "Come here first, but by all means you could go to the Apple Store, get something brand new, and spend a lot of money."
Phillips also says he's still running his cleaning business, too.
"I keep a lot of my cleaning supplies, my floor buffer, my carpet steamer, all that stuff in a closet in the corner," he admits. "We do a lot of military before they PC (permanent change of station) off the island, commercial accounts like office buildings, I even have a crew of about three people that clean Sea Life Park out in Waimanalo every day."
What's next?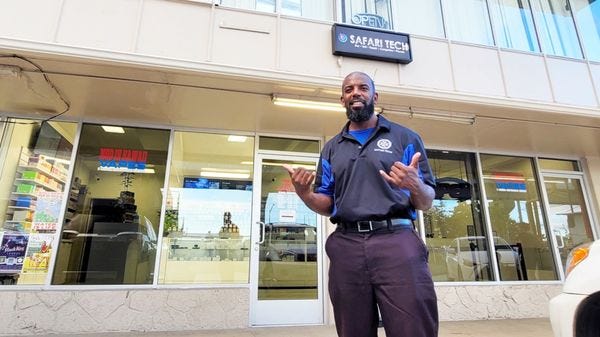 Contact Gabriel if you want to buy or sell Apple gear. Or if you want your office cleaned.
"Right now, the focus is mostly on just rebuilding and getting back to where we were before COVID, but we really do try to get involved with our community," he says.
For example, Phillips often receives retired hardware from businesses that donate it as a tax write off, then provides devices to schools and community groups who need them for classes.
In the mean time, Phillips is happy with how things are going.
"When I left California, I asked how I would hit the reset button, where I would go and what I would do, and this is kind of exactly what I had envisioned," he says. "I mean, I would never have guessed that I would be doing what I'm doing right now, but this is where life has led me, and I'm just enjoying the journey."
Safari Tech is in Waimalu Shopping Center at 98-044 Kamehameha Hwy., Suite #5, Aiea, HI 96701. Visit the shop, the website, or the profile on Facebook and Instagram. Header image by Getty Images.