Discover more from Hawaii Bulletin
Island innovation in focus. Hawaii-based science, technology, startups and entrepreneurs, featuring local leaders, creators, educators, and more.
Over 5,000 subscribers
Science Writer Sam Kean Speaks Friday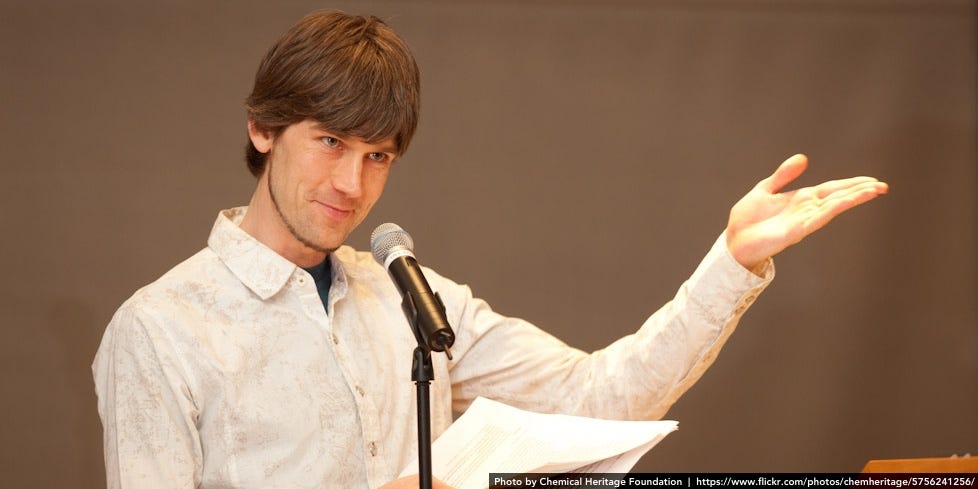 One of the nation's leading contemporary science writers will be the featured guest at a book talk hosted by Hawaii Pacific University on Friday.
Sam Kean is perhaps best known for his 2010 bestselling novel The Disappearing Spoon, which led readers on an insightful and entertaining tour of the periodic table of the elements. He followed that up with The Violinist's Thumb, which tells the tale of the discovery of DNA and explores what is known and not yet known about our genetic code. And earlier this year, his latest book was released: The Tale of the Dueling Neurosurgeons, which unpacks the mysteries of the human brain.
All the while, the South Dakota native (now based in Washington D.C.) has written about science for many outlets for good science writing: The New York Times (reviewing science books, of course), The Atlantic, New Scientist, Smithsonian Magazine, Psychology Today, Slate, and Mental Floss.
His writing has earned acclaim, including science award nominations from the Royal Society and PEN Literary Awards, and inclusion in The Best American Science and Nature Writing annual anthology.
My first introduction to Kean was through the fantastic RadioLab podcast out of WNYC. The 2012 episode "Double Blasted" featured his profile of Tsutomu Yamaguchi, who survived both atomic bombs dropped on Japan during World War II. If you've not heard it, it's worth a listen (and its levity, given the subject matter, sparked some debate):
http://audio4.wnyc.org/radiolab_podcast/radiolab_podcast12gamma.mp3
He also popped up in the wake of last year's pseudo-science "Shark Week" debacle, debunking the myth of the "mega shark" megalodon:
https://www.youtube.com/watch?v=KhFygIoW_MA
The Hawaii Pacific University book talk with Kean will be held at 5 p.m. on Friday, Dec. 11 at the school's student lounge in Aloha Tower Marketplace (1 Aloha Tower Drive). The event is open to the public, and light refreshments will be provided, but attendees are encouraged to bring their own beverages. There will be validated parking at Irwin Park or Piers 5 & 6 after 4 p.m.
For more information, check out the event page on the HPU website. To learn more about Kean, you can visit his website at SamKean.com, his official Facebook page, or follow him at @sam_kean on Twitter.
Kean, who recently spoke at Winthrop University in South Carolina, is also in Honolulu to present at the Pacifichem 2015 international conference next week. His next appearances will be in New Zealand.