Discover more from Hawaii Bulletin
Island innovation in focus. Hawaii-based science, technology, startups and entrepreneurs, featuring local leaders, creators, educators, and more.
Over 5,000 subscribers
Launch Platform Looms Over Honolulu Harbor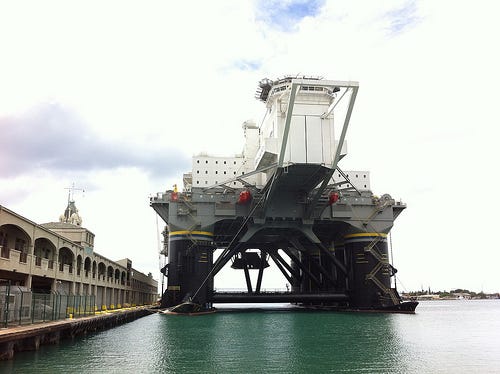 If you've been anywhere near downtown Honolulu over the past couple of days, you probably couldn't help but stop and gawk at the massive Sea Launch Odyssey platform docked at Pier 10 near Aloha Tower.
It's an imposing sight. It stood out even when viewed from my office in Iwilei, and for drivers passing on Nimitz Highway, it's practically a traffic hazard. Every time I've passed, a handful of people are wandering the waterfront, taking pictures.
The Odyssey towers over 200 feet above the waterline (and extends another 100 feet below), and measures about 430 feet long and 220 feet wide. It was built in Japan in 1982 as an ocean drilling rig, but since a major conversion in 1997, it now serves as a mobile -- but very stable -- platform from which spacecraft can be launched in the open ocean.
The Odyssey is in Honolulu after the successful launch of the Atlantic Bird 7 broadcast satellite for Eutelsat. It was only the second mission for the largely Russian-owned Sea Launch company after it emerged from bankruptcy late last year.
I just posted some photos of the Odyssey on Flickr... where I had also posted photos of the platform when it stopped here for refueling back in 2007.