Discover more from Hawaii Bulletin
Island innovation in focus. Hawaii-based science, technology, startups and entrepreneurs, featuring local leaders, creators, educators, and more.
Over 5,000 subscribers
My Seoul Adventure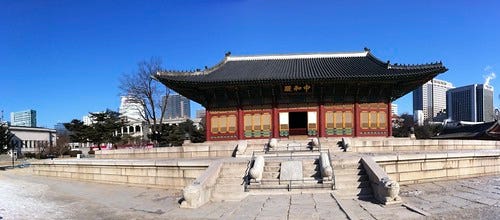 I returned to Honolulu from Seoul today, twelve hours before I left. Spending three days in South Korea was an incredible experience, and I can't wait to return. Thanks again to Hawaiian Airlines for the opportunity to document their new nonstop service between Honolulu and Incheon international airports.
Our trip coincided with the coldest winter spell in Seoul in over a decade. It was also my very first time seeing snow, and experiencing anything colder than 30 degrees. In many ways, visiting Seoul was a milestone in my life.
I took hundreds of photos, but I think the story of this trip is best told and shared via video. I've embedded them all in this post, so you can follow the journey from beginning to end.
First, the ceremony to celebrate and bless the first flight:
Landing at Incheon International Airport aboard Hawaiian Airlines' inaugural flight from Honolulu to Seoul, and checking in at the Seoul Plaza Hotel:
For our first day in South Korea, we participated in a Seoul Day Tour. We visited the Namsangol Hanok Village, made traditional masks and lunched at Korea House, then shopped in Itaewon:
After the day tour, we met up with Aaron and Annie Namba of Bigger Bird Creative, a Honolulu web development firm based in Seoul. The taught us the ropes of the subway system, and took us to Myeongdong for some shopping and street food. Back at my hotel, I'm unexpectedly able to sample a different room configuration:
On our second day in Seoul, we explored the city below the city, then connected again with Aaron and Annie Namba to experience more of the sights, sounds, and especially tastes of the city:
Our third and final day in Seoul. We check out the palace across from our hotel, then introduce Mari Taketa to the Myeong-dong Shopping Center. Finally, we head home from Incheon International Airport to Honolulu:
Want more? Again, there's my Seoul photo gallery on Flickr. My friend and partner in crime Burt Lum also posted hundreds of pictures.
You should also check out blog posts by Mari Taketa, a food writer whose focus and enthusiasm drove much of our plans.
Finally, a special word of thanks to Aaron and Annie, who run a Honolulu business from Seoul, and who essentially let us turn their world upside down when we tore into town like a hurricane. They were fantastic guides, gracious hosts, generous with their time and space.