Discover more from Hawaii Bulletin
Island innovation in focus. Hawaii-based science, technology, startups and entrepreneurs, featuring local leaders, creators, educators, and more.
Over 5,000 subscribers
Seventh Shakacon Showcases Security, Island Style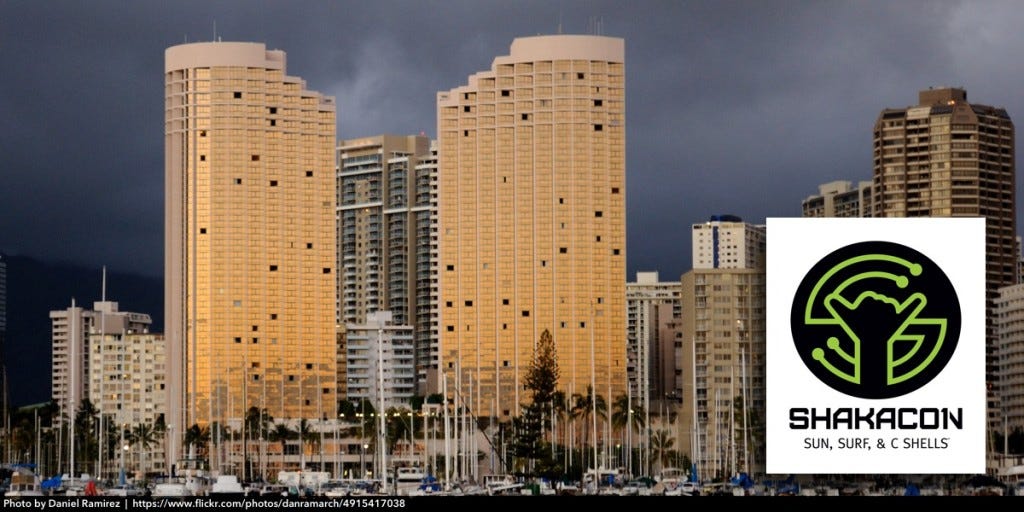 Hawaii's home-grown security conference marks its seventh year on Wednesday, offering two days of speakers, presentations, and networking (the face-to-face kind), a little like world-famous Black Hat events, but with an island vibe. The Shakacon slogan is "Sun, Surf, & C Shells."
Sea shells. C shells. Get it?
Shakacon is a call-for-papers based conference, meaning would-be presenters need to prepare detailed presentations for the event. This year's CFP noted that they receive more than a hundred submissions for the 16 or so spots in the program.
"At its heart, the Shakacon security conference is a laid back conference where industry, government, academia and independent experts will get together to share knowledge and experience in one of the most beautiful places on Earth," organizers say. "There will be something for everyone and if sitting through talks isn't your cup of Hawaiian coffee, you can step into one of the social areas and talk with our sponsors, staff, and attendees."
This year, notable speakers include:
Steve Adegbite (Senior Vice President, Enterprise Information Security Program Oversight and Strategy Organization, Wells Fargo & Co.): "Slipping Out the Front Door of the Party: The Challenges of Detecting Silent Exits of your Data." Is data exfiltration different than data exposure or are they one in the same?

Chris Evans (Chrome Security Team at Google and Google Project Zero): "Project Zero: Make 0day Hard." A frank assessment of the current attack landscape since the advent of mass malware, and explore what it means for effective defenses and vulnerability response.

Craig Smith (Founder, Open Garages and Car Hacker's Handbook Author): "Automotive Exploitation Techniques." Demonstrating some of the newest car hacking tools, developing smart vehicle exploit code, and examples from the 2015 Car Hacker's Handbook.
But that's not all. Attendees will also hear from David Kennedy of TrustedSec, Deviant Ollam of The CORE Group and TOOOL, Drew Suarez of Matasano Security, Patrick Wardle and Colby Moore of Synack, Richard Wartell of Palo Alto Networks, Rick Wesson of Support Intelligence, Sean Metcalf of DAn Solutions, and Zoltán Balázs of MRG Effitas.
If hacking cars isn't interesting enough, there will also be discussions of hacking medical devices and elevators. Security weaknesses of Android, Windows, Active Directory and other enterprise systems are also on the agenda, along with penetration testing and social engineering.
There will also be the annual "Capture the Flag" contest, this year hosted in the cloud and sponsored by Salesforce. The contest features a variety of challenges including reverse engineering, digital forensics, and programming, and is open to people of all levels of expertise.
It's enough to make you want to spend some time off the grid.
Capping off the conference will be entertainment by Dual Core, an international "nerdcore" hip hop group that has released five full-length albums since 2007.
Shakacon VII takes place July 8-9, 2015 at the Hawaii Prince Hotel. For more information on the event, visit Shakacon.org, follow @Shakacon on Twitter, or visit the Facebook page.