Hawaii Snapchat Story Draws 3.8 Million Views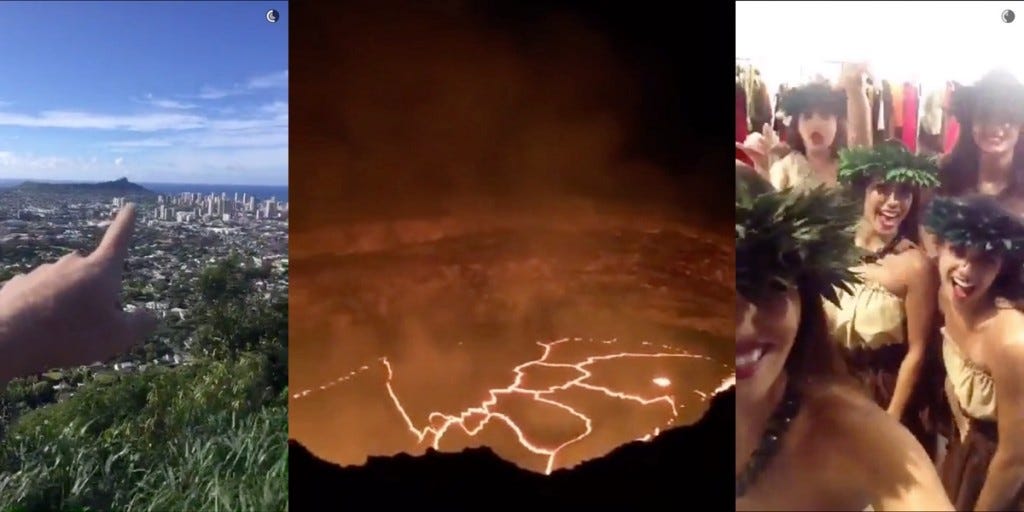 Add me on Snapchat!
Millions of Snapchat users were treated to a montage of scenes from across Hawaii. The Aloha State was one of the global locations featured in a "One Week of Islands" series of "Live Stories," drawing more than three million views.
With the median age of a Snapchat user hovering around 18, most of my friends are part of the "What's Snapchat" generation. But for people who live in the app -- and this includes my teen daughter -- it was a very big deal.
Although Snapchat started as a way for users to send disappearing photos and messages to each other, the app introduced "Stories" last year. Stories are semi-public photo and video collections that last a full day and can be seen by a user's followers. Snapchat Stories, rather than person-to-person messages, are now the primary use of the app, which boasts 100 million daily active users.
"Live Stories" (previously "Our Stories") are compilations of Snapchat user submissions curated by the company's staff around a major event or theme. For example, "Live Stories" are promoted for major sporting events and concerts, allowing users to see a collection of photos and videos from a variety of perspectives at one location. Snapchat just signed a deal with the NFL today to promote behind-the-scenes and fan-created content.
For "One Week of Islands," Snapchat is taking its users on a tour of islands around the world. Earlier this week they featured Iceland and Jamaica. Today's featured location is the Virgin Islands.
Of course, "Live Stories" also disappear after 24 hours, so the compilation of Hawaii clips has been getting shorter and shorter throughout the day, and it will disappear entirely later tonight. I captured it and posted it to YouTube.
[UPDATE: Snapchat filed a takedown notice, and the video is no longer available.]
The two dozen or so clips -- selected by Snapchat from thousands of submissions -- presented a fairly familiar profile of Hawaii. Beaches and waterfalls made prominent appearances, as did coconuts and conch shells. There were several scenes from a luau, and the Hawaii Snapchat Story even features a celebrity appearance by Duane "Dog the Bounty Hunter" Chapman.
It may just be me, but the most delightful clip showed the Local Deluxe Breakfast Platter available at McDonald's restaurants in Hawaii. Forget the egg McMuffin... you can get a tray of rice and eggs with spam and Portuguese sausage.
Many of my friends and online contacts were trying to submit a different view of island life, from rush hour traffic to office scenes classroom shenanigans, but they didn't make the cut.
https://twitter.com/Simone_Biles/status/644857235944816641
https://twitter.com/shestoogroovy/status/645105748809134081
https://twitter.com/anntieup/status/645071307655245824
Responses to the Hawaii Snapchat story from users around the world was generally positive, with expressions of longing and jealousy. But many of my fellow residents were disappointed that the collection was clearly built with an outsiders' vision of our island home.
https://twitter.com/ana_kanda/status/645010465530114048
https://twitter.com/krystaklynn/status/645125333180518400
https://twitter.com/patriciabatoon/status/644711304121315328
From the Twitter chatter alone, there's no question that the compilation was popular. And while Snapchat doesn't publish viewer numbers, users whose clips are featured in the story do see statistics for their submitted clip. Local musician Izik Moreno submitted the clip of the canoe at sunset that appears toward the end of the Hawaii Snapchat story.
In a thread on Gene Park's Facebook page, Izik shared screenshots showing that his clip had been viewed 2.64 million times by 12:30 p.m. today. He then posted an update tonight showing that the number of views had climbed to 3.8 million just six hours later.
In addition, at least 20,600 people had taken a screenshot of his scene.
Considering the fact that Moreno's clip comes toward the end of more than four minutes of other video submissions, the total number of views for the Hawaii collection was probably much higher.
Hawaii's first "Live Story" definitely wasn't a clear-eyed, realistic depiction of local life, and for that I was a little disappointed. On the other hand, after a long work week, it was a nice reminder of the many good things about Hawaii that keep me here.