Discover more from Hawaii Bulletin
Island innovation in focus. Hawaii-based science, technology, startups and entrepreneurs, featuring local leaders, creators, educators, and more.
Over 5,000 subscribers
Solar Impulse Extends Island Stay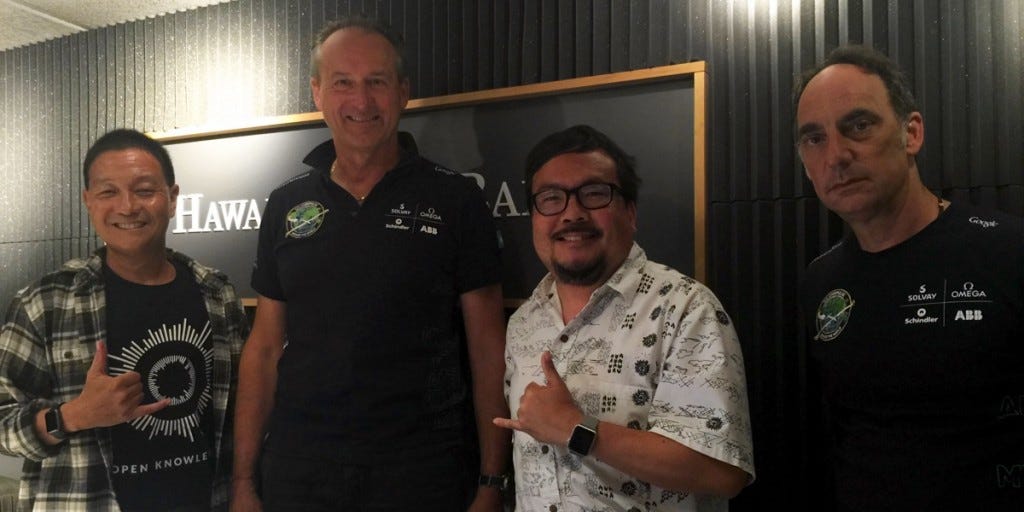 After days of deliberations and globe-spanning conversations, the Solar Impulse team announced at 1 a.m. Hawaii time this morning that it would be suspending its ambitious around-the-world flight until next spring. The news quickly spread across the world, from CNN to the BBC to Gizmodo.
But seven hours earlier, my Hawaii Public Radio cohost Burt Lum and I had not only learned what had been decided, but we were also granted a remarkable in-depth interview with pilot Andre Borschberg and managing director Gregory Blatt to talk about it.
The hour long conversation was aired in our regular timeslot this afternoon, and (in my humble opinion) is worth a listen:
http://cpa.ds.npr.org/khpr/audio/2015/07/BMC_071415.mp3
Borschberg's five-day flight from Japan to Honolulu broke world aviation records, and while he was over the ocean, Blatt was helping coordinate a large team on the ground in Hawaii as well as in Monaco. It was thrilling to hear Borschberg describe the agony of hard decisions and the exhilaration of pushing the limits of both technology and human endurance. Only an astronaut could possibly tell a more compelling story.
And as humble as Blatt was, it was obvious he was choreographic a worldwide dance of a thousand moving pieces, somehow giving a massive operation the agility of a bumblebee.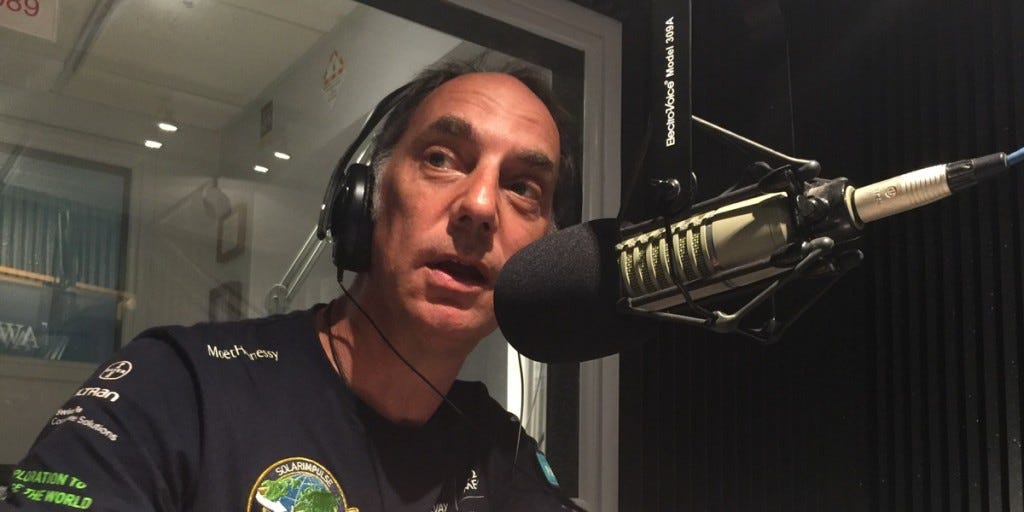 But the topic we wanted to tackle right out of the gate was the huge decision to postpone the second half of their mission. It had previously been reported that the plane's large and critical battery system had been damaged due to overheating during an unusually intense early stage of the trans-Pacific flight.
"After checking what happened, we came to the conclusion that we preferred to change these batteries before going further in the flight around the world," Borschberg told us. "And it's not so simple, it's not like changing the batteries of a car, it's a bit more complex, so it will take more time."
"As we take this time, it is going to be too late for us to be able to cross the second part of the ocean, towards Phoenix, which is going to be too late in the season," Borschberg added. "The days swill be shorter, the nights will be longer, which of course makes it more difficult for a solar powered airplane. and that's the reason why we have asked for the hospitality in Hawaii for the winter."
Both Borschberg and Blatt expressed gratitude to the state Department of Transportation and the University of Hawaii for their generous extension of their use of the hangar at Kalaeloa Airport. And they made a clear efforts to spell out the silver lining of this nine-month delay.
"It's very unfortunate that we cannot stay the entire six months here, we would love to," he told us. "So we'll be gone for a few weeks, for a few months, but we'll be back certainly early next year -- we'll be back also for public visits, we'll be back to interact with the universities, the students, it gives us an opportunity to interact more with everyone here in the islands."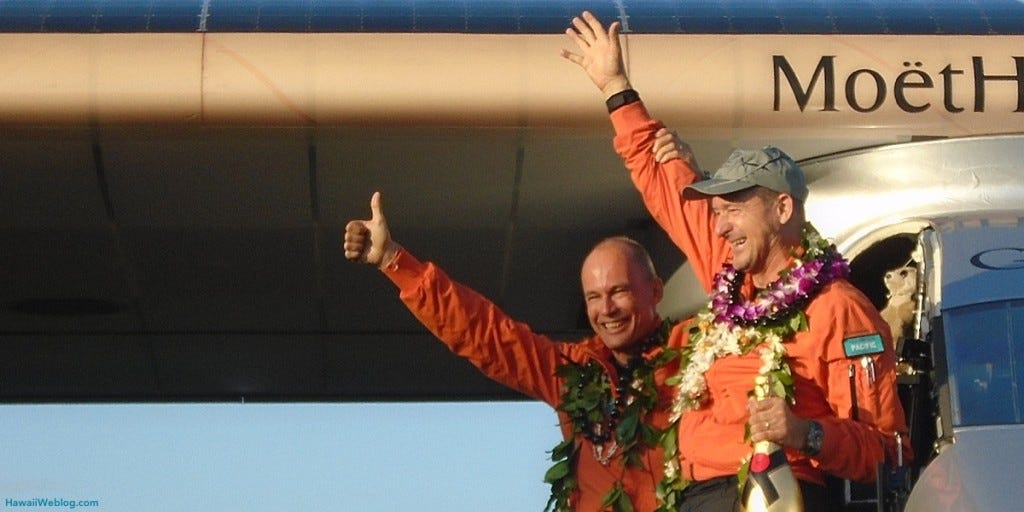 Our conversation was easily one of my all-time-favorites, but it very nearly didn't happen. It was only the combination of my cohost's perseverance and the extremely accommodating communications team that allowed last night's interview to happen.
Burt and I started to talk about Solar Impulse back in April, and by May the PR team was starting to make contact with Hawaii media and "influencers." Burt had a line into headquarters for our radio show, while I opted to follow the blogger track.
Of course, even then, much of the flight's schedule was up in the air. I wrote at the time that the Solar Impulse 2 might leave China for Hawaii in mid-May. They wouldn't get off the ground until the end of the month, and quickly had to make an unplanned stop in Japan. It would be nearly another month before Solar Impulse was Hawaii bound, finally landing in Honolulu on July 3.
Even with the plane safely in a hangar at Kalaeloa, it wasn't much easier to nail down an interview. We were, in some ways, a tougher gig, asking to have people in the studio in town rather than doing a phone or live remote interview with them at the hangar.
Over the Independence Day weekend, we were confident enough to promote a Solar Impulse show the following Wednesday, understanding that we might not get either of the pilots but that we should get to talk to someone. Unfortunately, the communications team -- always professional and friendly -- was unable to shake anyone loose. We were only officially told at 2:30 p.m. (two and a half hours before air time) that it wasn't happening, but we did have an alternate show ready to go (a fun conversation with a pair of high school students hoping to change education for the better).
The Solar Impulse liaison was very apologetic, and clearly worked even harder to make something happen. Maybe last Friday? How about Monday or Tuesday? Tuesday seemed like it might work, so we booked the studio and charted out contingency plans for the next two scheduled shows just in case.
Even yesterday, things were tenuous. Midday, there was again the possibility that nobody would be able to make it. At 4 p.m., Burt was told we couldn't get Borschberg, just Blatt. But apparently Blatt talked Borschberg into coming in, and the three of us stood outside on the street helping the pilot find the station.
"I think maybe he's a better pilot than he is a driver," Blatt joked.
It became obvious, of course, why the Solar Impulse team was so hard to connect with yesterday, with the decision to delay just starting to ripple outward through the project's managers, staff, and sponsors. And the anxiety (perhaps evident in our voices during the interview) was worth having the chance to talk about the news hours before it would be public.
Borschberg's schedule was so tight that he had to leave the studio 40 minutes into the program. (But he still paused long enough to take a selfie with Burt, and with my daughter.) But the time we had with him was worth it, and Blatt more than represented the Solar Impulse mission well in the last segment of our show.
Even better, I think we now have a stronger shot at another in-depth interview next spring, when the team returns and prepares to start things up again.