Discover more from Hawaii Bulletin
Island innovation in focus. Hawaii-based science, technology, startups and entrepreneurs, featuring local leaders, creators, educators, and more.
Over 5,000 subscribers
Energy summit plugs students into both sustainable and political power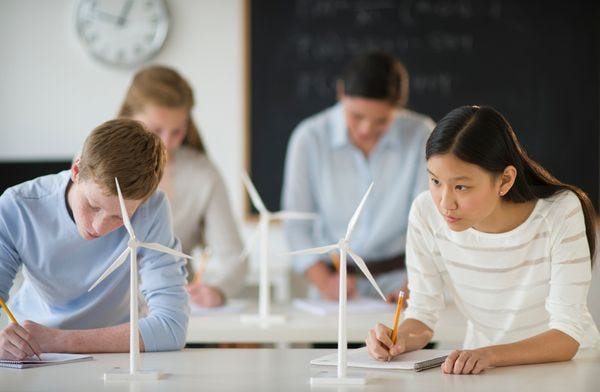 You probably know I'm on Facebook, Twitter, and Instagram. But I'm even testing the waters on TikTok. Let's "tok" story! (Don't worry, I don't dance.)
As one of the most isolated communities on Earth, it shouldn't come as a surprise that Hawaii was the first in the nation to set a 100 percent clean energy goal in 2015, giving itself 30 years to generate 100 percent of its electricity from renewable energy resources.
And Hawaii is a global leader in renewable energy research, a natural laboratory for almost every source of electricity available: solar, wind, hydro, ocean, geothermal, and biomass.
Earlier this year, the islands marked a major milestone when Hawaiian Electric announced that it had surpassed the state's goal to reach 30 percent renewable energy by 2020. In fact, for the first time in Hawaii's modern history, renewable energy accounts for more than half of the electric power on two islands.
But a 30-year goal requires multigenerational thinking. And that's where the Student Energy Summit comes in.
Harnessing the power of youth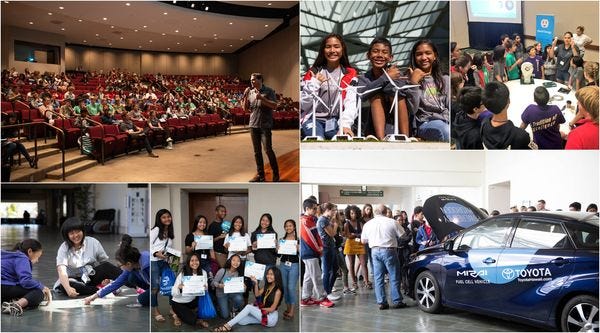 The first Student Energy Summit was organized in 2015 by the Blue Planet Foundation, the philanthropic arm of entrepreneur Henk Rogers' sprawling enterprise. I blogged about it at the time:
"Energy is becoming a really hot topic, especially among students, and teachers are starting to incorporate it into their lessons. These students are hearing about it all the time, and they're going to be the ones inheriting the decisions that are going to be made — business decisions and political decisions."
The free, full-day event was open to public, private, and charter students from across the state. By 2019, attendance at the annual conference grew to nearly 250 students from every island and even Japan.
Thanks to COVID-19, the sixth annual conference in 2020 was a "hybrid-virtual" event held over Veterans' Day weekend, connecting "energy pods" (school teams) with remote participants.
The theme of this year's gathering — which, yes, is technically taking place next year — is BLUE: "Bold Leadership for Unity and Equity."
In addition to providing "information, inspiration, and guidance," organizers hope to come out of the summit with a "collective roadmap" to share with state and local leaders before the 2022 legislative session.
On the agenda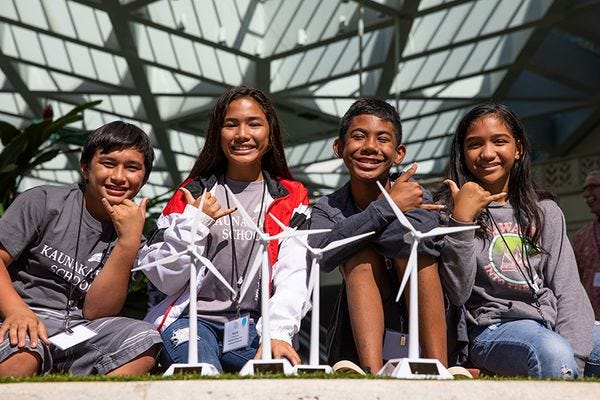 Students will hear about the latest developments in both climate science and government policy, learn about effective youth organizing and advocacy (from social media to contacting government representatives), and engage in a CO2 impact simulation.
Presenters include:
Time and place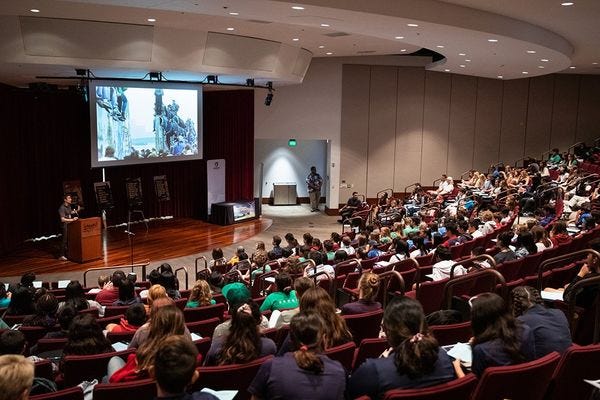 Pandemic precautions willing, the Student Energy Summit will again be an in-person event, taking place at the 'Alohilani Resort Waikiki Beach on Sunday, January 16, 2022.
"The COVID numbers are definitely on our radar," Blue Planet Foundation Education Director Griff Jurgens tells me. "We haven't committed to any changes yet, but are closely watching and following Hawaii's [Department of Education] and the CDC's lead."
Attendees must bring proof of vaccination or a negative COVID 19 test taken within 72 hours. And attendance is being capped at 100 students, or about half the size of previous events.
"We have 81 students already signed up from five different islands," Jurgens says.
(If you're bad at math like me, that means there's only space for a handful of additional 3-5 student teams, at best.)
Registration details
"Summit Squads" must register in groups of 3-5 high school students with a "point person" each (a teacher or adult) by Friday, January 7, 2021.
Registration form: https://bit.ly/32iQB0q
If the jam-packed program isn't enough of a draw, organizers are providing a light breakfast, a full lunch, a Blue Planet swag bag and prize drawings.
Header image courtesy Tetra Images/Getty Images.