Talking Hawaii and Tech with a Geeky Priest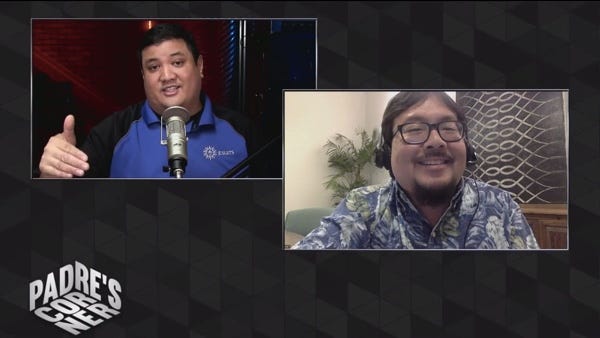 As a long-time fan of the TWiT network, which will celebrate its 10th anniversary in April, it was a distinct honor and pleasure to be a guest on "Padre's Corner," hosted by "The Digital Jesuit," Fr. Robert Ballecer.
Each week, "Padre's Corner" features a mixed plate of discussions, the formula for which is described as "18% science, 27% irreverence, 22% current events, 56% geek life, 13% non-sequiturs and $19 of ranting." It was one of several programs (along with "Before You Buy" and "This Week In Enterprise Tech") that Robert presided over yesterday, but his energy and enthusiasm never faded.
I took off work for the day and checked into The Box Jelly coworking space, in the hopes that it would have enough bandwidth to sustain TWiT's high-definition video chats. Unfortunately, like my debut appearance on TWiT over three years ago (along with fellow island geek Brian Dote), there were still some network hiccups on my end. But I hope the conversation was fun enough to overlook the occasional glitch.
After covering a few under-reported tech stories, the Padre and I talked about a few over-reported headlines: government regulation of drones, the Apple Watch, and the new Apple MacBook. But he was gracious enough to also interview me about my tech background, and we talked quite a bit about life in Hawaii: dealing with stereotypes, building a tech industry, and contemplating energy and food independence.
Of course, "small world" moments are inevitable whenever you talk about the islands. While I knew that Hawaii's own Brian Chee was a regular guest on TWiT, I didn't know that Robert once lived in Hawaii, and even hung out with Brian in person. We also name-dropped other familiar tech names with Hawaii ties: Guy Kawasaki, Eric Nakagawa, and Becky Worley.
The hour went by very quickly, and we didn't cover everything we hoped we'd cover. The best conversation about local life and local food came after the show (malasadas and spam musubi). Robert, who was in the islands last year, is coming back later this year, and we made plans to connect in person.
And provided I can somehow find better bandwidth here in paradise, I hope I'll be able to be a TWiT again.